Few people are able to take their faults and make them their strengths. It's a test of willpower most people aren't up to, but this is exactly how Nicky Cuba has been able to stay at the top of Professional Paintball since it was being played in the woods. Growing up next to paintball store, Nicky Cuba started out his career with the now defunct Ground Zero. As a young talent out of Long Island, New York, he became famous for being as quick with his mouth as he was with his on-field moves. In short order, he rose to the top of the sport, winning World Titles with the Ironmen, playing for Aftershock and staring on XSV. Somewhere along the way, he morphed from an over-aggressive, high-risk front player, to one of the most clutch go-to guys ever to pick up gun. It was an incredible transformation you rarely ever see. Then again, "rare" and "incredible" are words that work very nicely to describe the best player to ever come out of New York.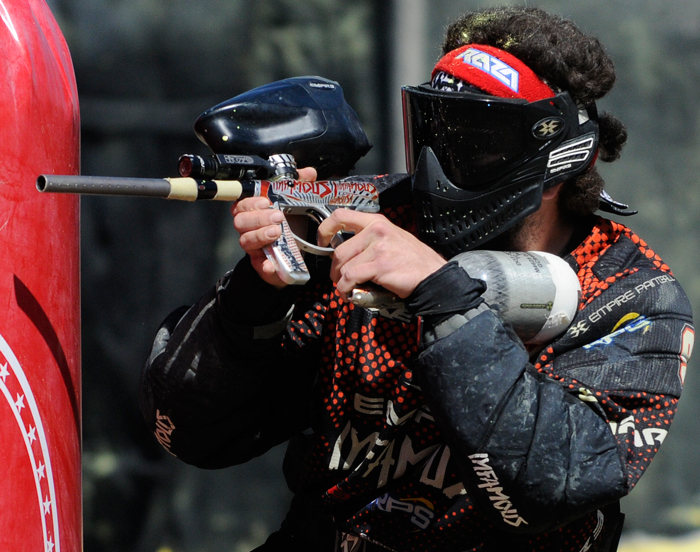 It's Friday night in Phoenix, and the desert has finally started to cool off. We're in the middle of the prelims, two games down and two to go, and things could be better. Tomorrow will be a big day for the team. We had lost one game to the Los Angeles Ironmen and won our second game against Upton 187 Crew. So, to keep things in context, we lost to the 3rd ranked team in the league, in the Ironmen, but that's a squad with a lot of untested players. And 187 is talented, their front guys attack without fear, but at this point, they hadn't won a game in the league as this is their first year. So we shouldn't be losing to either of those teams, not with the roster we have. At this point, we knew that we could not afford another mistake or our event would be over. In the Pro division of the PSP, every game is important.
Meetings are critical in every sport, as you get time to reflect of what went wrong and what's going right. They exist in every sport and paintball is no different. But sometime they devolve into shouting and finger pointing sessions. We know better than this, now with years of experience in what is, and is not, productive. After, spending an exhausting day in the 100+ heat, we were glad to be back in the relative peace of the hotel and get down to the hard work of building a great team.
We got back to the rooms, showered up and immediately got to talking, while everything from the day's action was fresh in our minds. We began breaking down what we did wrong in losing to the Ironmen. We came to the conclusion we didn't play our tempo, losing too many people off the break and in bunches, and once again we had too many penalties, which was very frustrating, as we'd been really focusing on not getting those flags. Our coach, Todd Martinez, was able to grasp a lot of info that was laid out, both our positive and negative tendencies. Everyone had their input.
After deep discussion of the things we had to do better to capitalize on the field, we started to formulate a game plan for a team, Tampa Bay Damage, who hadn't lost a game in three events and who just came off a win for Texas the day before. Damage has been the most consistent team in the league for a while now. They have quality players and play well when they're down numbers.
Damage was coming off the first day red hot, with two wins, but hadn't changed anything with their strategy. Why should they? We knew if we played a different style of paintball than our team is used to, which is slow and patient, we can beat them. Player against player, we can beat anyone, we can match up shooting off the break, snap-shooting, and breaking open the game when we need to. We also have clutch players who can bring games back from the brink. We just needed to get our younger players confident, get them in their comfort zone, making smart decisions, playing together as a team and, most of all, staying out of the penalty box.
As we huddle around, crowded into a small hotel room, and go over plays, I look at the boys from Infamous, and really think about the talent surrounding me. Goddamn man. We have staggering talent in these young guys. We probably have one of the fastest guys in the league in Zack Patient, and although he shows signs of greatness, he has a lot to learn about the game and fundamental skills. We also have two players that are not as fast but still very quick, in Drew Templeton and Brad McCurley, both very intelligent players in the snake and with top notch gun skills. Damian Ryan has this amazing knack for being able to pull shit out when the chips are down, to read a field in the middle of chaos and break it open.
Greg Siewers is one of the top dorito guys in the game, but he's been struggling to stay out of the penalty box since we arrived at the event, and he was also struggling to make it to his spot alive on the break. Two real crucial things, yes, but once he gets out of the slump he'll be a beast. That much is certain, because we've seen it before. Travis Lemanski is the oldest player on the team, hell, in the league, but with age comes wisdom, and one of the nastiest shots on the break. I trip out thinking how many hundreds of thousands of reps he's got in over his 14 year pro career.
Kevin Rudolph is a utility guy that you can plug in anywhere and he gets the job done, he always plays consistent, and it's consistency that wins events. Chris Sosine, a very new name in the high level pro game, but he's quickly coming up and earning a lot of respect, from those on our team and from other players in the league, with amazing off-the-break shooting and his ability to close points. "Sos" is becoming one of the most clutch players in the PSP. Bobby Aviles is one of my favorite players to watch; he can shoot on the break, run-and-gun, go to the fifty yard line; he's just the total package and I've had the privilege to watch him blossom into an amazing player through his career. He's a wild man, very explosive. Also, can't forget the man behind the clipboard, the coach that has done it all on the field and who is now transitioning to be a solid leader off the field by being able to bring the best out in his players with his emotion and knowledge of this amazing game, Todd "Cash Money" Martinez.
With all these tools in the shed, we know we can do what we need to do. If we control the tempo in whatever style of play that presents itself, whether it be slow and methodical, or fast paced, punch-you-in-the-face Infamous style, we will win and that's the big picture we got out of this meeting.
And man, it's hard not to play confident with all this talent watching your back.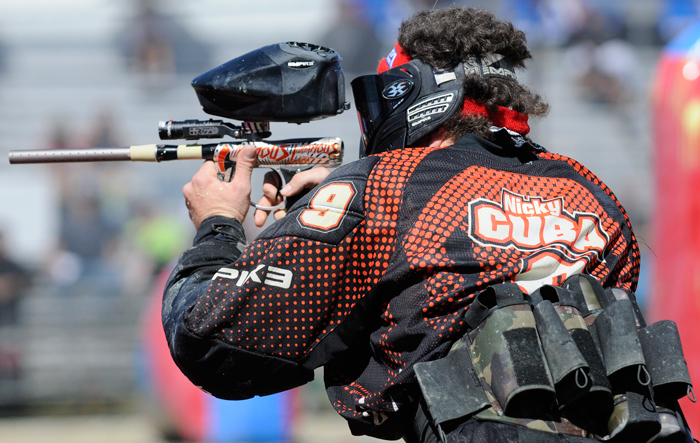 The next day we proved it by being the first team to beat the reigning champs Tampa Bay Damage since the New Jersey Open last year. We did it by adapting our game to theirs, but doing it with an added Infamous flair that is next to impossible to beat when we believe in ourselves and play aggressive and clean. This showed our guys WE decide if we win, and that WE decide if we lose. You take nothing from Team Infamous.
Stay tuned from more of Nicky Cuba and Team Infamous, coming soon on Paintball Access.
You Might Also Like: