Fresh off his tournament winning performance, Final's MVP Infamous' Brad McCurley talks to Paintball Access about the last Sudden Death point and his mindset in the crucial moment.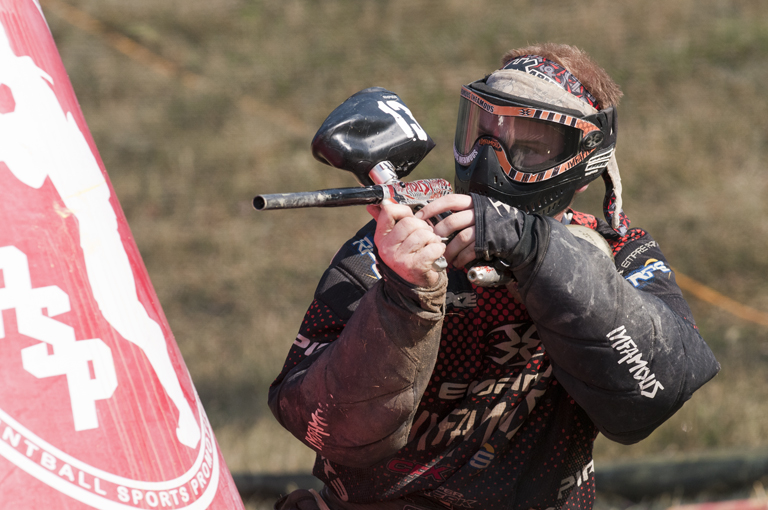 Paintball Access: So, you didn't even play the last couple of months because of a bad staph infection?
Brad McCurley: Yeah, it looked like a spider bite on my chest, thought it was fine, but then a few days later I'm waking up in middle of the night, drenched in sweat but just shivering. So I went to the emergency room, and they told me "It's a good thing you came in, we're going to operate right away."
PBA: Wow.
Brad: So they took a giant chuck of my chest out. I have a video of me pulling out, like, two feet of gauze from my chest. It was terrible. But it healed up and I'm good now.
PBA: Thank god, those staph infections are like a plague on your team, Nicky Cuba had one too, early this year in the same place.
Brad: Yeah.
PBA: Let's talk about your outstanding play at the end of the Sudden Death OT point where your G-Rating was 1.7 (he was killing well over one player per point), and you didn't get shot in the three points you played.
You won the tournament for your team and were MVP for the Finals. You weren't having the best tournament, you had some good games, but you had a particularly bad game in the Damage match (no kills, average game time :26, was shot 4 times).
I talked to Chris Sosine, who had said you were frustrated, and he said something about Todd (Martinez, Infamous' coach) telling you that you probably weren't going to play a lot of points. What happened there?
Brad: Sunday is what set me off. Me and Drewbie (Drew Templeton) have been fighting for that spot the whole year. Drewbie and I are super tight, so it's a friendly battle.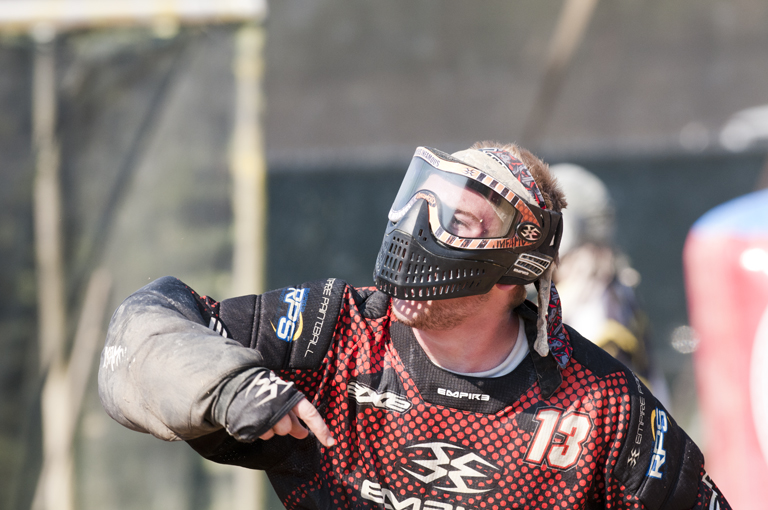 PBA: And you need to two snake guys, so it's really about fighting for that starting spot.
Brad: Yeah, when Infamous brought me over, for World Cup last year, Todd had said, "I want you to be our #1 snake player, I need that out of you, but you have to perform." Basically that's what it really comes down to… performance.
In the Damage game, I think what I struggled with, and what I generally need to work on sometimes, and this is when Todd likes to go to Drewbie more… it's about patience. I like to attack, attack , attack and during those long drawn out points, that's not my strongest asset. Knowing how Damage plays, how they like to sit and lock down lanes, Drewbie was getting it done more than I was. And that goes for the Ironmen game as well. With Mike Paxson shutting down the lanes on my side of the field, the snake side, it was slower to play.
PBA: So what was going through your head? This is such a great lesson for any players out there in the same situation, which is everyone at some point. It's hard to struggle and then go out to play with all the cameras watching, all your family and friends, your teammates. Not having the best tournament, but still, to struggle a bit, but find that place in your head, a place of clarity, and perform when it matters, that's awesome and it's why we play the game. What exactly did Todd say to you and what were you thinking?
Brad: Ok, so Sunday morning, as we were getting our gear ready to play the Ironmen in the semi's finals, Todd came up and said, "Hey, wanted you to know I'm going with Drewbie off the break. You're going to get reps, but I don't know when, and I'm going to go back-to-back with Drew until he needs a rest or doesn't want to go. But when you're up, I need you to get in there and do your job."
So I said, "OK, absolutely." As a player, it's hard to hear that. You're here in front of your friends and family, your hometown crowd; everyone is out here watching you play. You want to be the one who gets the job done.
I was pissed off at first. But at the same time I knew, I had to use the anger to push through it, knowing I wasn't going to get that many shots, I knew that when I did get in there, I need to stand out, and do my job.
PBA: So take me to that moment when the tide started to turn, and you ended out starting in the crucial OT point. You played the Ironmen and you guys beat them. How did you feel like you played in the Ironmen game?
Brad: Yeah, I didn't die in the Ironmen game or the Russian game. I played two points in the Ironmen match. We were just running a line back-to-back, because we were smashing. I went in when it was 5-0, made it 6-0.
PBA: Yeah, you guys beat them bad.
Brad: Yeah, we smashed them that game. Then Drewbie went in and we lost a point or two, and then I went back in there and closed it out for the last point. Think we finished 7-2.
PBA: So fast forward to the when Todd was picking his line up for the Sudden Death Overtime point. What was going through your head when the names were called out? Or did you already know you were going in?
Brad: I actually didn't. Me and Drewbie didn't know who was going to go in, it was Todd's final decision for the squad that point. I'm sitting in the pit, like "Yo, I'm I going? Drew, are you going? What's going on," I had just played the last two points, so, are we turning around the same squad? So I'm asking what the deal was. And Todd was figuring it out, so I said, "Put me in, I want to go," So he was like, "OK, get in there".
PBA: So you asked for it?
Brad: Yeah. I said I wanted in, that I wanted to go, and he sent me out there again. And that's when I said to myself, "Alright, this is it, you cannot and will not lose." You have to understand, this was my first win in the PSP in any division. This is only the second time I've played in the Finals in the PSP. The last time was with Aftershock, two years ago at World Cup, against the Russians and we got smashed 7-0.
All I could think about is that moment, and there's a clip of this in some Eclipse video, of me sitting in the corner, literally in tears, thinking how bad we blew it, blown the only chance I'd ever had to win a PSP event. That was a deflating moment because we got beat so bad.
So, that was in my mind as I walked out there for the last point. I wasn't going to let that happen again, not in front of my home crowd.
PBA: So that was actively running through your mind?
Brad: The whole game! The entire time I was out there playing that point, literally this whole feeling comes down to this moment, it's either going to be tears of joy or of frustration. And right when I got to the corner, I looked over and saw Nicky die, and I was like "UgHHHH!"
That's how I knew the ball was in my court, because not many guys had been aggressive over there (on the diamond side) the entire match. I knew I had to get aggressive on that side, and that was the difference. So as soon as the Can, which would sit on my lane, went to the tower, I knew I could go. So I looked over the top, saw no one was on me, and was like, sweet, and made the move, staying on the inside the whole way up. I actually had to shoot the stand up guy twice. But I got three and we won. Maybe that's why Todd wanted me out there, to be the aggressor and get in that spot, who knows.
PBA: And this is your time to shine.
Brad: Finally, Ha Ha.


Check back for more from the winners of the Chicago Open as we move toward the next PSP event in New Jersey right here on PaintballAccess.com.
Mark your calendars for the webcast, August 10th-12th!
Get in the fight! Sign up your team at Pspevents.com!
You Might Also Like: