Click to view more scouting reports.

San Diego Dynasty has struggled this year, getting knocked out of the first two events early.  With possibly the most talented team in paintball, they need to find the aggression that served them so well in the first half of 2011, when they dominated, before the boys from Tampa Bay Damage came out swinging and stole the title.
Many teams have weapons, but Dynasty is stacked. Their core, the original Ironkids, is still very strong, and mostly playing well. Alex Fraige has been doing damage on the snake side as a counter punch, offensive weapon, following up Zack Wake or Sean McDonald, who is no longer with the team.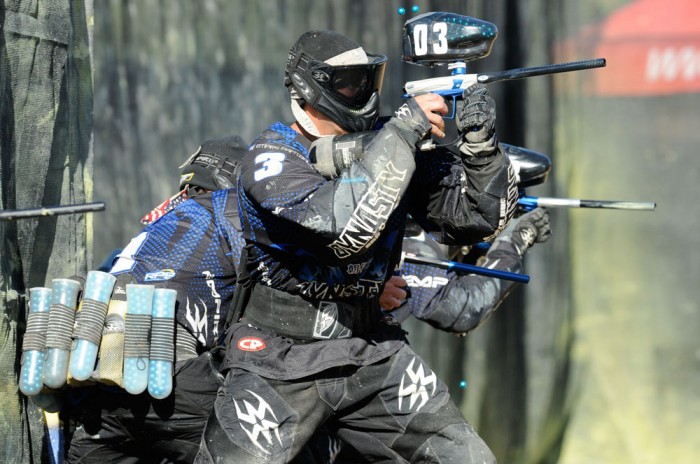 Ryan Greenspan is San Diego Dynasty's utility player; he can play any position on the field. He even went up front on the Dorito side, during a point at PHX, and looked like a version of himself, circa 2001, getting a couple solid kills.
Yosh Rau is playing phenomenal. And is near the very top of the overall player rankings, currently ranked 5th. He was the stat leader in PHX, by ten whole points. To put that in perspective, the top 5 players in the PSP are only separated by 1.4 points. So the fact that his team played soft at the event, yet he was able run the stats board, is a testament to his "tough under any circumstances" playing style.
Ollie Lang did not have a great event at Galveston, but picked it up in PHX. He was ranked 13th overall for the PHX event, and was the G-Rating leader for the tournament. Oliver is one of the most charismatic leaders in paintball, and if he's motivated and playing well, he's hard to beat. Though there are only four of Dynasty's original crew left, they have filled other crucial roles with some very talented and experienced players.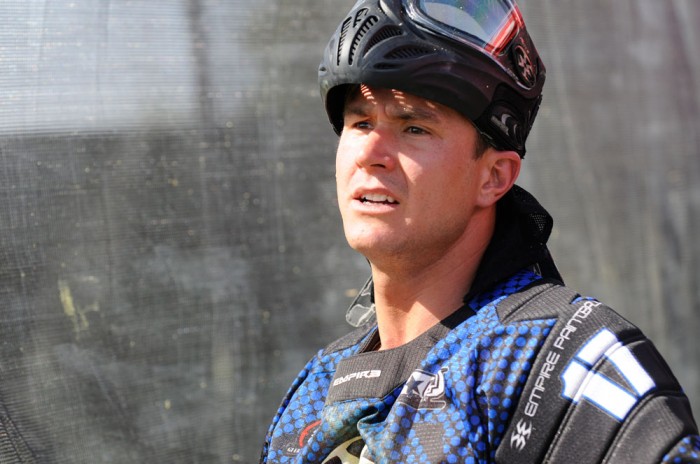 On the snake side Dynasty has brought back Alex Goldman, who steps on the field after flirting with retirement. He wasn't in Galveston, but got the paintball bug again and came back for PHX, where he did not play up to his potential. Dalton Vanberbyl has been chopping opponents up on the Dorito side for a while now and is having a good year; he's ranked 11th on the leaderboard, right behind Alex Fraige. He needs to continue to play well, as there's not a lot on the D-side for Chicago, but with his experience, he could win some points pushing forward smart/hard when the guns turn toward what looks to be a very strong snake/diamond side of the field.
Dynasty must start getting production on the Snake side, from Alex Goldman and Zach Wake. You cannot consistently win tournaments playing counter punch paintball in the Pro division and they desperately need to get their offense rolling. Goldman and Wake are sleeping beasts right now, and if they start feasting on the snake side, San Diego Dynasty suddenly becomes a very, very scary team.
You need three major components to win at the Pro level. A great snake player, a solid back player, and a smart/aggressive dorito player. Dynasty has all three of these key components and then some. They just need to play more aggressive, and change their game plans if they aren't working, to be effective against the best teams in the league.
Another element you could add to the "must have to win" list, is a great coach with pro experience. Playing this role for Dynasty is Mike Hinman, a tough-as-nails ex-Dynasty player who cut his teeth with a rowdy Aftershock crew in the early 2000's. If anyone can deal with and direct the core Dynasty players, it's Hinman. He also coached Alex Goldman and Dalton Vanberbyl on Aftermath, raising them to be on field killers, and knows their tendencies and possible production levels. He is the ideal coach for this outspoken roster.
Click to view more scouting reports.
You Might Also Like: