In Phoenix Sam Monville's rising star shined brightest on a star-studded Houston Heat  team.  Originally from Fredrick, Maryland, Sam lives in PA where he runs daily operations for an MMA team and works for DLX / GOG Paintball, makers of the Luxe. Paintball Access' Alex Cadalso talks with Monville about the team, his big moment in Phoenix, and his thoughts on the game.  
Professional paintball teams don't spontaneously generate from thin air. When a new team owner, like Heat's Randy Smith, begins cooking up a team from scratch using the best ingredients available — starting with Federov and Mischka, the two best Russians — people take notice.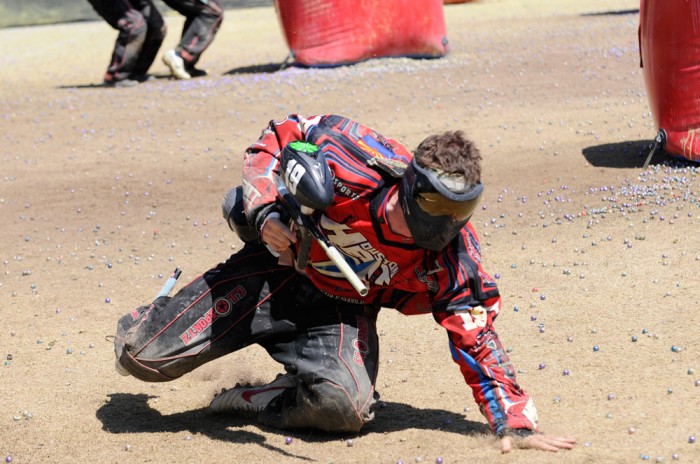 Some drew comparisons to the other Heat, the basketball team captained by Wade and LeBron in Miami, for their pursuit of the best available free agents willing to take their talents to Texas.
The jury is still out on Miami's experiment with a winning recipe calling for only super stars and spare parts. With Mishka, arguably the best player on the field in any game, sidelined with a knee injury, Houston found a way to win in part because of lesser known players like Sam who know their role and stick to it. Two stars does not a team make.
The 5'6″ 140 pound 24 year old Monville pulled more than his weight in Phoenix, including pulling out a crucial point in Houston's final match to stave off a Russian attack and seal Houston Heat's first victory in only their second pro tournament.
Sam is a quiet, good humored individual off the field. His Luxe says "Turtle Power!" when it starts up. His passion for radioactive reptiles extends up his left arm into a tattoed sleeve of a Teenage Mutant Ninja Turtles scene.
On the field he's a stone cold killer. Monville is a man who leads by example — and his example isn't shameless self-promotion or flashy moves for the camera.
Sam is a pro's pro, a guy who does the little things and puts team first in action, not word.
At Paintball Access we often refer to a scene from Martin Scorsese's "The Departed" where Dignam, the foul-mouthed Boston cop played by Mark Wahlburg, asks a member of the surveillance team why they haven't set up a camera watching a particular exit.
"Who the f– are you?" the team member asks Dignam.
"I'm the guy who does his job. You must be the other guy."
Who is Sam Monville you ask?
Sam Monville is the guy who does his job.
How did you start playing tournament paintball and which teams have you played for?
I started playing in 2002 or 2003 in Maryland. I heard about paintball from friends at school and it piqued my interest. I played a lot of hockey then so I didn't have many free weekends. I eventually got to my local field and paintball edged out hockey. It's been paintball ever since.
I started playing tournaments in 2004, national events in 2005. I've played with Devious, Tremor, ECK, Punishers PB, Philly Americans, Chicago Aftershock, Indianapolis Mutiny and Houston Heat.
What did your time with the All Americans teach you?
Oh man, the whole Philly experience was amazing. The team was so close, really like a family. Before I got on the team I was close friends with most of them.
Tim [Montressor], Fatty [Craig Daughtry] and [Ryan] Moorehead took me under their wings. Those guys really pushed me to compete at their level and showed me the ropes.
Before I got to their level they helped me understand what it was going to take. I tried to mimic their playing styles and absorb everything they had to say.
I felt they were one of the best teams and I don't think there was someone better I could have learned from.
How important is having a mentor as a new player trying to find success?
One thing they'll do is stop bad habits before they form. Even though you might not absorb it right away, a mentor can help you correct things in your game that shouldn't be there.
There's always room for improvement and it's good to have guys to show you how to improve.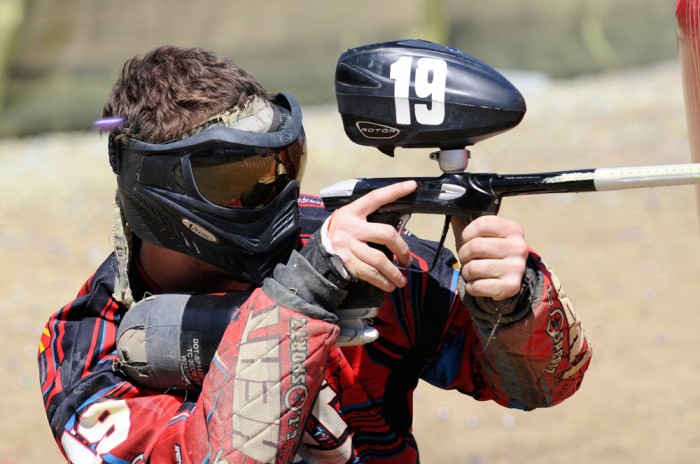 Can you tell me more about your team owner, Sarge?
His name is Randy Smith, the name Sarge comes from his haircut. It looks kind of militant. When I met him, that's how we were introduced.
Him and Mama Dizon built up a divisional team in Canada. From there Sarge wanted more — he's a guy with a lot of visions. He had the drive and now we have Houston Heat.
He's a great family man, he really tries to instill family in everything. He looks after and takes care of everyone as if they are his family.
Sarge is up early as can be in the morning, works at UPS [in Logistics], manages and runs this team and still has time to spend with his family.
I don't know where he finds all the hours in the day. I still don't think he sleeps.
How and when did the idea for Houston Heat come about?
A bunch of us were playing in the CXBL under Sarge. He kind of mentioned it and mentioning it turned into planning it.
Sarge, Yaya [Chad Bouchez] and myself threw out player names. That was a fiasco in and of itself — there were at least 100 names thrown out. The guys we ended up with weren't the ones we planned on.
It all started of with: "As a person, this guy can be another good asset in this family." The family environment was always stressed.
Some players were scratched because they went down the money route with Sarge. When people find out what you have, and what you're working with, their tune changes. We wanted people who wanted to be there.
When we got together we realized at some point we'd all played together.
Dizon, LJ and Smith all played on Distortion. We all played CXBL.
Chad George and I played D3 together. Chad and I played with Federov on Philly.
Federov and Mishka played together on the Russians. Slowiak, Yaya and I played on 'Shock.
Everyone was so comfortable with each other it really helped the team come together. No one has a cancerous personality, we feel like we're a family.
Your coach, Jason Trosen, also played and coached?? for Philly. Tell me about him.
He really changed the way I looked at the game, the way I looked at myself as a player and looked at other players.
I give Jason a lot of credit for our success. I feel he's one of the best paintball minds there is.
He's not a man of many words, but the way he goes about everything — I feel any team that has him can rise to the top.
One thing he said that stuck with me: "If you're the last guy alive and you say something negative to another player, you don't have the right. You should take it upon yourself to do more."
He instills accountability. You'll never see Jason's pits get out of hand. He stays calm, just kinda leads the troops.
What went through your mind during that crucial point in the final game against the Russian Legion when you were caught in that small corner wedge?
I'm kind of a small guy so staying in that bunker wasn't too bad. I'll be honest: I was a little bit tired, I was cramping up in there.
Tim Montressor and Pat Roberts (former teammates) were on the sidelines talking me through it, keeping me calm.
As soon as I knew Berdnikov went inside I got excited because I knew they had to come to us. Win, lose or draw I had to run time off the clock. I was just waiting for that horn.
Once Berdnikov was committed we knew this was the do-or-die moment. I knew if I shot him we won the game. Luckily, I had a good shot on him.
What gives you your mental toughness and resolve?
I don't like to let outside things influence me. I like to be my own person.
With that said, I like to do my job. I don't want to go out and overexert myself.
I know if I do my job and the guy standing next to him does his job, and the guy next to him does his job, I know the game plan won't fail.
Some guys try to do too much and stretch themselves too thin and it gets away from them.
I try to do my job and make sure I'm proficient at it. I don't like to be too flashy either, I'm kind of an in-and-out guy. I definitely try to roll undercover.
What are your best traits as a player? What can you work on?
For me it's staying calm. Whether things are going great or bad I try not to get overly anxious — don't over battle, don't overcommit yourself.
Especially in a team sport I think you can accomplish more by being calm. Jason Edwards is calm even if it's a 4-on-1. That part of my game is what helps me with those stickier situations.
I have an innate ability to turn my aggression on and off.
I don't think I'm anywhere near the top of my game. I'm kinda streaky, I'd like to be more consistent.
Coming up under Jason Trosen his mantra was always push forward. There's never a time to slow down. I'd like to be able to do that a bit better.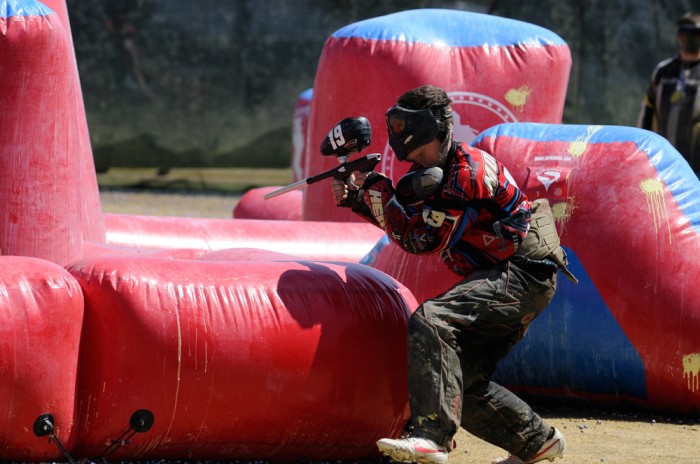 Houston Heat took 2nd in Galveston and 1st in Phoenix. What were your goals as a team going into the season?
We never really set a team goal in the beginning. Of course I don't ever think we're going to lose — that's not a mentality you should have. But as a new team with little time together, we didn't know where we stood.
Now that we've had success the hard part is coming — staying at the top.
If we can stay consistent — we know we have the ability to — as long as we play the way we know we can we shouldn't fall from the top.
Do you have any parting advice for new players?
Stay hungry. Always have that urge to learn.
If there's anyone out there doing something you see working, try it. Always try things in practice don't hold anything back. Practice is the time to find out what works, what your advantage is. You'll never get yelled at for losing in practice.
You Might Also Like: