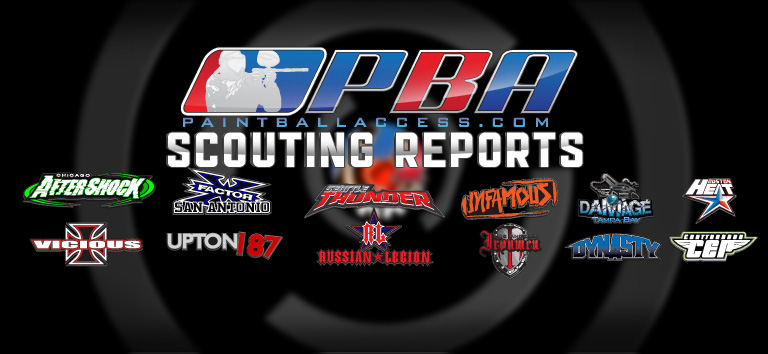 The 2012 is looking to be the most competitive year in Paintball history; there are many teams in the hunt and looking strong. Because there is so much information to know about these teams in order to fully enjoy the event, PaintballAccess.com is releasing a series of Scouting Report videos and articles to give the fans an update about what's going on with their favorite team, where they stand, and what they need to do on the field in order to prevail.
• Damage came in hot, winning the Galveston event, but then dropped the ball, not even making it to Sunday at Phoenix.
• Houston Heat has taken 2nd and 1st in the two events they've existed.
• Dynasty has a stacked roster but has underperformed.
• The Ironmen are full of hungry up and coming stars, ranked 2nd, and shocking opponents right now,
• San Antonio X-Factor has been picking up the level of their play and could contend.
• The Russian Legion took second place in Phoenix, in a close game against archrivals Heat.
PaintballAccess.com Pro Team Scouting Report Daily Release Schedule: Click Here
• Friday 6/15 – Chicago Aftershock
• Monday 6/18 – Tampa Bay Damage
• Tuesday 6/19 – Omaha Vicious – Seattle Thunder
• Wednesday 6/20 – San Antonio X-Factor – Los Angles Ironmen
• Thursday 6/21 – Houston Heat – Moscow Red Legion
The Scouting reports for San Diego Dynasty, Chattanooga CEP, Los Angeles Infamous and Upton 187 Crew are already posted on PaintballAccess.com. Check them out and share them on Facebook and Twitter!
Paintball Sport Promotions 2012 Chicago Open is about to go down, June 22nd-24th 2012. Make sure you tune in to the free, live webcast on PaintballAccess.com. The show goes live 8:00am CST, starting off with the monster match up of San Diego Dynasty vs. Moscow Russian Legion.
You Might Also Like: