Paintball Access brings you a candid, two-part article and video series. Alex Martinez and the Best Kids in Texas—The X-Factor Story.
X-Factor: Alex Martinez and the Best Kids in Texas, Part 1
By Matty Marshall
Round about early 2007, I hated playing San Antonio X-Factor. I hated playing them because I knew we were going to be in for a fight. Not a drag out, kinda boring yet very technical, long distance snap-shooting contest, no, more like the equivalent of a paintball fistfight.
People were going to get run down, you were going to be in a lot of bunker-to-bunker firefights, your hands were going to hurt from the point blank knuckle shots. It was one of those games you get most of your weekend's welts from, because all the action happens danger close.
But like the UFC's Nick Diaz once said, getting cameras thrown in his face, as the hype for a title fight was building, "There is no love, without hate… in the fight game".
This rings true for paintball as well. Ask anybody who been in the game for a while.
Because I hated to play X-Factor, because the matches were so brutal, I ended up loving the games, and eventually the players, in retrospect, because the memory created during the on-field madness was so potent. Potent memories are the purpose of paintball. Their games were always a good story, always a fierce highlight of the tournament.
X-Factor made you remember them.
Nobody knew these guys at first; they appeared to come out of nowhere. Because, let's be honest, most pros don't know who's who on the divisional teams unless they're from the same area. And these dudes weren't from our area. We didn't know that they'd been working up the ranks and beating the tar out of everyone they played along the way. And they were from Texas, not a traditional breeder of powerhouse teams at the time.
X-Factor would bring out the best from opponents, and, after getting their asses whooped for a bit, they learned, put their own spin on the game, and started winning matches. And tournaments. Then, suddenly, they were one of the best teams in the world.
They were not scared to gunfight you. They did not hide. They pushed forward with a "You keep what you kill" attitude, trying to make a name for themselves and for Texas paintball. Make no mistake about it, as fun as the game inherently is, paintball IS about who's the best, with very tribal, team vibe. For 99% of paintball teams in the world it's about grabbing the best guys from your area of the world and seeing how you stack up against everyone else, from everywhere else.
It worked.
In fact it was in Chicago, 5 years ago next weekend, when they solidified their spot in the paintball hierarchy by winning the Chicago Open, traditionally one of the most difficult events. They went from rookie pros to winning a tough event in a year and half. They were always in the hunt for wins throughout the '07 and '08 seasons.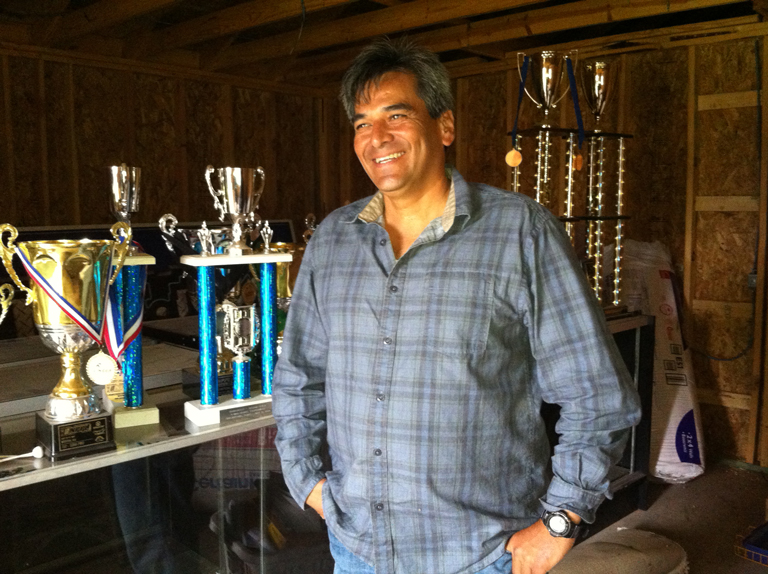 In 2009, Alex Martinez, owner, player, and the driving force behind the creation of X-Factor, would have to bow out of the tournament scene. He was going through a hard divorce, and needed to spend time with his son. Dixon Yang, a leader on the team, also had to take a leave of absence, as the economy had taken out his stepfather's job, and he needed to focus on work to help his family. The reigns of the team were handed to Archie Montemayor, Grayson Goff, and Colt Roberts.
But peers overseeing peers didn't work and the team floundered. Archie went off to fulfill a paintball dream and play with San Diego Dynasty two-thirds of the way through the season. In the beginning of 2010 Devin Odell joined him. Ryan Cohen left to play with the Ironmen.
For the guys left to carry the flag for X-factor, like Colt Roberts and Grayson Goff, these were disheartening defections. They carried on.
But the best team ever to come out of Texas was now fractured. They had already won, they were all now paintball famous, traveling around the world, friends with everyone. But the band was broken up, maybe for good, no one knew.
Their quick success ended up in a rut of mediocrity. On the field, the Texas swagger they used to come up so strong and so fast in the beginning of their careers was wavering. X-Factor was now a mid level boss, a team who warms you up on your way to the finals.
But, Alex Martinez wasn't going to let his team fade quietly into obscurity.
Check back next Tuesday for part two of Alex Martinez and the Best Kids In Texas–The X-Factor Story.

Also, read Colt Roberts' blog here.

Tune in and see how X-Factor does during the five-year anniversary of their first pro win. Watch the PSP Webcast free June 22nd-24th, right here on Paintballaccess.com.
You Might Also Like: