San Antonio X-Factor's Colt Roberts has been playing some of the best paintball of his long career the past few events. He stood out yet again at the Chicago Open, but had a crucial, major penalty in Sudden Death overtime against the Los Angeles Ironmen. The penalty cost his team the tournament. He talks to Paintball Access and give us a detailed description of the fateful moment. 
This is Part 2 of the interview, read Part 1 here.
 But the penalty was on you.
Yeah, then the refs say the penalty is on me. And I ask how's that? They say, "Pax shot you across the field." Well, that doesn't make sense to me, if I'm Paxson and I see a guy running the Dorito wire, my gun is on him, and as he continues to go, my gun is still on him. Paxson is notorious for putting you into the dirt if you try to come stick someone.
Totally.
So the fact he's not shooting me still, I'm like, "There's no way did I not just get shot by Raney, he must have spun on me." So that was my thought process, and I thought I just got screwed out of the game winner. Then you send me the shot of the video, of the play, and it shows I'm three steps past LJ (Justin Schwarz) and there's a hit on my leg.
So the ref's made the right call, obviously. I still don't know if Pax shot me. From the picture you sent me, Raney looks like he's about to come out on the tape, so maybe it was him.
It was tough to tell at first. We watched it from a bunch of different angles on the webcast, and couldn't see the hit, but then Todd (Martinez) sent me a screen shot from Der Der. And that one was pretty obvious.
Yeah, got the same screenshot.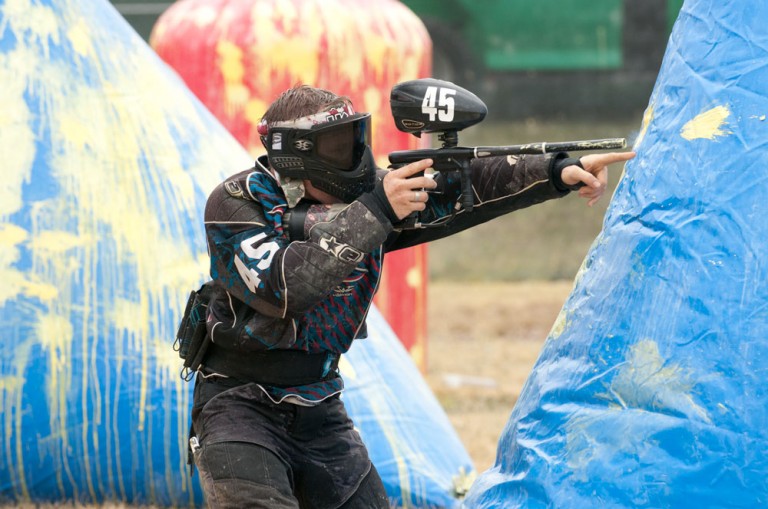 It's tough, though. When you're in that situation, what else could you have done? I guess, if you had felt the hit a little bit earlier, you could have just got the first kill. If you had just shot LJ, and not engaged with Raney, because Billy B. made a move off your move.
It would have been a 2 on 1. They would still have Raney in Dorito 1, and they still have Paxson, because Billy trades out with the snake guy. So yeah, Raney and Paxson against Archie, but, you know, I'll put my money on that. Looking back, yeah, I could have stuck LJ and stayed in his bunker, but the way I took off..
You were going too fast. You looked like Usain Bolt.
Yeah it was that window you see from all the years of playing, that Spidey Sense.
Honestly it was the right move, at the right time. It's tough, that's why paintball is hard, sometimes you make the move that needs to be made but it doesn't work and you get shot. It's just part of the game.
The way I see it, we either lost that point by sitting there and waiting. LJ had a great shot on Billy, who's at a disadvantage in that spot. Or I try to rely on Archie to hold him from coming to stick me. There was a small gap there, and Archie would possibly shoot him too, but he'd get me. I had to make the move.
I didn't second-guess myself, literally the second I felt it, I went. Immediately. I have no regret whatsoever. I thought it was a game winner, but I didn't work out. There have been times when a ref has missed that call, and it could've gone my way. But they made the right call, props to them. It is what it is.
Hey, X-Factor looks good. You're playing well, Johnson is playing well, Archie's great. You are doing what you need to do to be the high level vets on the squad. Todd and Grayson have pulled out clutch points. I look at your roster and it's real strong. How are you guys feeling coming off this event? I hope you are staying positive about your chances this year.
Yeah, we got back to the hotel that night and it was really cool. Archie, Alex and Dixon were all chatting about everything and I joined the conversation. That's basically the core, thinking computer of the team. When stuff needs to happen, and things need to get discussed, that's the four you're going to see in on it. And Grayson also.
We talked about how there are guys on this team who are actually doing the things they need to do to become better paintball players, but that everyone needs to be doing that. They are guys who are out there watching games and watching players, to see what's working on the field. For instance, I like to watch Greg Siewers, I think I play like him, and I think he's just a phenom, one of the best players in the league. So I watch the other guys at my position to see what's working for them, what's not working. I am putting myself in situations where I can learn. Instead of waiting for game, I'm going to find it. You might sit there and say, "Oh well, next time I'll do this different", but when you're playing, you have to remember there is no next time, try to get it done now.
It just spawned this whole awesome meeting of putting people on blast, but not in a negative light, more of, "Hey, this is what I think of you and this is what you need to do." We've all come to the realization that this is the team, there is no other talented pick up right now, we're not flying people in, so quit worrying about your spot, and start owning up to your responsibility. If you're not playing well then come ask us about it. I still come up to Archie and ask his opinion on things.
I'm never too proud to learn. If a rookie came up to me and gave me a valid point, I'll take it. It was a great "Come to Jesus" moment for the team. Afterwards we all went out and bought steaks, had a big BBQ, drank some beer, and went out that night for Ryan Brand's (their coach) birthday, with the whole crew. It was a great time. Good team bonding.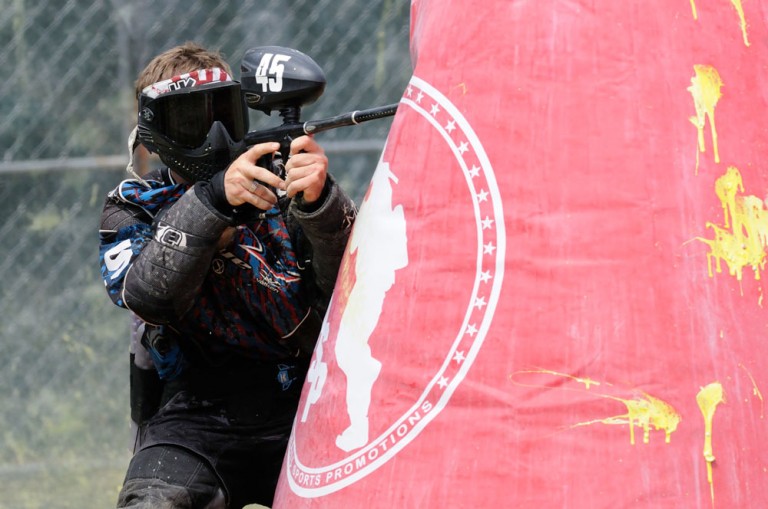 Yeah you need that sometimes.
We have four or five guys that are pulling their weight, and other guys who need to step up. Others aren't living up to their standards.
Like Billy Bernacchia.
It's time for those guys to look at themselves and say "Hey, ok, I'm one of the guys who has to step up now." Billy made a comment, how he's the new guy on the team, and he's not making the moves he would normally make, because he's trying to stay alive. And we're like, "Billy that's not where you are good, you got to be where you are now by getting in spots and trying to make things happen, you're gonna get shot, it happens, but you got to be that guy, that's why we picked you up." He's going to open up his game.
But we're not negative, we're just frustrated because it's like you said, we know we have a good roster capable of great things. This is two tournaments in a row where we lost by one point to the team who went on to win the event. And we beat ourselves, we lost a 2 on 1, which is just absolutely terrible, terrible. And then I make a stupid move, we could have beat Ironmen, there's no doubt about it, but in the end, it was our own mistakes that cost us.
The Ironmen 7-0 us last event and we should of beat them. We're there and anyone who doesn't think that is a fool. They are no teams who are looking at our team, glad to have us in their bracket. We're getting it together and we will win an event this year.
It's great to hear guys like you and Archie are still hungry for greatness, hungry to get better, watching the other amazing players in the league to pick up on what's working out there. It's like you guys are Bruce Lee right now, you trying to learn anything possible from anybody. That's what great champions do. Look at Anderson Silva, the most dominant fighter in the history of the UFC. He had Stephan Seagal helping him with his front kick form, which is a kick he's been doing since he was a child, and he perfects it, and the very next fight knocks out Vitor Belfort with that exact kick.
Right.
It's about actively pursuing every possible bit of information you can gather, every variable, and then processing that info and you choosing what's going to affect your style. And it's great the fight is still in you; I see a lot of fight left in your team. 
Yeah, man, because we're fighting for something important.. each other.
Keep coming back to Paintball Access as we bring you more insight into the teams and  players as we move towards the 4th event.
Make sure to mark your calendars for the next PBA Webcast, coming at you live August 10th-12th.
You Might Also Like: