With their aggressive attack on both sides of the field, 187 Crew, out of Upton, Massachusetts, is quickly winning fans and earning respect among their peers in the PSP Pro Division. They beat the Los Angeles Ironmen in the prelims at the last event, the Chicago Open, proving they can hang with any team in the league. If they bring that same fierce game to the Mid Atlantic Open August 10th- 12th, it could be the first time they make it to Sunday. 187's Mike Carlin talks a little bit about how he got into the game, and touches on the history of the team.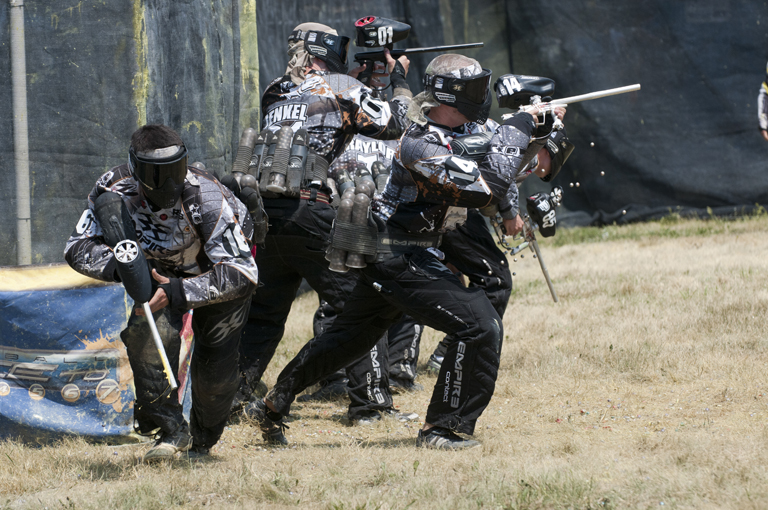 How did I end up on Upton 187 cRew? I started like most players, playing in the woods with friends, but back in 1995… yeah, I've been playing for a while now. I would go to the local field on the weekend with my high school buddies and just have a blast. I was more of the stealthy type, letting people walk by me and then popping up, shooting them in the back. I loved the surprise attack, sneaking up a rock wall, crawling down it without the other team seeing me, then pop up and shoot a bunch of people.
I played regularly through high school but didn't get out there consistently my first couple years of college; I was too busy enjoying the college life to wake up early on the weekends and drive to the field. We have some players now who have played while going to college. Now that's dedication. We practice often and require everyone to show up every practice, and for the most part, they all show up.
I got back into playing regularly the summer of my junior year at college and made friends with some guys at the field. We started playing on the same team every weekend we played. I'd never even heard of tournament paintball until one of the guys, Bert Gibson, told me about it. So we started playing a local tournament series at Fox4 Paintball in Upton, MA, in '03, and it was my first taste of competitive paintball. We started out as a 5-man team for a year or two, and then bumped up to 7-man.
We were only playing local tournaments up until 2006. In the northeast at that time 5-man/7-man was the only format offered. Our team, FFF (Friendly Fire Factory), ended up joining up with 187 cRew in 06 to become the core of the team we are today. How did that happen? Well, let me explain.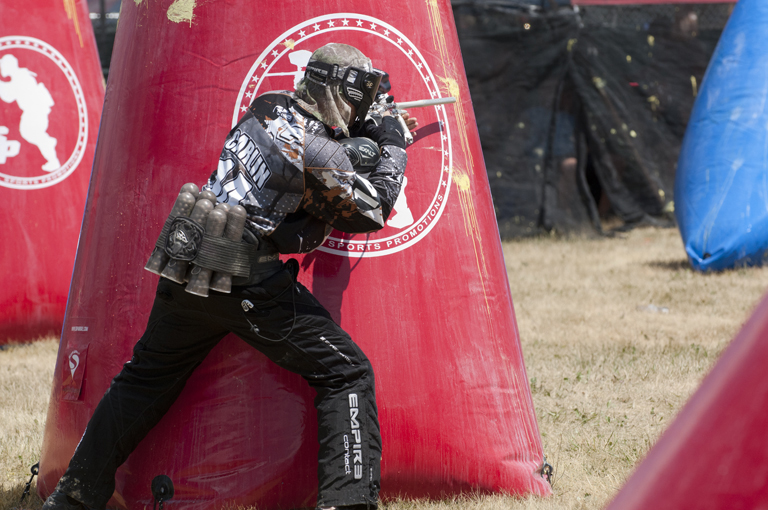 FFF had a FFF Kids team at the time and one of the players ended up going to play for 187 crew, his name was "Big Bad" Bill Brule, who was close friends with the FFF team. One tournament 187 cRew needed a player for a national event, and they asked Bert to play with them. From there he developed a relationship with Dave Painter and Fox4 Paintball, and ended up getting most of the FFF players onto 187– Max Traylor, Nick Leival, Aaron Blanchette, Greg Haynes and myself.
Some of the other players from the FFF team – Mark "Tacca T" Tacini, Chad "Shot me in the face" Kritsas, stopped playing competitive paintball at this time to focus on other things in life. With the backing of Fox4 this new team ended up becoming the 2007 NPPL D2 season champions. We played NPPL D1 in 2008 with mostly the same team and did all right, but by far, it wasn't our strongest year.
So how did we end playing X-ball/Race 2 you ask? There was no X-ball league in the Northeast at the time. Most of our guys got a taste of X-ball in a local X-ball tournament, maybe in 06 or 07, which we won, but never really played solely X-ball until the 2009 season when we played AXBL. There were a few of us that played on the Plattsburg Negligence team the previous year in the MXL. Brian Fienberg responded to a post on PBNation asking for players to play in the MXL.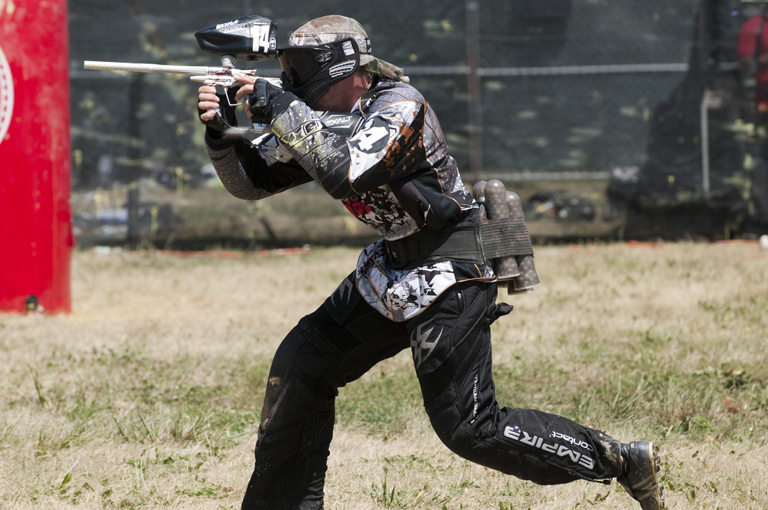 I don't think we even practiced with them, we would just show up, put our guns on 15 bps and have fun running down the field. Negligence's team owner sold the spot to Dave Painter, one of the owners of Fox4 Paintball, along with Curt Janson and Paul Cosman. We ended up winning the MXL and earned our spot into the AXBL at the end of the 2008 season.
That's how we got into the Race-To format, along with the fact that no one even knew if there would be a NPPL season so we decided as a team to go with a sure thing in the AXBL. We had so much fun playing the AXBL format of paintball.
After the 2009 AXBL series, which we took 2nd, we were all for playing the next season in the AXBL but guess what – no more AXBL, so we had to decide what we wanted to play and since we were having success in X-ball we decided to play the PSP D2 in 2010.
I have to admit, personally I thought we could hold our own in D1, but Dave Painter was adamant in playing D2. I can see his point, our ranking allowed us to, so why wouldn't we, (we could have actually played D3 but decided against it, that would have been straight up sandbagging, and the prizes in D2 were a little sweeter). I think my pride got in the way of my decision-making but looking back it was the right decision to play D2. Why not win at the D2 level, get some more experience, and then bump up to D1 the next year?
So that is what we did, we won the 3 events we entered in 2010 D2 PSP, and then moved up to D1 in 2011. In D1 we finished 2nd at Galveston, 4th at Chicago, 1st at New Jersey, and 1st at World Cup. By consistently placing in the top four each event, we earned the 2011 D1 PSP Series Championship and a pro spot in 2012.
The core players of the team have been together for a long time, Nick, Max, and I have been playing together since 2006, and then joined 187 cRew in 07 where Eddie Painter and Shaun Janson were already playing. We ended up picking up Noel Tran, Brian Jenkel, Brian Feinberg, and Doug Greim to play in the AXBL. Dan Zalinski made the tough decision to leave his "boys" on TNN, recent winners of 2011 D3 New Jersey PSP to come play with us in 2010. We also picked up Greg Lizotte for the 2010 season, Greg was a younger player with little national level experience, but he has grown into the snake player you see today.
And there you have it, a complete history of where the current Upton 187 cRew roster came from. We are a close-knit team, and more importantly, we are close friends, which is why in my opinion we have been, and will be, successful. As a player, you need to be able to look across the field and have complete confidence in your teammates. I know everyone on 187 cRew feels this way.
One bit of parting advice I can give to anyone is you got to have the steadfast belief that you are going to win, with no doubt whatsoever. I say it all the time – "If you don't believe in yourself no one else will". Most importantly without the support of Fox4 Paintball – Dave Painter, Curt Janson and Paul Cosman, Empire, and Planet Eclipse we would not be able to live out our dreams to play professional paintball. Thanks Dave, Curt and Paul.
We've only just begun.
Make sure you tune in to Paintball Access Aug 10th -12th to watch Mike Carlin and the rest of the 187 Crew battle at the PSP Mid-Atlantic Open, broadcast live and free. Mark your calendars and tell your friends about the best teams and players in the world playing in the most competitive league on the planet.
You Might Also Like: