In the past ten years Dave Bains has won 6 championships. The 6 is not a typo, an exaggeration, or hype. He has played for the who's who of paintball teams: Avalanche, XSV, Dynasty, Red Legion, Damage. His stint on these teams coincided with some of their most successful years. When you add those stellar performances up, you could make the argument that Bains is the best player of the past decade. It's a fact that Dave Bains has been personally more successful, in terms of overall titles than any other player in the same time period. Paintball Access' Matty Marshall picks his brain about how this happened, and about what's going on with his current team, Tampa Bay Damage, who after winning the first event of the year– making it 3 wins in row– have not played up to their own standards in the past two events.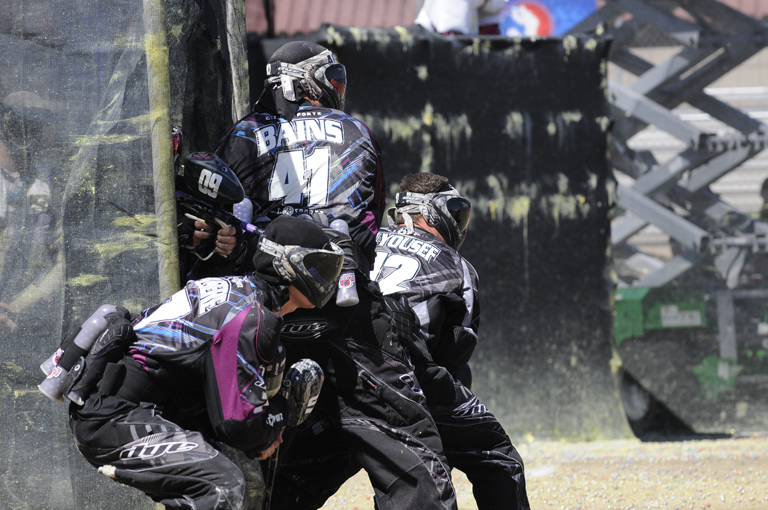 So you come into Galveston and smash people. But the finale to that event was the same weekend as the Phoenix Open, because of the insane rain out when we got 5 inches of rain dumped on us in Texas. You guys looked great during that win. Then, shortly after, on Saturday, you guys had the worst day of paintball, because you lost, that Damage has had in the past seven months.
Everyone had their theory, management had theirs, players had theirs, I had mine. Mine was, with the win on Thursday, it was like we felt we had already accomplished what we came for, when we won the first one. I'm not saying we came in too cocky, but the timing was terrible. We came in beating everyone up. Then Friday we beat up on two teams.
But then you ran into Infamous on Saturday.
Yeah, and I think, honestly we took them too lightly. They took two or three good, quick points from us. And after that, we were trying to play catch up. Then we got into our groove, started shooting guys off the break, filling quick spots, controlling the game, controlling the field, but it was too little, too late.
Infamous played us perfectly; they played great. Honestly Matty, they've played us perfectly this whole year. If any team has played us correct, it's Infamous. Chalk that up to us practicing three times this year; chalk that up to us playing them every event this year. Practices sure, we'll win 60 to 70 percent of the time, but who cares. Everything comes down to the tournament.
So we lost the first game on Saturday to Infamous by one point. And then we had a little pow-wow, with our coach, Paul Richards, Me, Justin Rabackoff, Chad Busiere, a bunch of us were sitting around, and we talk about how we didn't do what we needed to do. We gave each other criticism, which is always hard right after a loss.
We had won something stupid, like 16 matches in a row, and we lose finally. Everyone was giving each other good criticism, I was happy with it, so heading into the X-Factor game we felt strong. Then, shit you not, they did exactly what Infamous did; they literally controlled the game like we normally do. It was kind of like we were playing against our older brother, who just knows he's stronger (laughs) and can whoop our ass.
Yeah, (laughs) older brother strength.
I felt like we were playing catch up the whole game. That loss was a tough pill to swallow; we didn't even make the top six. Three 1st place finishes in a row then we get, I think, 7th place. That's a big drop.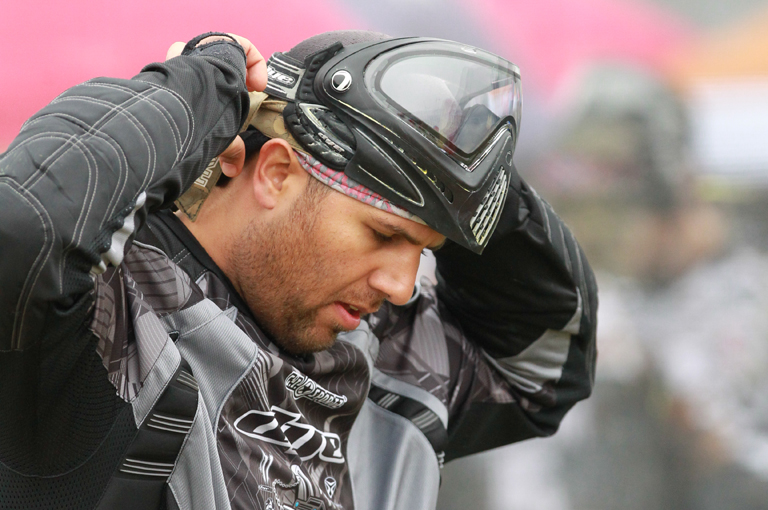 Yeah, it was shocking. I remember we were talking about how you guys looked like you were going to win four in row, which is almost unheard of, about how maybe you'd win two events in one weekend, just historic stuff. Then the story flips 180 degrees. Instead, Damage has their worst day in months, sending you home. What was the talk then heading into Chicago after the bad loss in in Phoenix?
Well I'm on one coast and the rest of the team is on the other, so I'm kind of on the outside when it comes to that. But I know the guys were practicing hard. We've been practicing less, as a group, than we have in the past. We'll do the weekend before, but last year we went two weekends before, I was just racking up those frequent flyer miles going to and from Florida.
But everyone thought it was fluke, everyone had the confidence, that cockiness to an extent, as a group. We had a practice against Infamous at CPX, in Chicago, the weekend before the event. We were playing well, splitting games; we maybe won a bit more than them. Then I got hurt, and stayed at the hotel to rest, and when the guys came back, they said we were winning 90 percent of the games. You know me, I'm a joker, so I'm like well maybe you don't need me then (laughs) I'll just chill, I'll just hang out here. Everyone was confident. We said our goodbyes, came back the next weekend with confidence, and then we get stuck against Infamous. First game they beat us again, it was a convincing loss. And that was a tough one.
What are they doing that's working; tactically what is beating you on the field?
They were playing a safe breakout against us, not really doing anything off the top, but neither do we, unless there's something we feel we can exploit. I think we were missing them as they made their secondary moves, and they were hitting our guys as they made their secondary moves.
It's not like they have a crystal ball and they're figuring out our game plans. We'd shoot a guy and then lose two; they were just playing smarter than us overall. That's the honest truth. They were making smarter moves, smarter transitions. They'd get a good, or lucky, kill or two, however you want to look at it, and then we'd be down points.
If you look at the Russians, when they beat us to go to the finals in Chicago, not to take anything away from them because they won, but we gave them that match. Just gave it to them. Again, they did win, but when we shoot two guys off a side and it's 5 on 3, and then we just run into guns, man.
Yeah, you should never lose a five on three.
Watching the Infamous game, they just took it from us. It's hard to watch; whatever we were trying we were dying. I'm glad we bounced back after that and won out going 3-1 in the prelims, made it to Sunday; where we got matched up against Houston Heat. That's another game were we gave them a few points when we were up on bodies.
We brought it back and beat them, then got matched up against the Red Legion, but that's another tough game to go back and watch. These are some phenomenal players I have around me, some of the best, so it's hard to watch us take losses like that, and watch from the sidelines.
You were out with a back injury. How is your back?
It's getting better everyday. I guess can tell everyone now; it was a lame injury, a funny story. Coming back from practice right before the Chicago event, you know how we have roommates, and I was the second guy in the shower. I was in a hurry, everyone was waiting for me downstairs, and I slipped on a little shampoo bottle, pulling and tweaking muscles in my lower back. And my hip area.
That's the real story?! Because I heard there was a fire and you had to save some kittens by jumping out of a window… (laughs) babies and puppies in your arms at the same time.
(Laughs) Yeah, I appreciate Todd, Chris and you trying to make me look cool and get my street cred up, but I just slipped in the bathtub. A small conditioner bottle took me out for a week. I was getting pain and muscle spasms in my back. I don't consider myself a wimp or a baby or anything so for me to sit out a practice, be in pain, not be able to help the team at the tournament, it sucked.
So I sat down with Paul Richards, our coach, he said, "At the end of the day, there's a lot time left in this year, why don't we sit you out and see how you feel day to day". I agreed with him, I wasn't 100% so there was no argument from my standpoint. I told him I could play if he needed me, but he said, "Let's take it easy". So I sat out the whole event. I played last weekend, it felt good, the old man has still got it, still got some shots left in the tank (laughs). I'll be at 100% for the MAO event and hopefully I can help the team get back to the top and stay there, where we need to be.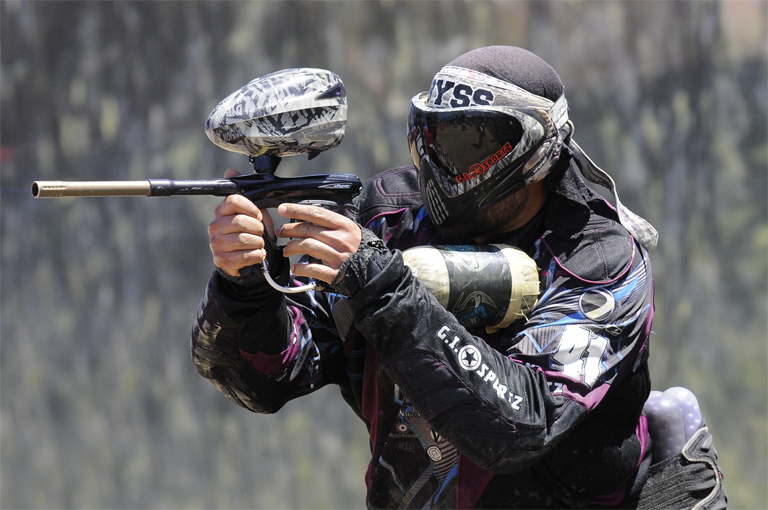 So what's going to change heading into the Mid Atlantic Open. It's a big event for your team. You win Galveston, have a bad day in Phoenix, and then underperform in Chicago. Like we always talk about, this game is all neck up, so what's going on neck up for you guys?
We'll be more focused. Way more focused on exactly what we need to do to beat each team. I'll be playing healthy; we'll have another guy on the roster. Hopefully I can help the team and make a difference.
How many years do you think you've got left? If we're just talking about players, you're arguably the best, most successful player in the past, say, seven or eight years. You played for XSV, then the Russians, then Damage, and won with each one of those teams. You've been a rock steady lynch pin for some epic teams.  So, 1–How much longer do you think you can do this, and 2–What has been the secret to your success?
I want to say curry, Indian food. (laughs)
Come back to Paintball Access on Friday to find out what Dave Bains feels is the secret to his incredible run of wins and championships.      
You Might Also Like: