Moscow Red Legion walked away from the Mid-Atlantic Open bitterly disappointed with their 6th place finish. They shouldn't hang their heads too low, however, because they've been competitive all year long with two 2nd place finishes, and their young rebuilt squad is solidly intent on getting back to the top of the game. The highest ranked player in the world, and star Red Legion killer, Marcello Margott, takes us through their heartbreaking loss to the eventual event winner, Houston Heat.
Sunday, August 12th, 6am. My alarm wakes me. I get up with a smile on my face, as I do every Sunday morning we're still competing. I get the same feeling waking up for tournaments now as I did playing Division 3 with Aftermath years ago.
The Sunday morning clarity of focus is a unique thing in life, and I woke up with a sincere grin from the thought of having another chance to earn a win. I feed off this feeling. The elusive win is so close; all we have to do is take it. Though it's early, there's no time to be tired because the only thing on my mind is getting to the finals and winning.
I quickly get ready, going through my normal morning routine, which usually involves breakfast, but this morning I have no appetite. Grabbing just a cup of juice, I head to the van where the rest of team waits. We all hop in and head to the field.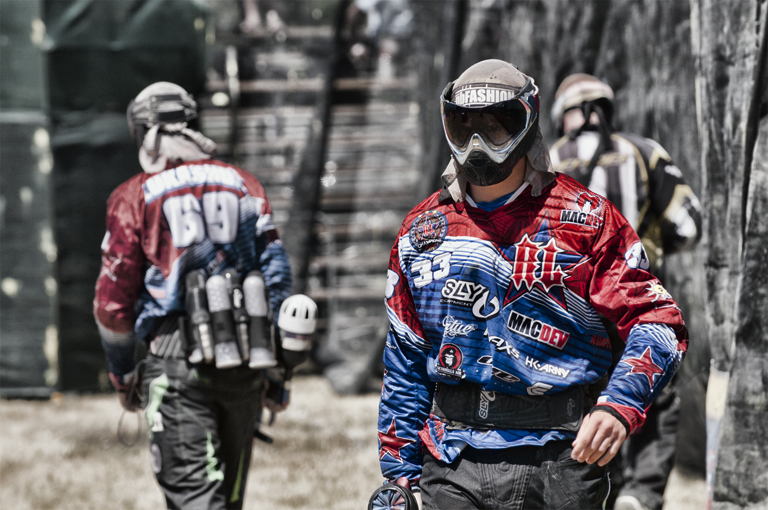 On the drive, I know everyone is thinking the same thing: It's our turn to beat Houston Heat. So far we have played them 3 times this year, with them winning all 3 incredibly close matches. This would be the 4th time we would play them in 2012 and the only thing running though my mind is there's no way we're letting this happen again.
I admit, had doubts if all the guys believed the same thing. I know they want to win, there's no question there –we all want to win– but the situation is unique, it's nuanced, and I understand. The Russians who left to go to Houston Heat –Sergey, Fedorov, and Mikhail–had a big mental influence on the team. Having 3 people who have been with you as long as you can remember leave and join another team, I'm sure can be tough, especially for the younger players who looked up to them, and who have to now play against, instead of with, them.
I didn't care though, I felt we had been through enough this year together with each other to know that we can beat anybody as long as we play as a team. If everybody does their job and focuses on the small inter-match goals, we will achieve our main goal. It's that simple. Together we are unstoppable.
We go for our warm up 15 minutes before our game as we do before every match. I like to be the team motivator. Everybody always has something really important to say on our team; it's on of my favorite elements about our squad.
There aren't many wasted words with this group; if they say something, it always has meaning. Personally, I just like to go around and pump every body up, let them make fun of me, get the team spirited up. I feel it's very important to have a high level of confidence, as well as a good team spirit with positive vibes. If people are feeling good and confident they tend to do better in everything.
Now ready for the game, we take the field. Our first line is comprised of Me, Kirill, Malloy (Alexander Berdnikov), Jason Wheeler, and Axel. We manage to break out to our spots and make it 5 alive, and thank God, because we were having trouble with all weekend. Shortly after, we lose Axel off the snake side. No big deal though, as we still have good field position. I make my way into the 40 yard line dorito and think, "Alright we've got this point. We just have to stay smart; it's now 4 on 5."
But things go bad quickly as we lose Jason Wheeler next, leaving Malloy in the center as the widest guy on the snake side. He gets shot, and then Nick Slowiak takes out myself and Kirill.
Ok, no problem, they scored the first point. There's plenty of time and we are set on winning this match. It's our other line's turn to pick up our slack and put a point on the board. They go out with Golev, Evgeny, Panteleev. Pasha, and Vladislav. And they quickly bring the score back to even, we win the point, and it's now 1-1.
Our line takes the field again, winning the point, going up 2-1 on Heat as Axel does work on the snake side. It's a seesaw battle as we lose the next point, tying it back up at 2-2. Then we win the following point, which comes down to a long 2 – 1, Konstantin Fedorov against myself and Jason Wheeler.
I've watched Fedorov pull off many 2 on 1's, so I scream across the field to Jason just to stay alive and we will slowly dig him out together. And that's exactly what we did, making the score 3-2 in our favor.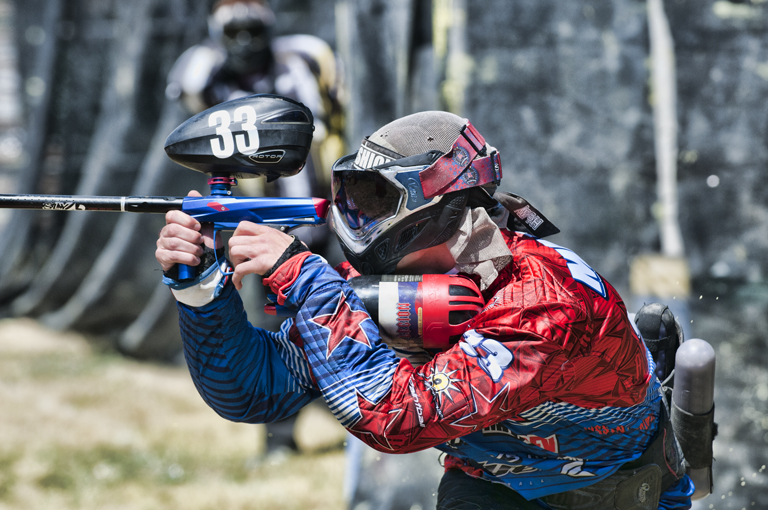 Everyone was playing great, all of our player's heads were focused, and we were ready to win this game. The next point, I hesitate on deciding which bunker I should run to, but decide on the Dorito corner. Bad call on my part, as I take a shot to the head, right at the end of my run, just before I can get in clean.
So, frustrated with my decision, I go into the pit and watch as the Heat take the point, tying it up.
There's now around 2 minutes left in this quarterfinal, do-or-die match, the score is tied 3-3, and I'm confident we're going to get the next point. If not, worst-case scenario, we stay alive and send it into sudden death overtime.
Sending Golev in front of me on the Dorito side, I go to the back center tower shooting right. My goal is to shoot someone off the break, look for an opportunity to press forward, and safely win the point. If not then just stay alive and take the game into over time.
Disaster strikes; we receive a very painful major penalty shortly after the breakout which caused me to be pulled, along with losing our Dorito player. Houston Heat capitalizes quickly, taking the lead, 4-3, with a little over a minute left to play.
We go back out for the final point and try and score a quick one to bring it back from the brink, but we're starting with only 4 bodies. We all survive the breakout, I make it to the 40 yard line Dorito as Kirill and Malloy work their way through the center. It looks promising, but we start dropping bodies. Heat knew what we had to do, and they shot the lanes hard, waiting for us to push forward.
I tried to battle my way to their side of the field, but wasn't successful as time expires. We had lost to the Heat again, putting us out of the tournament in only the quarterfinals.
This loss was different than any others this season. I honestly don't have much anger or bitterness. Of course I'm upset and disappointed, but it didn't have the same effect on me as our losses earlier this season. I know we are right there and I know that together we can win. We just really need to start believing in each other and eliminating these little mistakes. The entire game I felt in control, I never felt like we had let it slip away… it just didn't end with the score in our favor.
That night we went to our usual Sunday team dinner where we all just enjoy each other's company. I love these nights because I don't get to see them until the next event so it's cool to have everyone together, just enjoying good food and laughs. We talk about the tournament and certain games and things we could have done better, of course, but we also laugh and share stories.
Tonight was different; I could tell this loss was the one that woke everybody up…

Stay tuned for Part 2 of Marcello's MAO story, and see how Red Legion handled their most frustrating loss of the year.
You Might Also Like: