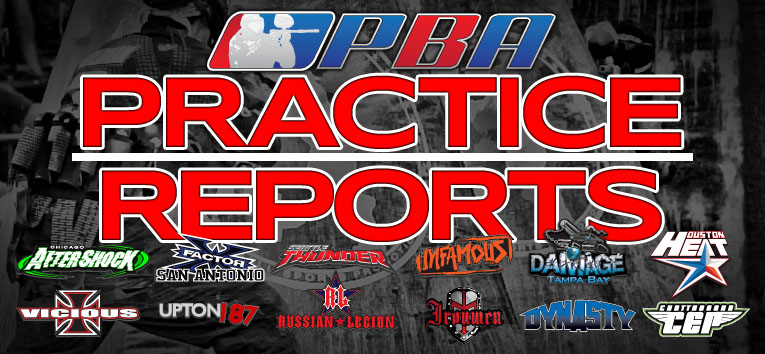 San Diego Dynasty
Dynasty played this past weekend at Camp Pendleton Paintball Park in Oceanside CA against the Ironmen. This weekend they will be running drills at Camp Pendleton.
Los Angeles Ironmen
The Ironmen played this past weekend against Dynasty at Camp Pendleton Paintball Park in Oceanside. They will be at the same field this upcoming weekend, playing against Royalty and Fusion– Southern California D1 teams.
San Antonio X-Factor
San Antonio X-Factor scrimmaged against each other last weekend at owner Alex Martinez's paintball field outside their hometown.
Tampa Bay Damage
Damage will be playing just one full team practice before the MAO event, at Central Florida Paintball in Lakeland against Infamous.
Houston Heat
Houston Heat gets into Chicago on June 30th, where they will be practicing until the 3rd, when they fly to Canada to play the CXPL. They then head to Maryland to play the MAO. They do not have plans to play another pro team yet.
Moscow Red Legion
Red Legion assembles their squad in Maryland on the 2nd of Aug, and will be getting a full practice week in before the event. They do not know who they will be playing against yet, though the first couple of days will be set aside for drills.
Chattanooga CEP
CEP scrimmaged their D2 team at Insane Paintball this past weekend. They will be playing against Vicious in Omaha this weekend.
Seattle Thunder
Seattle Thunder scrimmaged against each other last weekend at their home field, Diamond Hill Paintball in Harrisburg. They will be doing the same this weekend. Thursday before the event, they will be scrimmaging other pro teams in a round robin grind session at the event site. Possibly the Ironmen, Heat, Russians or 187 Crew.
Los Angeles Infamous
This past weekend Infamous played Distortion at CPX, outside of Chicago, IL. This weekend they travel to Central Florida Paintball in Lakeland, FL, to scrimmage Tampa Bay Damage at their home field.
Upton 187 Crew
The Crew has been playing against themselves and doing drills in the weeks leading up to the MAO. They will be practicing against the Los Angeles Ironmen Thursday before the event.
Omaha Vicious
Vicious has been practicing every weekend since Chicago, intersquad games and drills, at their home field outside Omaha, and played the Ultimate Woodsball league, taking 1st, beating a team who had Damien Ryan, Brad McCurley, and Nick Slowiak They will be playing Chattanooga CEP this weekend in Omaha.
Chicago Aftershock
Aftershock will be having an intersquad practice and mixing it up against Boom at Badlands south of Chicago this week.
Next week Paintball Access will bring you a look at how these teams fared during their tournament preparations, break each team down, and lay out their chances at the Mid-Atlantic Open, broadcast live and free on PaintballAccess.com, Aug 10th-12th.
You Might Also Like: