Every team has a story, and some are better than others. This, my friends, is a good one. As I was sitting up in the broadcast booth at the Chicago Open, a sheet of paper was put on my desk. It was the schedule for Sunday, for the D4 finals there was team I'd never heard of– "Playground Army". Hmm, "Clever name" I thought, "wonder if they're any good." They are. They smashed through Hit Squad to win the event. At the time, I had no idea it was their first event together, with one mediocre practice under their belts. Everyone who has been in the game for a while has played on a throw-together team; a bunch of guys who get together just to play an event. These teams almost never win. But this one did. This is their story, told through the eyes of team Captain Greg Chirinian. It's worth a read, because it proves anything can happen in this sport, if you want it bad enough, and you're not scared to try.
Matty Marshall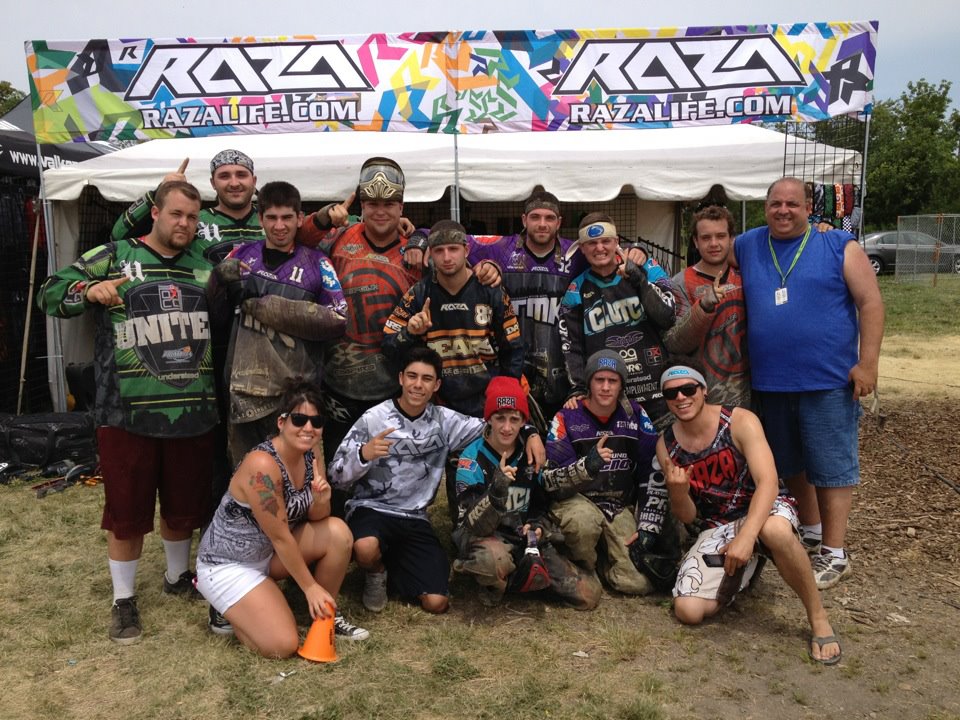 But I'm getting ahead of myself…first let me tell you where I came from, how Playground Army got together.
I've been in the game for 13 years, starting out with humble Woodsball roots, getting into the scene using Tippmann pro carbine rentals at Liberty Paintball in New York. After a while messing around for fun, my twin brother and I quickly got hooked into the tournament paintball world, forming our first team, going by the name Dogs of War. We started playing local tournaments in upstate NY, competing in three and five man events at Liberty Paintball and Crazy Paint, NY.
Oddly enough, we met Bart and Matt Blonski at a Liberty Paintball five man event, way before their time in the pro ranks. They were playing for a team called Backlash at the time, one of the best in the area. We didn't know it at the time of course, but the Blondski's would go on to become World Champs playing with Moscow Red Legion. They were amazing players, and watching those guys run shop at those events motivated us to make paintball a permanent part of our lives. The experience of competitive paintball was something we simply could not get enough of.
After a couple of years competing and earning several 2nd and 3rd place trophies while in high school, college came around and paintball was pushed aside out of necessity. It never felt right, being out of the game, but I simply did not have the time or money to continue playing. I had to focus on my tasks at hand– graduating college and getting a job — so I could one day afford to be out on the field again.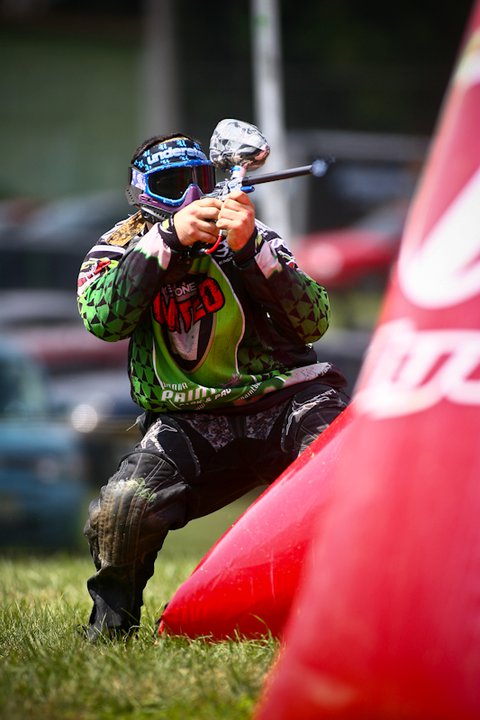 I made a promise to myself, one that held true — after 5 years I was back on the field with a degree and job under my belt. I started up again in early 2010, playing at Obnoxious paintball, which was a popular indoor field before it had to close its doors just months later. While playing at OBX, I met a few guys who would later form The Meadowlands Kids with me. Just a week after OBX closed, Meadowlands Paintball opened, and a handful of OBX kids and I headed out to see what this new field was all about.
Our paintball lives were about to change forever.
With its prime location, just down road from the Met Life Stadium, the Meadowlands attracted the best talent in the Tri-state area. After months of practicing weekly, we had a solid team consisting of myself, as the captain, and a few new pickups from the area. One of the pickups was Aiden McGrade, who had roots from the Playground Paintball Field, in Sewell, NJ. While there, he played with one of the home teams, the Playground Kids.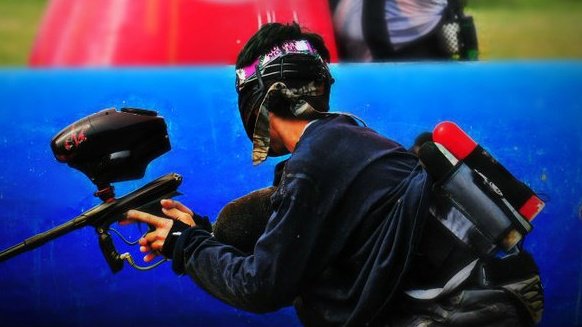 Aiden also knew Matt Medes and his little brother Brad, who formed an unstoppable team called Clutch. They competed in Global Paintball League/Mid Atlantic Paintball League all of last year and were easily one of the best teams out there, consistently placing well. The following season of 2012, I was competing in GPL/MAPL with Aiden and my team, The Meadowlands Kids (TMK). I was introduced to Matt and his brother.
The seed for Playground Army was planted.
Matt Medes had a vision; to hand pick some of the best talent from the many local teams he knew of that all competed in the GPL. He approached Aiden and I at the second GPL event in July, and proposed the idea of constructing a team that would compete in the PSP, and asked the two of us if we were down to play.
Without hesitation, we agreed and booked our flight tickets to Chicago that night, just two weeks before PSP Chicago was to take place. Furthering his vision to select the best players in the Tri-State area, Matt asked the remaining members of what is now PG Army, to compete in the PSP with the three of us. He picked up Sal Safonte, and Jesse Reed from Top Gun T2, one of the home teams from Top Gun Paintball, where MAO was supposed to be held this year.
Sal is a big dude with big character, and is always the loud crazy guy who pumps up the team, and also puts people in check when the needs arises. Jesse was a solid Dorito-side player who had known Sal for years. Both guys play in other leagues like USPA and GPL as well. Next, Matt looked to Keystone United, a home team from OXCC, picking up Luke Mummert and Kevin Kelly. These guys were an easy roster decision to make, as they stood out from their other players, being ridiculous gunfighters.
With these new eight players, Matt looked to finish off the roster with Scott Schecter, who played for teams such as Lift and 495 kids. In addition, hailing from Long Island, was Abe Ziad, a Chicago native and newcomer to the sport, and Joey Aubry, one of the best players from the Playground Kids based out of New Jersey.
Although everything was uncertain at the time, all the new guys committed to a team practice at Top Gun, just days before the PSP Chicago event. Everyone came out, most of our guys were meeting all these new faces for the first time, and the results of the day were somewhat mediocre.
We won some games, lost a few as well, and we all went home that day wondering if PSP Chicago was just going to be a waste of time and money. Matt and I still saw the potential for something special and decided to move forward with the playing the event, no matter what happened.
We're sure glad we did.
Starting the event out on Thursday, we would face Hit Squad and Trade My Guns Empire. Things didn't start out top notch; we went 1-1 for the day, losing a close match to Hit Squad by one point. We finished the day beating Trade My Guns by a commanding 4-0 win.
You know the feeling you get, or maybe it's the feeling we all hope to find eventually, when you look around and the vibe just feels right, like something special is about to happen, something outside your normal reality? That feeling was starting to catalyze as our momentum built. We were gelling as a team. And the thought really began to grow in our minds—We could win this event.
Still very early in the tournament, we had a team meeting Thursday night, to re-evaluate our performance for the day. We realized our strengths and weaknesses, and agreed that on Friday we would pick up our communication, and put more trust in each other to hold down lanes, so we can take more real estate on the field. We got a good night of sleep, and mentally prepared ourselves for what we would face the next day.
Friday's first match would not be a cakewalk.
We were facing Central Florida Paintball, one of the best teams amongst the D4 ranks, and widely known in the PSP to have a solid program and very talented home teams. After a tough fought battle, CFP edged us out by just one point, when Scott Schecter lost a One-on-One close to the end of the match.
Final score 3-2, CFP. Although we lost, we realized we just gave one of the top D4 teams in the world a serious run for their money. Using that momentum, we charged through North Texas Shockwave 4-1, to finish our prelims matches. Due to our excellent point margin (3-2, 4-0, 3-2, 4-1) we snuck into the next round as a wildcard pick, and were on to face Imperial and CFP yet again on Saturday's schedule.
By far our hardest day of the event, Imperial and CFP brought out their best game on Saturday, neither team taking us lightly. Somehow, we were able to come out on top in both matches. Our team brought out everything they had, as we charged head first into a level of competition we had never seen.
After coming through these battles, we were all feeling really good about our team as a whole, getting along extremely well, and utterly focused on bringing our best game to the Sunday club.
This was the first time the majority of the team had played a PSP event, let alone finals– for first or second place on the PSP webcast. Quite nerve-racking if you ask me, LOL.
Going into Sunday, the morning before our match was a blur, mesmerized by the pro pits and going over game plans in our heads. We stretched as a team, talked about what we needed to do, and headed into the pits next to Dynasty. It was unbelievable to think how far we had already come, considering we were a random throw-together team from the East Coast, whom nobody had ever heard of before.
Struggling with emotion, but putting the nerves and fear aside, we headed out onto the pro field, knowing our every moment was being recorded – surreal! After a team huddle, we were amped up and ready to go, now was our one and only chance to shine and take home the gold.
(Watch Playground Army's finals win here)
We won – we are the D4 PSP CHAMPS! HOLY SHIT! ARE YOU F%$&ING KIDDING ME? This was the next thing I remember, and until I finally saw our match on the webcast, did not realize how well we really did play. We put it on Hit Squad, looking for revenge from beating us in the first prelim game. It was such a rewarding and exciting experience for all of us, and one that made us realize what a good thing we have going.
To come from nowhere, just a vision of success and turn it into reality, for sure the experience of a lifetime that I am so happy I was a part of. Something that will stick with me for the rest of my life. I look at my gold medal everyday and realize anything is possible, so long as you put the necessary work in. Everyone has humble beginnings and whether it ends in success or failure, you will never know unless you try!
Playground Army wants to be known as the throw-together team of the century, and we are more driven now than ever before. All of us share the same passion for our beloved sport, and it truly is a huge part of our lives. This was an eye opening experience for all of us, realizing we are all capable of doing tremendous things, and that experience doesn't matter so much as taking it point by point, breakout by breakout, shot by shot.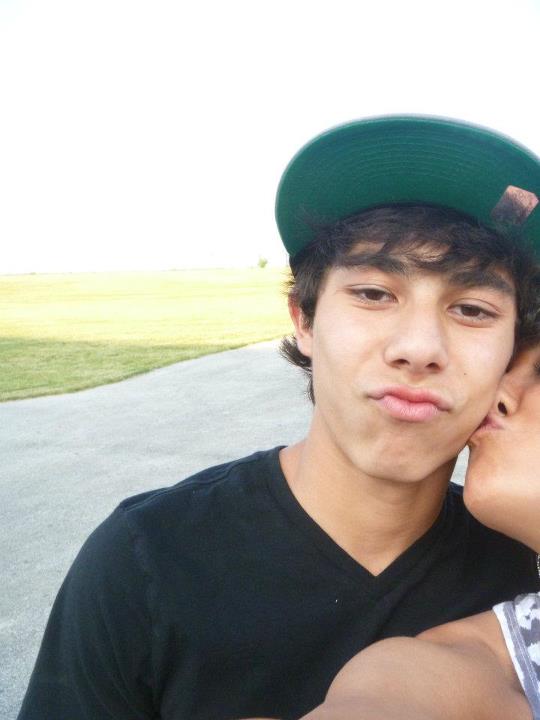 Words cannot describe how glad I am that, "F$CK IT, let's play PSP Chicago, Aiden, why not?" came out of my mouth a couple months ago. You have to take risks in life, whether big or small, you can't know if they will pay off until the end, but I would rather try and fail, then never have the opportunity to find out what I'm made of.
We have picked up some new talent for MAO, including Brandon Goodish who currently plays D2 with Avalanche in the NPPL. Everyone is really looking forward to playing MAO, and seeing how well we can fair when PSP comes back to our very own East Coast.
I really hope this story inspires the young players and new comers to our sport, and shines some light on the possibilities that may come about if you don't hesitate to go after your goals in life. I hope this story helps promote and grow this sport that we love so much, and that some future super stars experience the same feelings of joy that we have, after it's all said and done.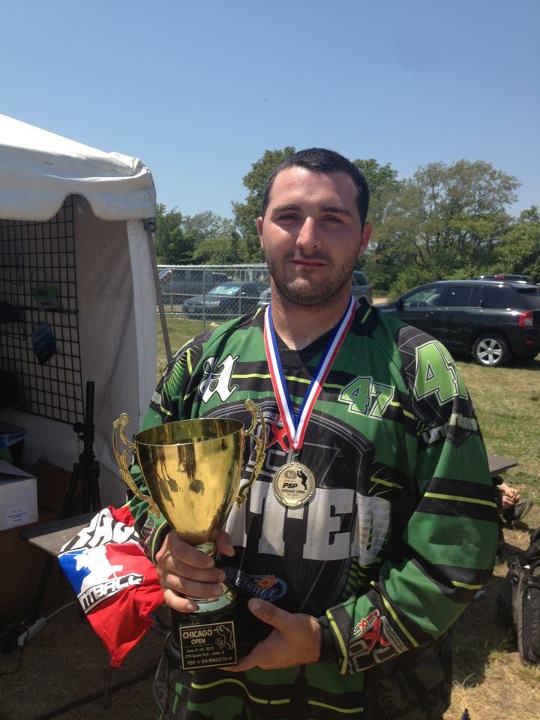 We look forward to moving up the ranks and seeing how far we can take this dream. Our team is talented, motivated, and humble. We know you are given nothing in the PSP, you must earn your spot in the paintball world. But that's the whole point, right? This is where the best teams play, and you have to beat the best to be the best. I hope people read this story and understand anything is possible, and that everything starts with a decision to get off your ass, pick up a gun, call your boys and get to an event. So put a team together and get yourselves out there, win or lose it, if you try, you will never look back with regret.
You Might Also Like: