The most Successful team of 2012, Houston Heat is stacked with talent, but it's their hard work that's put them at the top of the paintball heap this year. Nick Slowiak reflects back to their win at the MAO, their second of the year, and what it took to get there.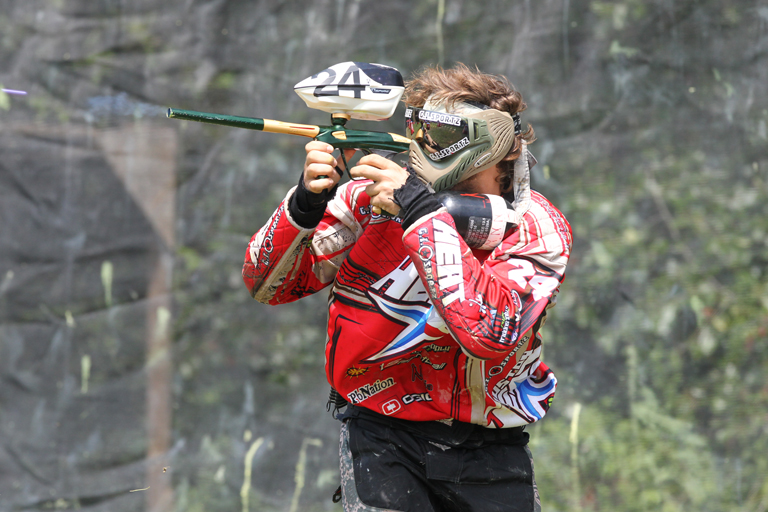 We don't get to think about wins very often.
If you're a competitive paintball player, you think about winning all the time; our lives revolve around these thoughts, and all our actions are split up and analyzed in relation to what we think is the right path to winning.
But to reflect on an actual win, that is something of a rarity. Because wins just don't come very often.
I've been able to do this twice this year and it is still a surreal experience.
I think I have watched and re-watched the "Live" webcast of the PSP MAO event about 7-8 times now. Everything that happened that day, all of the emotion, and energy, it all just seems like specks of dust to me, barely there.
I do not know why I feel this way.
The day after the event I was sitting in my boss's office talking to him about everything that had transpired, how it all felt like it happened a year ago to me, yet 17 hours earlier we were playing the finals.
Why have we had success this year so far?
I have thought about this a lot the past few days and in looking back to our two wins this year, in Phoenix and Chicago, and I can see similarities. A big signpost exists for me, popping up as I thought back. One version of memory rings absolutely true, which was brought to my attention on the podium as we were excepting our trophy, while thanking sponsors and chatting with Steve Rabackoff, is just how much hard work everyone in the Heat family puts in.
I am really glad my teammate Chad "Yaya" Bouchez spoke up and said the things he did on that podium; they were a catalyst to make me understand and appreciate what's happening around me with Houston Heat. Like most memories his exact words escape me, but he spoke on effort, on hard work.
It's a simple equation really, hard work=wins. No wizardry, no magic potion, just lots and lots of reps and dedication, and belief in the cause.
This hit me, in the moment, on the stage with champagne exploding around, teammates wearing triumphant smiles. Chad couldn't have been more right; everyone on our team works their ass off to get prepared for these events. The 2 weeks the team is together for these events is one big, huge, crazy paintball grind.
Now, I love paintball, and I love my team, but when we started getting ready MAO there were times when at practice I wanted to punch people…Yaya most of the time, but that's because we're boys, and know how to push each other's buttons.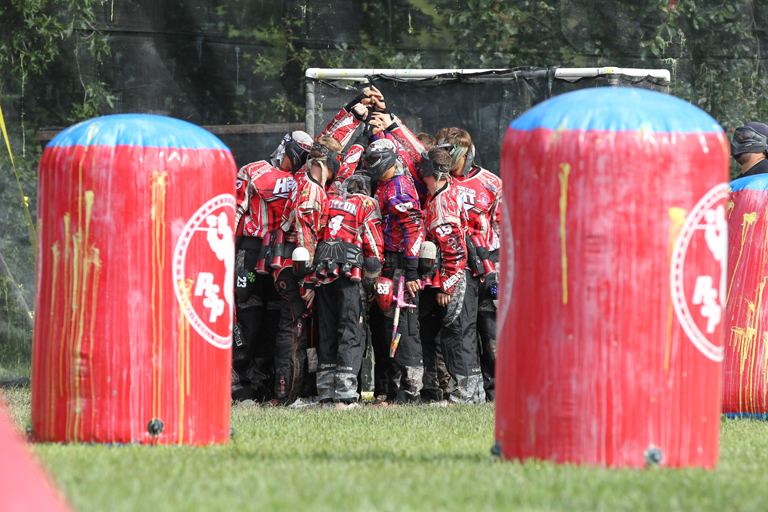 There's such a huge amount of intensity during these practices. Leading up to the last event they were even more intense, fueled by the team's understanding that we had a terrible performance in Chicago. Now don't get me wrong, we are all friends and have a wonderful time but, man, we work very hard to put our team in a position to do well.
The whole team came in and practiced for 3 long, hot, intense, mid summer days in Chicago. Then we were all supposed to go to Canada for a Canadian X-Ball event. Sadly, our Russian comrades could not get visas into Canada and had to remain behind in Chicago, where they lounged around, slept, and went shopping…how terrible for them.
The rest of us, with our coach Jason Trosen, went on to play 4 full X-Ball matches, 2 per day, at the CXBL event. From there, we traveled to Philadelphia and then onto OXCC, the field where the MAO was held, for practice until the event.
Paintball, paintball, and a little more paintball was our diet before the tournament started. Then, as quick as it began, the event was over…of course there were the games, nights in the hotels, team dinners, and other random sorts of shenanigans that happen on the road when you're with the same guys day in and day out. We try to keep things interesting.
I can easily say there was not a doubt in my mind, going into Sunday at the Mid Atlantic Open that we were going to win. Even with the toughest schedule you could be handed, I knew we were going to win. We had to battle through a nightmare set of teams—Moscow Red Legion, Tampa Bay Damage, and then Los Angeles Infamous for the victory.
I welcomed the challenge. That brutal schedule is what Sunday was supposed to look and feel like. The perfect embodiment of the "grind" we all talk about, a torrent of non-stop fighting against the best opponents the world has to offer. We, as a team, prevailed.
It seemed fate aligned for us to play Infamous again. Only this time, our game was in the Finals, for everything. I smiled a lot that game. Mostly due to my teams drive, heart, and focus…maybe a little due to Chad George's snake juice he gave me before hand. Plans were working, our flow on the field and in the pits was pitch perfect, and even if the point did not go our way, everyone on the team picked each other back up and refocused.
These whirlwind events merge, as the year itself becomes one long memory, a dream no longer deferred. It's our time, and the more we believe, the more we buy into the system and understand our potential, the harder it will be for other teams to take us down.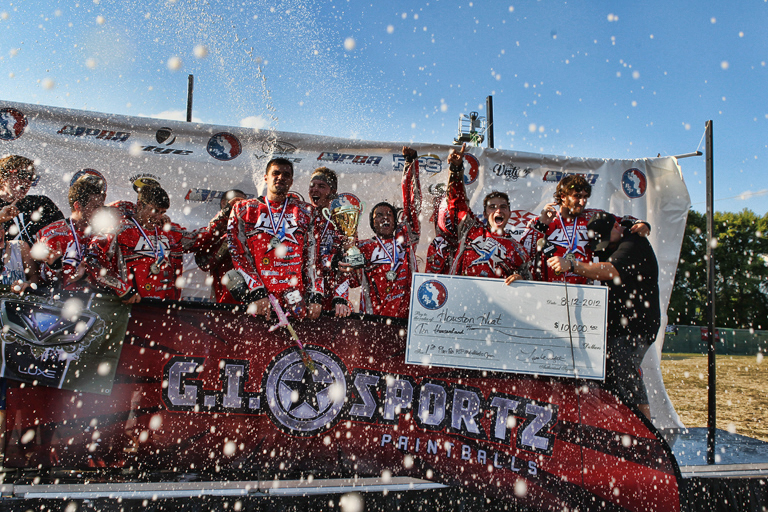 After the match I had a brief flashback to when we all first got together for practice on Day 1 of the Houston Heat story. Standing there at OXCC, fresh off another victory, it was as I had just got out of my car at The Badlandz for the first practice of the season.
I was the last one to arrive after getting the paint from GI Sportz that day months ago. No sooner had I walked a couple of feet when my teammates started yelling at me and Fedorov came and gave me a hug, asking me how things were.
It was and still is hard to believe that I am playing with him, Sergei, and Mishka. I'm just a kid from the Midwest who decided, one day, to follow my paintball dream as far as it could go.
Before I knew it, we were on the podium spilling champagne on each other and yelling at the top of our lungs…but it was Yaya's words that were echoing in the back of my head about how hard everyone in the Heat family really works.
The drive to the hotel and quick showers were only interrupted to watch as much of the webcast as we could. We then said good-bye to our teammates who were bound home Monday to their far away country. Off we were to the airport and a very surreal flight back to reality…a reality that seemed to take only a couple of hours to set in as I had to walk around O'Hare's parking lot looking for Yaya's car for about 45 min.
The big thing that I miss now is just being together with my teammates in those moments of trial, the moments of loss, frustration, and of joy of the win. We come together for 2 weeks and focus so hard, with so much determination on getting the layout mastered and working together that the time just flies by.
All of that work and fighting culminated in such a brief, but massive climax. In order to make this moment last with the Heat family, we will soon be back at work.
The best feelings come from walking out of the pits with your teammates after a win to see everyone who has come to cheer you on and make the dream come true. I am truly counting down the days until we are all untied again to prepare for the Cup. I cannot sit still thinking about it, aching for the grind of practice to come.
I will hold these fleeting moments close to me, living within them as my day to day takes me toward the next Houston Heat adventure, fully understanding and embracing what we are creating here, with my new teammates and surrogate family.
I count down the time between now and World Cup watching the clock, trying to will it to move faster.
Make sure to check out Nick Slowiak and the rest of Houston Heat when they battle against the best teams in the game, at the biggest event of the year. Tune in as Paintball Access brings you the 2012 PSP World Cup, live and free, Oct 25-28th.
You Might Also Like: