Dan Napoli works for Disconnected Media, as a writer, editor, director and producer. His company has produced Planet Eclipse's video content for six years, including all three seasons of the Artifact documentary series. He has worked in paintball since 1999, and been involved with producing of paintball video content since 2000. Napoli gives Paintball Access' readers insight into the creative process as he gets ready to unveil his newest creation, #RedSunday.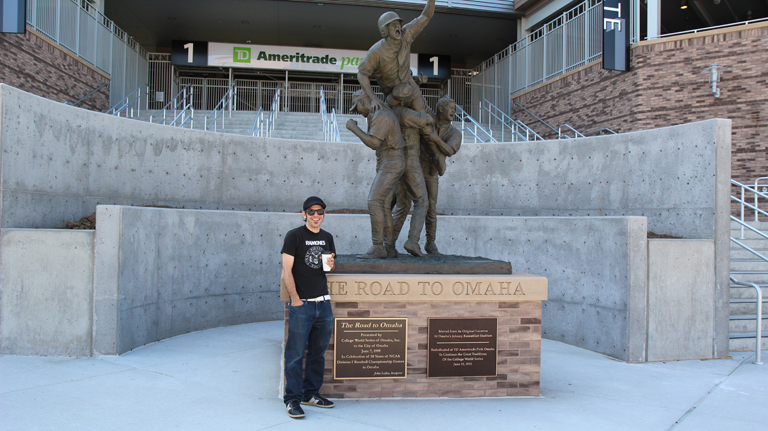 Sometimes I feel like a 37-year-old college student. In some very concrete ways
producing films is really like never leaving college. Nobody takes inventory of you being chained to desk during certain hours, but there are milestones and deadlines, and ultimately you must do whatever needed to finish them. Some deadlines are soft; very few are carved in stone. (Ledz, my boss and cohort in the creative process at Planet Eclipse would tell you most of ours must not be carved in stone, as I'm usually blowing deadlines. Lol)
But as the projects over here at Disconnected Productions get bigger and more complex, it's difficult not to slip a bit into "It's done when it's done" land. But committing to a premiere, and a room full of people gathered at a specific time, is most definitely carved in stone.
So here I am. It's 4:30 am Friday night, no, Saturday morning, August 4th, and we will premiere #redsunday, in less than 18 hours. The film is our longest and most complex by any measure (77 minutes, 12 months of filming, 27 TB of footage, six tournaments, two practices, one coaching change, 7 different principle interviews-probably 400 hours editing.) #redsunday is the first film in the season 3 collection of Planet Eclipse's documentary film series, Artifact.
The film is the most recent part of the Vicious saga, which we began documenting with a short in 2008 called Anywhere But Here. Since then, Vicious won the Semi pro division at World Cup 09 after a season-long battle with Sacramento XSV (documented in our film, Rivalry) realized the dream of turning pro in 2010, and have been slugging it out trying to make headway in the PSP Pro Race-To-7 series.
In fact, we did a premiere for Rivalry also, back in 2010. Tonight's premiere is very different from the Rivalry one, and it really illustrates what's happened to kids on Vicious.
They've grown up.
The Rivalry premiere, if I'm honest, was a lot more to show my friends and colleagues in Omaha what we do, what we spent all those hours on. We held it at a friend's cool Bar/Restaurant in downtown Omaha, flew in Matt Marshall & acclaimed paintball photographer Chris Dilts, who now shoots for President Barack Obama. (I don't care your political affiliation, if you can't grasp that it's amazingly cool a former paintball photographer has been documenting the Commander-In-Chief for the past several years, well, I seriously question your cool meter.)
Vicious & their family and friends were, of course, the main attendees. But we put that one together, and they graciously accepted our offer to attend. It actually was my first grasp on Vicious' reach–as kids drove around 10 hours from Minnesota through a snowstorm to see it.
I'll get back to you when I get back from the Premier, if I could cross my toes, I would, because my fingers are crossed; it's always a little nerve racking to let people see a creative project you've worked an Ice Age on.
Back from the premiere for#redsunday… well, it was different, in a good way. As different as the film itself. The premiere came together last minute and Jake Topping, and Karen and Carl Bortol took the baton and just ran with it. Planning started the weekend before, and by Tuesday, not only did we have a venue booked, (a huge problem as there was a pro golf tournament in Omaha that weekend) but Vicious just… owned it.
Don't misunderstand; they were still grounded and gracious, but a decision was made by somebody that the team was going to come in suits. There would be a red carpet, a "theater" atmosphere. They were PROFESSIONALS. This was going to be the telling of the last year of their life, to their friends, family, and FANS. This time I was their guest, as the director, whom they allowed to have a lot of access, and whom they felt really comfortable speaking pretty intimately do. And I was stoked to be their guest, on both fronts. It's amazing to see those guys actually growing up.
I know what the haters are saying, "Why would Eclipse make a whole feature film about team who usually goes 2-and-2?" I'd probably just answer that with a shrug and a laugh, because the amount of living, and effort, how talented and trained you have to be, to even be .500 at the pro level is mammoth. I think that gets lost sometimes, and I hope the film communicates that.
I heard from a number of people, be it at the premiere, or in PBNation forums, that they felt like this film was really "different." That the interviews felt very genuine, and intimate. I'd imagine some of that was because of the familiarity between the players and myself—we all live in Omaha, and have worked together several times.
But we also tried to communicate that in the set up for the interviews for the film. I booked a friend's studio space for these sessions, which often has bands and stand-up comedians, which had almost a speak-easy vibe to the decor. We placed the cameras at odd angles, actually breaking some film rules on purpose. I wanted the viewers to feel like they were peering in on a conversation with somebody, not have the players talking to the camera.
We shot Zak Sherman & Bryan Bortol on the same day, and they are a little too direct-to-camera, more than I'd like. But we figured it out by the time we got to Patrick Wingfield, Phil Kahnk, Chris Hooker, and Parker Rosenthal. I will say they are some of the nicest, probably the nicest looking interview stuff we have ever shot. It's amazing what happens when you get to film away from the paintball field, with a little time on your hands.
I think that's an interesting concept: "Away from the field". When we started making films 11 years ago, Brad Maughan and I got lambasted for our first effort. "Too much talky, not enough shooty." We were literally told that. But I think in a decade, the entire landscape has changed. You can watch the webcast to see what happens. See who won. You can check out Derder's Headshots for the human highlight reels. #redsunday shows you what goes into it, but not in general way.
I think that last part is important, that #redsunday isn't exactly a general paintball story. Spoiler alert. There's a baby picture of Bryan Bortol's nephew in the film. I'm sure that's cringe-inducing for some. It's certainly not very Rock n' roll. But that's the point. Vicious, they are who they are, and we are communicating that, and their experience, which is different, not better or worse, but different, than another team's experience. And sometimes we relate to stories that we can't really see ourselves living, but wish and hope we were. Sometimes we respond to something on screen because we literally see ourselves in the subject.
I think in some ways, Vicious will always be battling the same challenges, as the team in that first short film, Anywhere But Here. Omaha and its suburbs only have 1 million people and change. With committing, as a general rule, to not build a super-team of transplants (yes, three players live elsewhere, but Oklahoma and North Carolina aren't historically sustained pro breeding grounds) Vicious has no "Here's how you build a winning pro paintball team from Omaha" road map. Nobody has done this, in these circumstances. So every milestone they hit, I think they will be asked, "Oh-ok, but how do you get to the next mountain top without tapping players from California, Texas, or Florida?"
I think #redsunday really is a snapshot of 12 months in the life of Vicious.12 particularly eventful months. Splitting with the only coach they ever knew. Bottoming out at the next event. Making two Sundays out of the next three. Beating Dynasty after Dynasty dismantled them two tournaments prior. Maybe we will have captured a period in time for the team, right before they ascend to something great. Because there's definitely moments of that captured. Maybe soon they will put it all together. Only time will tell, I suppose.
The film #redsunday is currently available for digital download from the Planet Eclipse website, at http://www.planeteclipse.com/etvstore
It will be streamed in sections via YouTube in late September.
Make sure to mark you calendars for October 25th-28th to watch Vicious, and the rest of the best teams in the world, throw down at the 2012 PSP World Cup, brought to you free and live by Paintball Access.

You Might Also Like: