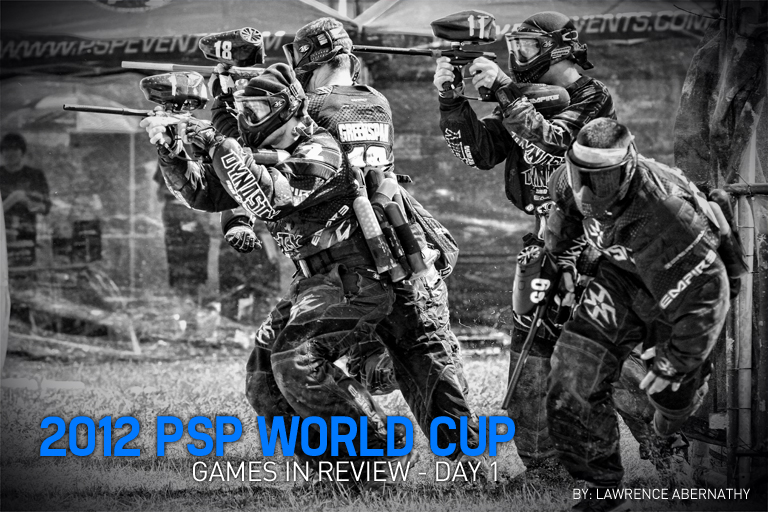 Los Angeles Infamous 6 vs. Chicago Aftershock 3
In the one game that we saw during Thursday play, Los Angeles Infamous look good. Granted they were playing one of the lesser teams of the league, they were able to assert their will anywhere on the field against Chicago Aftershock. The back line for Infamous was stunning and proved to be a major headache for the Aftershock players trying to move to their secondary positions. This forced Aftershock to play counter punch paintball and wait for Infamous to – hopefully – make a mistake, which never came. For Infamous to have continued success they are going to have to continue to shoot well off of the break and play a full court press.
Moscow Red Legion 7 vs. C.E.P 3
For whatever reason, this game is always a close one and C.E.P pushes the Red Legion to their limits. C.E.P snake player Osvaldo Brito Neto is currently the best snake player on this field and his presence forced the Moscow coaches to make major adjustments. Unfortunately, C.E.P caught a flurry of penalties toward the end of the match and ended up giving away the game. Of note on the Russian side was, go figure, Marcello Margott who pulled off a stunning 2v1 in a long, clock grinding point. Here's the thing that worries me about Moscow: their first line did not look sharp, at all. Yes, it was the first game of the day but these five guys are all ranked in the Top 10 and if their first line cannot produce, Moscow will not advance far in this tournament. They were sloppy holding lanes and allowed big moves through the snake, which cannot happen against better teams.
Los Angeles Ironmen 7 vs. Seattle Thunder 0
Save for a few mental errors, which resulted in a penalty or two, this was the perfect game for the Los Angeles Ironmen. Kyle Spicka and Alex Rodriguez looked athletic and smooth in their masterful work of the snake and only a few of the points were close. This was a perfect tune-up game for the Ironmen and, as I wrote in another article, they needed a big win here in case their division went to points to see who moves onto Sunday – which is very likely.
Sacramento XSV 1 vs. Omaha Vicious 7
I personally had this match circled because I knew it would tell us a lot about both teams. Vicious came out smart and laid it on XSV, hard. It was obvious that XSV has not had a full season of Race2 play, and while their play should progress in the tournament, this may have been their only "easy" game of the event. Where Vicious had purpose, energy and drive; XSV lacked inspiration, basic communication and offensive identity.

San Diego Dynasty 7 vs. Edmonton Impact 2
This game was closer than the other pundits may tell you, and while they will have the score on their side, they lack the vision to see that Impact was competitive in every-single-point. Except for maybe two. Impact fared much better in their re-entry to the Race2 format, but like XSV, they still had major rust to knock off. Against a lesser team they may have won the match, but Dynasty was just too much to handle. San Diego seemed to come back to life in this match and I thought to myself: "This could be the event." Impact just needs more time in the format. I'm betting they'll win a few points and in their next match and they have a pretty good shot at winning a match out right.
San Antonio X-Factor 7 vs C.E.P 2
This is the type of game that should drive San Antonio X-Factor coach/player Alex Martinez completely batty: brilliant play one point, then three penalties the next. X-Factor has all the players to compete on a very high level but they need to take a page out of the (new) Infamous playbook and be consistent. This game revealed that CEP is in desperate need of a coach who can be more than just a pit manager and draw up some breakouts. They need to be able to scout, take data on what plays were working and what match ups they want to exploit. The talent is there – especially with the addition of Osvaldo – but the organization is sorely lacking. In the short term: C.E.P needs to find a way to compliment their snake play and X-Factor needs to settle down and play smart paintball. X-Factor has all the physical tools, but needs to sync them with the mental.
Omaha Vicious 4 vs Seattle Thunder 3
Talk about a chess game! Omaha Vicious came out dominant the first point – taking the momentum from their match against XSV – but was then contained and leveled during the second. From then on out we saw a battle of adjustments as both Seattle Thunder and Vicious pushed and pulled on all sides of the field, including the middle – a new wrinkle that we have not yet seen – which featured Matt Sossoman. On this layout Sossoman has the potential be played similarly to Infamous's Nicky Cuba on the Chicago Open layout. Unfortunately for Seattle, they had this game in the bag, but they couldn't close out a point as the seconds ticked off the clock.
Tampa Bay Damage 7 vs. upTon 187 cRew 3
Due to the weather, I don't think that you can count anything that happened in this game. The first point featured sideways flying rain, and crazy moves that ended up not really working out – including the strangest breakout yet of the tournament, provided by 187 cRew. This involved them doubling up the mini-race bunker shooting out of both sides. I'm not sure what this was accomplishing, but once they went away from it they found some great success and put Damage on the ropes. Ultimately the skill of Damage took over and Keith Brown took over the snake to finish out the game. While they did win, I felt something was missing from the Damage puzzle, which I believe is better support play. We saw the Edwards brothers flying down the dorito's, and Keith Brown was as effective as he has been in the snake, but the off the break shooting was lacking – probably due to weather – which forced the mid/support player to pick up the slack. For them to finish this tournament with the position they want, they're going to have to tighten the ship a little better.

San Antonio X-Factor 6 vs. San Diego Dynasty 4
This was the match up I was looking forward to the most for my Thursday slate of games. Both teams came out strong and slugged out it point for point until it was tied with only a few minutes left on the clock. Earlier I stated that I think the light may be coming back on for Dynasty, but San Antonio caught a gift from the paintball Gods in a huge rainstorm that disrupted play. The break was long enough for them to re-assemble and when it was all said an done, they pulled of the come from behind victory: 6-4. The event is NOT over for Dynasty though. They look stronger than they have all season, but this loss only makes the event that much harder for them.
You Might Also Like: