This week on PBA we have interviews with the Rookie of the Year candidates. Read up on LA Ironman Alex Rodriguez as he talks about his year and his 5 kill move at this year's World Cup. Also, read his profile here. And check out his stats here.
Remember to vote!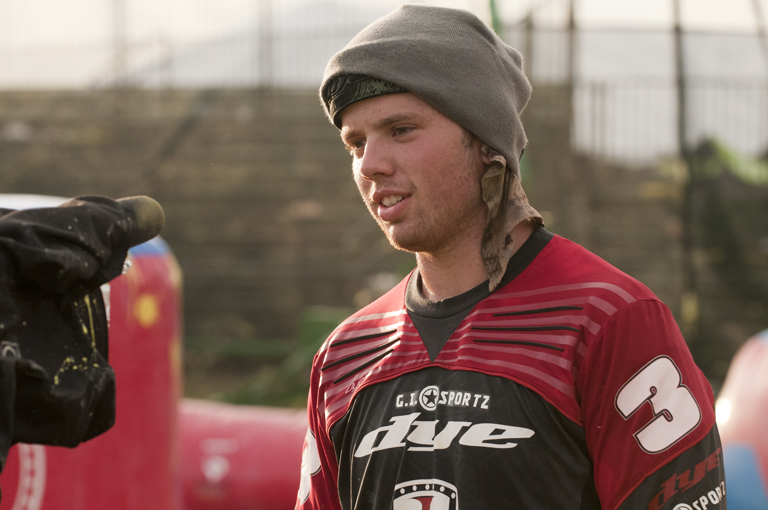 Tell me a little about your road getting here. How did you get to this stage of your career?
Well, I got to this stage of my career using the same formula that I am sure most players have used who are playing at this level. Hard work, persistence, dedication and meeting the right people along the way. I knew that I wanted to become a professional paintball player the first time I had watched it on ESPN.
To keep it short, I used to live in Arizona when I first started playing paintball in late 2006. In 2009, I would travel to California on a regular basis for practice to become a better player by playing better players and learning from them. I did a write up about my paintball career leading up to this year if you have the time to check it out. My Road To The Shield
How did you feel about your first year playing in the PSP pro division, about playing big league paintball?
My first year of pro paintball was an amazing experience for sure. Competing at the highest level is an awesome feeling and a lot different then playing divisional ball. I have learned so much this year and I feel I will keep learning as my career progresses.
What was your best on-field moment in 2012?
To be honest, it is hard for me to pin point an exact moment but probably getting 3rd place in my hometown of Phoenix. My friends and family were watching, so that was really cool. It was a bittersweet feeling though because I felt we had a good chance to win that event. In retrospect, I am happy that I was able to place Top 3 at an event in my rookie year.

How would you say you played this year?
I would say I had an alright year. I really don't like talking about myself when it comes to playing. I feel I could have played a lot better in certain situations, but it's all a part of the learning process. I'll definitely focus on the things I need to correct more, than the things I have done right. So in the end, I feel I could have played better this last year.

What was your best move or best game in this year?
Well, I would say my best move of this year was at World Cup against Seattle Thunder. In practice before the event I had been working on a move where off the break, I'd go to the center can shooting the Dorito side and then move quickly up to the center 50 yard line A. I would then check off the back center and wrap the A, and if I saw the opening, I would proceed to their Mayan temple and shoot the snake side players in the back.
We call this the "shuffle".
The main goal is to sacrifice your body in the hopes that you kill 2-3 of their players. So in the 4th or 5th point against Thunder I believe and we hadn't lost a point. So SK put me in and told me to run that play. Off the break I missed their Dorito corner but the way field was laid out, it didn't matter. I quickly moved up to the A and put the back center in and moved into their Mayan. The timing was just right, when I got in the Mayan, no one on the snake side was looking at me.
I shot the snake in the pack as he was crawling up and then shot the snake corner. At this point my job was to stay alive and let them try and bunker me out so they would risk another body to kill me. That didn't happen so I assessed the situation and shot the back center on my first snap out. Realizing that, I then wrapped on the Dorito corner shot him and then ran down the last player in the mini Dorito. 5 kills, one point. (editors note: there was only one other player who shot 5 opponents in one point during the 2012 season, Ryan Greenspan-San Diego Dynasty)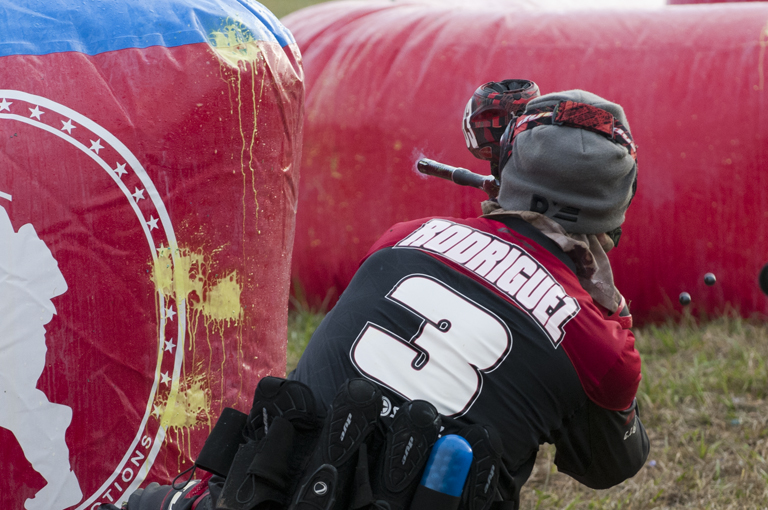 Describe your playing style?
I would describe my style as aggressive and versatile. I want to be a player who can play anywhere effectively and not pigeonhole myself as just a one-type roll player.

What are your weakness and your strengths as player?
I feel one of my weaknesses is not making consistent smart moves. In divisional, I would be able to make really big moves and get away with them, but at the professional level I need to chose my openings better. Another thing that I have been working on, but still need improvement on, is slow playing situations better.
I am a "go dig them out and put it on them" type of a player. I hate sitting back and just roping paint but at this level, especially on Sunday, it is an essential facet of the game. My strengths are my technical skills (gun fighting, laning, etc.) and ability to play aggressive.
How do you feel about being named a candidate for "Rookie of the Year"?
It is a pretty cool feeling. I never thought growing up that I would be nominated for Rookie of the Year. It's a reminder to me that hard work does pay off.

What is 2013 looking like for you?
2013 is a going to be an awesome year for myself and the Ironmen. We have a team mixed with talented players and a great coaching staff who are ready to start winning. Practices are going to be more competitive and I can't wait to start grinding with the team again in the offseason. Personally, I am going to strive to be the best player I possibly can to help be a part of a winning team next year.
Anything additional you want to say?
I want to say thanks to everyone who else helped me along the way to become the person/player I am today. I am extremely grateful for the situation I am in.
If I could give any advice to up and coming players hoping to play pro one day, it would be to never give up and hold on to the pictured outcome. Never be comfortable, or complacent and strive to be a better player every moment you can. There is always room for improvement.
If you have any questions, feel free to send me a message on Facebook and I will answer them the best I can.
Thank you for the nomination PBA, it's a great honor.

Like Paintball Access on Facebook, follow us on Twitter and Instagram! Let all your friends and compatriots know about what we're doing to further the sport!
Get Involved and make a difference; help us spread the paintball gospel!

If you have an interesting paintball story you feel absolutely must be told, contact us at yourstory@paintballaccess.com.
You Might Also Like: