The story about the Win Rating statistic leaders for 2012 is a story about a team from Florida. They're best players ever to pick up a gun from that state, no doubt. The best team from the south. for sure. One of the best teams in the world, unarguably. Until Houston Heat beat them in the finals at the PSP World Cup two weeks ago, they were the defending World Title holders.
Tampa Bay Damage won one event in 2012, the very first one, the Galveston Open. They then went on to lose heartbreakers, one-point games, tournament after tournament, in the deep end of Sunday's competition.
They make few mistakes. They are no holes in their line up. They are experienced, aggressive, master gunfighters, with a great coach, and some of the best financial backing in paintball. On the field, they are the Bruce Lee of paintball, like water, adapting to whatever situation presents itself, but understanding the fundamental principle that winning is about exerting their will, their game plan, on the other team. They take the form needed at the moment; they can play fast, they can play conservative. They can come back down bodies, fight through penalties.
They can do it all.
The Win Rating statistic is simple, it's a percentage of how many points you won from how many you played, and in this stat Tampa Bay Damage is, by far, the highest ranked team. This is a testament to their consistency. When they lose, they lose by one point in a close fought game, deep in the tournament.
Damage has 8 players in the top 10 in this category: Dan Holiday (1st, 68.22%), Timmy Propst (2nd, 66.41%), Jason Edwards (3rd, 65.71%), Jacob Edwards (5th, 63.45%), Chad Busiere (6th, 63.23%), Ramzi El-Yousef (7th, 63.21%), Justin Rabackoff (8th, 63.19%), Keith Brown (10th,62.26%).
There is no other stat we could bring up to indicate just how consistent this team is. The two players not in the top ten still register in the top 25, and are names on everyone's "All-Star" list: Dave Bains and Alex Goldman. You know your team is strong when Bains and Goldman are the bottom of the barrel for your Win Rating percentage. And though they bring up the rear for Tampa in this category, they are still well above 50%–Bains clocks in at 58.89%, Goldman 58.82%.
As a matter of note, the top three players in this stat category are under-rated; they don't talk about themselves very much, aren't inching for interviews or ink, they just go out there and do their jobs.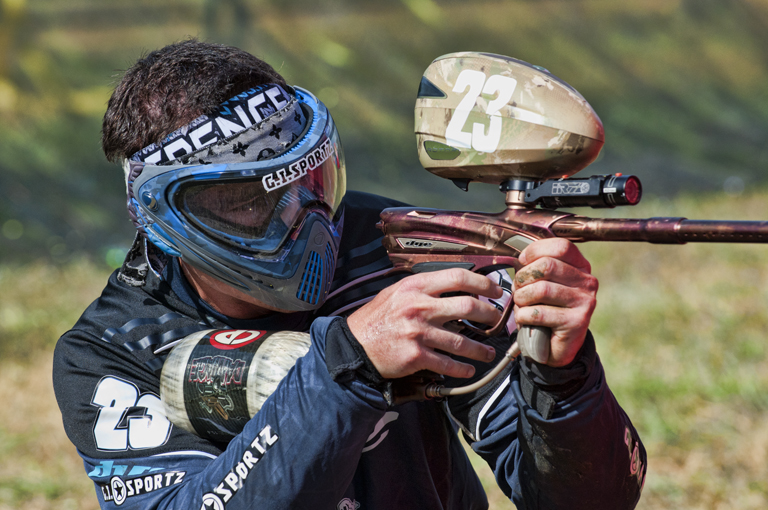 Dan Holiday is one of the best players in the world, period. He can play any front position on the field, does equally well in the snake or on the Doritos, and has highlight reel athletic ability. He's small, fast, has been playing pro since many paintball fans now in college were starting middle school. All other teams would drool at the chance to field Holiday as a starter.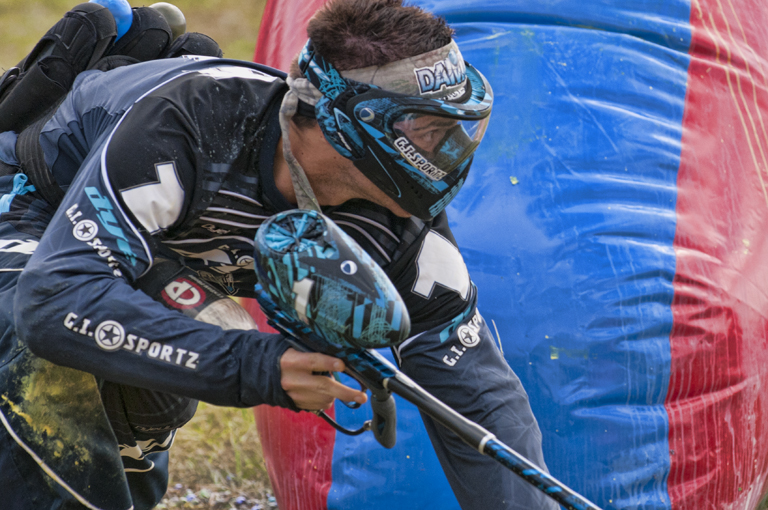 Calm off the field, Timmy Prost is tenacious on it, hungry to take ground, to lock into a gunfight, then launch and put it on you, point blank, his barrel inches from you neck. He's a quiet killer. Normally found in the snake, his playing style isn't as flashy or fluid as some of the other Damage players, but he gets it done.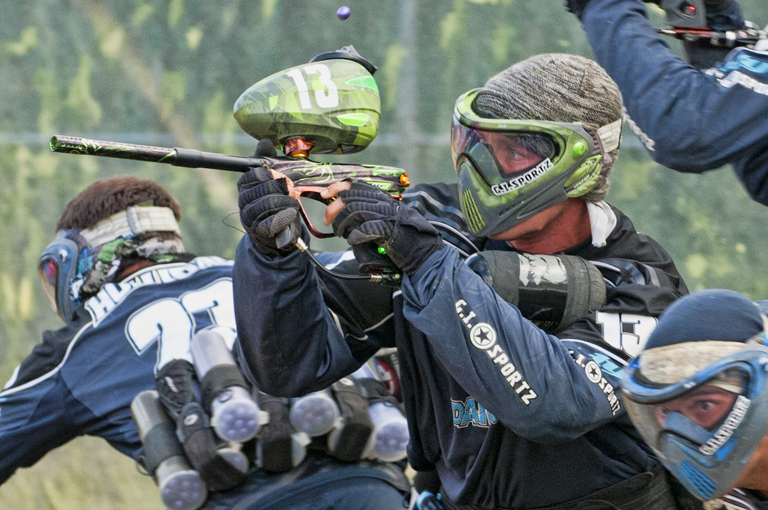 Jason Edwards is the older of the two Edwards brothers on Damage. He plays the back position and is highly regarded as the one the best players in the world. He is one of the more mobile back guys in league, rarely dies early, is a good communicator, and a dominant gunfighter. He is also a paintball success story, honing his game and body over the years, transcending to his current position by force of will.
Damage is literally a few gunfights away from victory again, that's how close their games were this year. Stay tuned to PaintballAccess.com to see what roster moves they make in the off-season. Is Goldman going to stay with them? JRab? Will Dave Bains retire? No one knows yet, but the 2013 season will be here before we know it.

Like Paintball Access on Facebook, follow us on Twitter and Instagram! Let all your friends and compatriots know about what we're doing to further the sport!
Get Involved and make a difference; help us spread the paintball gospel!

If you have an interesting paintball story you feel absolutely must be told, contact us at yourstory@paintballaccess.com.
You Might Also Like: