When Billy Bernacchia first burst on the pro paintball scene, it was 2005, when he had a staring turn playing for the New England Hurricanes as they were featured on ESPN.
His road the past few seasons has been a bumpy one.
ETV's next film project is titled "The Roster", and it's about a tryout San Antonio X-Factor had in the beginning of the year to pick up a front snake player. 25 players fought for 1 spot, and it was Billy Bernacchia who earned the chance to take the field for X-factor in 2012.
But his year did not go the way he wanted it to until the very end.
Here's the story, in his own words.
This is part 2 of his story, read part 1 here.
So 2012 comes around and I'm a free agent in the northeast with no PSP team lined up, once again. I thought about giving up the game for good, until I got a text message one morning from X-Factor's Archie Montemayor, who I had played with on Dynasty, asking me to come out to Texas because they were in need of a player who fit my style.
At this point I had nothing to lose, so I gave it a shot. It really couldn't have worked out better, I fit right in with the team and knew I could have a good time with these guys and be a part of a great team who was working hard to get back to the top. I had to fight through a talent thick tryout, and it wasn't easy. (Tune into ETV's "The Roster", coming soon, and see for yourself).
Though I fit in real well with the X-Factor crew, the year was a grinder for me on the field. 2012 was a big test.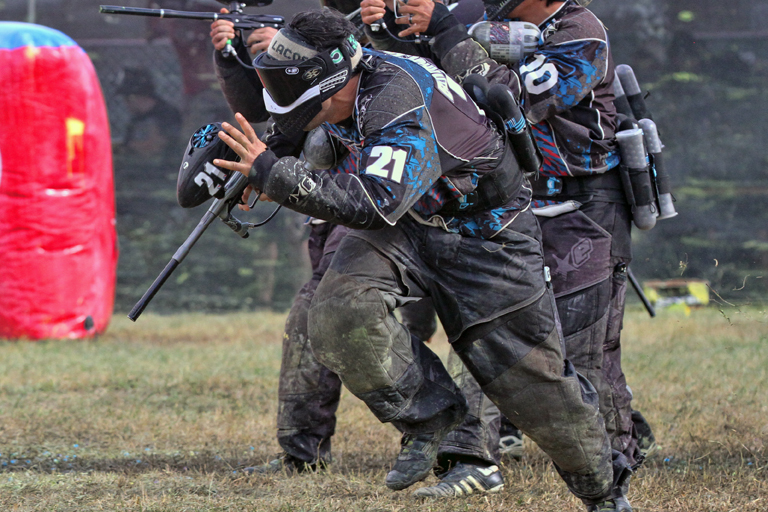 Galveston Texas was the first event with the new team. Of course, it's raining and the event was a disaster. I got stuck in Detroit due to a flight cancellation, forcing me to miss our first two games. Once I made it in, I played 2 games that felt like playing rec-ball because it was raining so hard. In fact it rained so hard the finale of the event had to be postponed until Phoenix.
Because of the madness, Phoenix was basically my first event with the team.
Practices were going pretty good leading up to the tournament, and I was somewhat starting to gel with the team.
As a team we performed solid, making the top 4 for the first time in years, and had an awesome showing overall. However, for me personally, nothing worked out on the field. I was having a hard time trying to find my comfort zone with the squad, finding myself playing more individually, not playing team paintball with players on my side of the field.
You could say this was one of my worst events in my paintball career. A black cloud followed me to every bunker. I could blame it on the odd field layout with a unique snake, but that would be a lame excuse. I've been around long enough to know this happens though; sometimes you're playing hot and sometimes you're not. This event I was not. I knew I would turn it around; it was just a matter of when.
I think it was Todd Martinez who once said, "look good, feel good, play good". Yeah Todd, I believe in that now. What it really means is you need to be comfortable on and off the field, and have trust in your teammates around you, which is not something that comes overnight.
In Chicago and NEO I showed some signs of life as a player again, but Matty Marshall made it very clear on the webcast that I just wasn't looking like the player I used to be.
I was starting to realize it as well.
At our level, if you want to be one of the best teams or players in the world, you can't just play, you have to strive to play better than you have in the past; I know you hear pros says this all the time, in every sport, but they say it because it's true—you have to strive to elevate your game, in every game, if you want to stay on top.
Heading into World Cup I was focused on reclaiming my potential. I knew this event could be a make or break me as a player, because I didn't have a great year, and X-Factor deserves a consistently awesome Snake 1 player.
I wasn't ready to break yet.
There wasn't one thing in particular I did different before World Cup other than put in extra effort at practices, which sometimes can really make a difference. I think this was just my time to shine. And that shine came from desire, an intense desire to keep my pro career alive and help the team who had enough faith in me to keep giving me reps when I was struggling.
I was finally feeling more comfortable with my team. Before it felt like it was the BKIT-the Best Kids In Texas- and Billy from CT. But I now felt like I was a part of Texas, minus the lame accent (Editor's note: Really Billy?? Say "harness" for us.)
My coach and teammates all had faith in me as a player, so it was up to me to justify their faith with a solid performance. The layout for Cup really fit my style, but again I don't think a layout should be any excuse for poor performance.
Our owner Alex Martinez says it best before every match we play, "It's the will to win", and at 'Cup I felt that Will more than ever. 3rd place is my best finish at a World Cup in the pro division, and it was nice to finally see some good stats on the board for myself, but I'm not done yet.
I'll be back next year with San Antonio X-factor, my new home and new paintball family. And I'll be working as hard as I can to live up to my potential. Watch out for us in 2013, we're coming for Houston Heat's title.

Like Paintball Access on Facebook, follow us on Twitter and Instagram! Let all your friends and compatriots know about what we're doing to further the sport!
Get Involved and make a difference; help us spread the paintball gospel!

If you have an interesting paintball story you feel absolutely must be told, contact us at yourstory@paintballaccess.com.
You Might Also Like: