When Billy Bernacchia first burst on the pro paintball scene, it was 2005, when he had a staring turn playing for the New England Hurricanes as they were featured on ESPN.
His road the past few seasons has been a bumpy one.
ETV's next film project is titled "The Roster", and it's about a tryout San Antonio X-Factor had in the beginning of the year to pick up a front snake player. 25 players fought for 1 spot, and it was Billy Bernacchia who earned the chance to take the field for X-factor in 2012.
But his year did not go the way he wanted it to until the very end.
Here's the story, in his own words.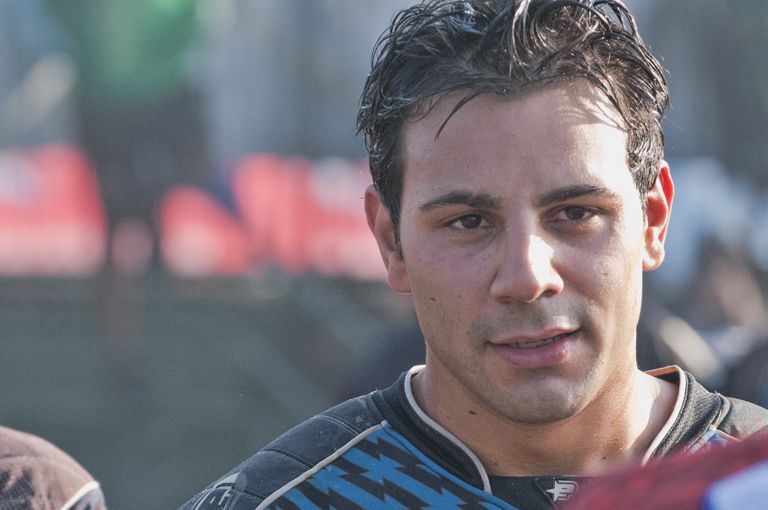 It's not easy being one of the only professional paintball players to live in Connecticut. Sure it was great when we had a professional team from New England and professional teams from New York, but over the past couple of years, it has been a rough journey for all hard-core players from the North East.
Here's my story.
2005, the year I first got noticed in the paintball world and got my first shot on the Professional Team New England Hurricanes. I quickly was noticed as one of the top players on the team because of my aggressive playing style on the snake side. Being a 1, the first attacker, the first guy in the snake, you're an asset to any team looking to win tournaments.
It's high risk, high reward life for front players.
It's the most physically demanding position to play, and not a spot many people prefer because there's a lot of pressure on you to produce. It's rare for teams to have a consistent Snake 1 player. Many teams have a different player playing the "1" spot every event.
San Antonio X-Factor was one of those teams, and it's one of the reasons I ended up on the team.
In 2009, after playing Pro for 5 years straight, NE Hurricanes owner Jeff Stein pulled the plug on the pro squad, transitioning the franchise into a Division 1 team. I had to make one of the hardest decisions I've had to make, to either play D1 or look for a new home on another pro team.
It had always been a dream, to be one of the best players on one of the best teams in the world, and I'd worked hard within the framework of the NE Hurricanes to make that happen. It was one of those confusing and intense crossroads we all face from time to time.
So in 2010 I chose to follow my dream of being the best, of playing for the best, and looked for a pro team where I could try and make an impact. Omaha Vicious was that team for that year; well at least that's what I thought. This team was like no other team I had played on and it just wasn't going to work out. It wasn't a good fit and I only played the first event with them before the relationship eroded.
With the way it went down with Vicious, I had been given a bad name and it wasn't easy trying to get back in the game. I thought about calling it quits but couldn't give up the one thing I had always been passionate about. Everything happens for a reason, right? At least, that's what I kept telling myself.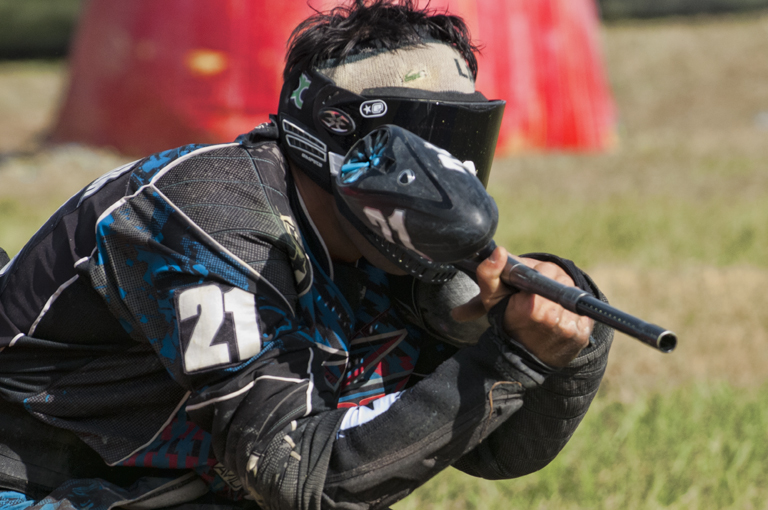 Well the saying is true, because soon after my departure from Vicious I got a call from a team I had always looked up to and everyone dreams of playing for one day–San Diego Dynasty. What better way to end a year that started out as a nightmare than to live your dream?
My stint on Dynasty was short though, only one season, as the following year Dynasty turned back into an all-local squad, with all Cali players. They cut everyone they had to fly in, and since I'm still living in Connecticut, that, of course, included me.
So I was back in the same situation, and not sure what to do.
This time I decided to try playing with the D1 Hurricanes, maybe help the squad climb the ranks again. I wanted it to feel like home, but it just wasn't the same. After winning the Chicago event in D1 last year I didn't feel satisfied. I had to play in the show again. I needed to play at the top level against the best players in the world.
Click Here to read Part 2 of his story.

Like Paintball Access on Facebook, follow us on Twitter and Instagram! Let all your friends and compatriots know about what we're doing to further the sport!
Get Involved and make a difference; help us spread the paintball gospel!

If you have an interesting paintball story you feel absolutely must be told, contact us at yourstory@paintballaccess.com.
You Might Also Like: