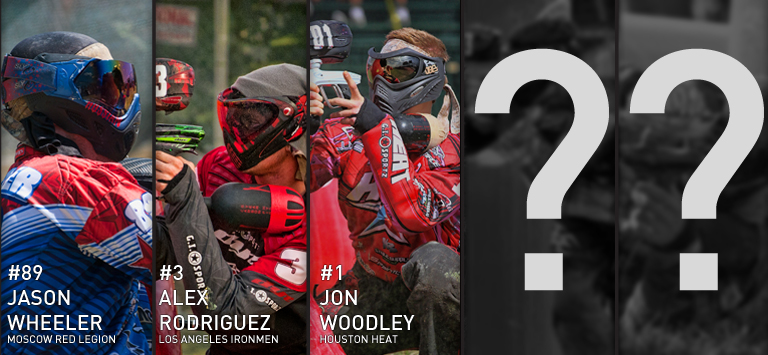 There is no harder paintball test than the professional division of the PSP. The five players who are nominated for Rookie of the Year each deserve praise and recognition for their stellar standout efforts during the 2012 season.
But only one will be awarded the honor, and this is where you come in– you, the fans, will decide who will be the first ever PSP/PBA Rookie of the Year. We will open up the voting this Wednesday, and leading up to that moment will be profiling the nominees.
Each of the 5 players PBA has nominated could make a claim for this distinction, but it is up you to decided who made the biggest rookie splash in the PSP Pro Division in 2012. Each has a different story, but they all made big impacts with their squads and were huge contributors.
Be a part of paintball history.
John Woodley- Houston Heat
Houston Heat's 22 year-old John Woodley is not ranked as high as some of the other Rookie of the year candidates; he finished the 2012 season 57th in the overall player ranking. But Woodley has one big distinction to hang over the other nominees—he's a winner.
No other Rookie of the Year nominee even has one win this season, let alone three.
And it's not like Woodley was riding the coattails of his more famous teammates on the way to those wins; he's been an active participate.
Woodley's first shining moment of 2012 was in the Phoenix Open Finals against Moscow Red Legion, where he played stellar, on both sides of the field, supporting Sam Monville and playing off all his front player's moves.
During the Phoenix performance he played smart methodical paintball, looked calm and composed the whole game, stayed alive when he needed to, and pushed forward when it was called for.
As the game's final moments ticked down it was just Monville and Woodley left to contain the last second desperation push by the player who ended up winning the 2012 Top Gun Award, the highest ranked player of the year, Alexandr Berdnikov.
But Woodley and Monville held strong, and the Heat won their first tournament in only their second outing as a team. Of course, the team is stacked with veterans, but Woodley has now played 5 pro PSP events, and won 3 of them. Oh yeah, and came in 2nd at another one.
It was a huge effort from a true pro rookie. He came from the Distortion camp, and had played for CEP back when they were a divisional team.
Though Woodley is not a starter, he still played 138 points this season, and was a huge factor as the first player off the bench for Heat on their road to the World Title.
He may not have been as consistent as Alex Rodriguez or Jason Wheeler, as his lower player ranking indicates, but Woodley did help his team win events, and did not flinch or back down when put in the biggest pressure situations existing in the game of paintball. He also had highlight reel moves; he had one of the best run-throughs of the year shooting 4 players in one move at the Chicago open.
Watch the move for yourself here.
Coach Jason Trosen had this to say about Woodley, "He's one of our best communicators, which is impressive for a younger player. And he's a dominant gun out there, he's a great 2 (mid/insert player), he can either take someone's spot if they die, or play off a big move. If he puts a little more work in he could be a starter."
Check out the stats here and watch all the Houston Heat games On Demand here, then decide for yourself if John Woodley did enough damage to win 2012 Rookie of the Year.
Stay tuned for the last two Rookie of the Year candidates coming this week, only on Paintball Access.
Also, check out the first two Rookie of the year candidates, Jason Wheeler here, and Alex Rodriguez here.
Make sure to like Paintball Access on Facebook, and follow us on Instagram and Twitter. Let all your friends and compatriots know about what we're doing to further the sport!
Get involved and make a difference; help us spread the paintball gospel!
If you have a paintball story you feel absolutely must be told, let's us know at yourstory@paintballaccess.com.
You Might Also Like: