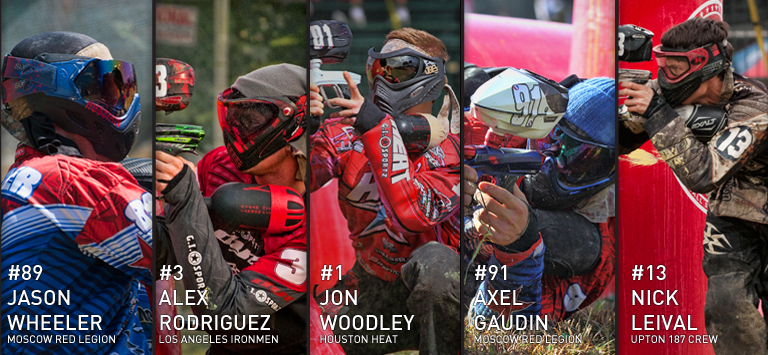 There is no harder paintball test than the professional division of the PSP. The five players who are nominated for Rookie of the Year each deserve praise and recognition for their stellar standout efforts during the 2012 season.
But only one will be awarded the honor, and this is where you come in– you, the fans, will decide who will be the first ever PSP/PBA Rookie of the Year. We will open up the voting November 21st.
Each of the 5 players PBA has nominated could make a claim for this distinction, but it is up you to decided who made the biggest rookie splash in the PSP Pro Division in 2012. Each has a different story, but they all made big impacts with their squads and were huge contributors.
Be a part of paintball history and vote for the player you believe most deserves the honor.
Nick Leival- Upton 187 Crew
Nick Leival does not play on a winning team. In fact, Upton 187 Crew went 4-16, never making it past the prelims. But even though 187 Crew didn't win many games in their first pro season they earned respect from fans and peers alike. In those 20 games they beat the LA Ironmen, and took the Red Legion into sudden death twice, losing both games.
There's a ton of talent on 187, with Max Traylor, Dan Zaleski, and Eddie Painter proving they belong in the pro division. But out of all the talent on the Crew, Nick Leival stood out as the best player from 187 during the 2012 season.
His team must have a ton of faith in his ability, because he's the captain of squad, calls all the plays, and is out there almost every single point. Out of the 186 points Upton played, Leival took the field for 180. He only sat out 6 points all year long.
One of the reasons Leival is one of the favorites to win Rookie of the Year, is because unlike the rest of the field he didn't come up on a pro practice team, or have the luxury of playing pro in Europe for a few seasons to hone his skills. 187 came up the hard way.
Upton isn't exactly the epicenter of high-end paintball, well, at least until their homegrown talent developed enough to enter the pro ranks. The first time 187 practiced against another pro team was when they went to Florida to scrimmage Tampa Bay Damage before World Cup.
Nick, and the rest of the Crew have brought up the level of their game through trial and error, grinding up the divisional ranks.
Leival is ranked 32nd overall in the player rankings, which might not seem impressive until you see the name right behind him–Oliver Lang (33rd). He's also ranked higher than Nicky Cuba (46th), Brandon Short (48th) Alex Fraige (62nd), Yosh Rau (38th), Dave Bains (34th), Archie Montemayor (37th), and Nick Slowiak (45th), just to name a few.
When asked about his playing style, Nick had this to say, "My playing style, I would like to think, is not flashy, not build on speed and aggression, but about being intelligent and diverse. Every player on the field plays a role, I constantly strive to play a style that better understands those roles and allows, not only for finding seams to shoot opponents, but to create them for my teammates to attack. I am very much a believer in, if everyone on a team is doing their jobs well, then there is no need to have or be a superstar."
If 187 stays hardworking and humble, they may indeed produce some superstars, and based on what we've seen in 2012, Nick Leival is at the top of that list.
Check out the stats here and watch all the Upton 187 Crew games On Demand here, then decide for yourself if Nick Leival did enough damage to win 2012 Rookie of the Year.
Also, check out the other Rookie of the year candidates, Jason Wheeler here, Alex Rodriguez here, John Woodley here, and Axel Gaudin here.
Make sure to like Paintball Access on Facebook, and follow us on Instagram and Twitter. Let all your friends and compatriots know about what we're doing to further the sport!
Get involved and make a difference; help us spread the paintball gospel!
If you have a paintball story you feel absolutely must be told, let's us know at yourstory@paintballaccess.com.
You Might Also Like: