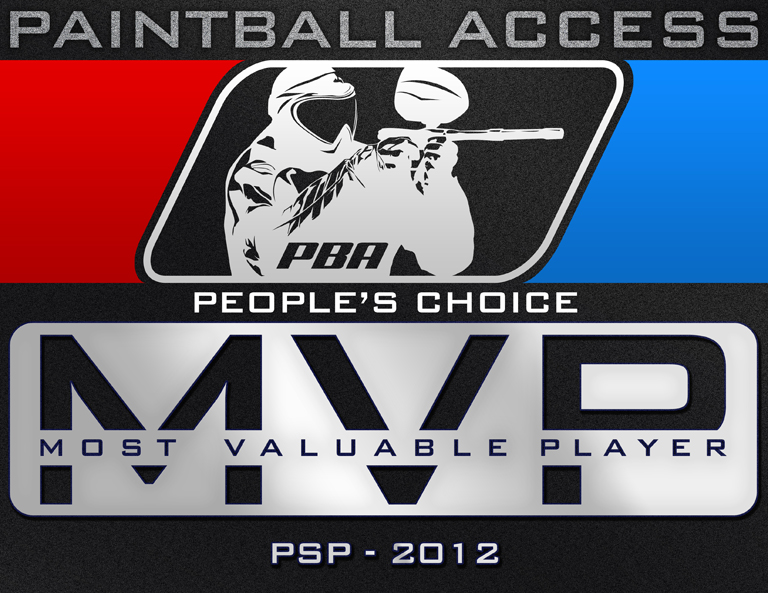 The 2012 season is behind us, '13 is rapidly approaching, and it's time to reflect back on those players who set the bar for paintball performance. This is the chance for your voice to heard; who do you think is the Most Valuable Player on each team? And who is the Most Valuable Player overall in the PSP pro division?
This is the People Choice Award for PBA MVP, and we need your help in deciding who deserves to win.
Here's how it's going to work: The top three players from each team, based on the 2012 stats, are nominated. You, the fans, will vote first on who you feel the best player, the MVP, is for each team.
Then once the team MVP's have been decided, you will then decide from those players who deserves to win the first PBA People's Choice MVP award.
Voting for Team MVPs begins next week!
Check out all the stats here and all the games OnDemand here to help in making your decision!
2012 PBA People's Choice MVP Candidates

Moscow Red Legion
Alexandr Berdnikov
Marcello Margott
Jason Wheeler
Los Angeles Ironmen
Mike Paxson
Alex Rodriguez
Ryan Martin
Los Angeles Infamous
Damien Ryan
Greg Siewers
Bobby Aviles
Houston Heat
Konstantin Fedorov
Sergey Solnyshkov
Chad George
Upton 187 cRew
Nick Leival
Max Traylor
Eddie Painter

Tampa Bay Damage
Dan Holiday
Jason Edwards
Timmy Propst

San Antonio X-Factor
Grayson Goff
Colt Roberts
Archie Montemayor
San Diego Dynasty
Dalton Vanderbyl
Ryan Greenspan
Oliver Lang
Seattle Thunder
Blake Bearham
Corey Field
Brian Strode
Omaha Vicious
Phil Kahnk
Parker Rosenthal
Matthew Sossoman
Chattanooga CEP
Mike Zuppa
Osvaldo Lopes Brito Neto
Colin Cherry
Chicago Aftershock
AJ Lawhead
Andrew Rodriguez
Eric Daily

Make sure to like Paintball Access on Facebook, and follow us on Instagram and Twitter. Let all your friends and compatriots know about what we're doing to further the sport!
Get involved and make a difference; help us spread the paintball gospel!
If you have a paintball story you feel absolutely must be told, let's us know at yourstory@paintballaccess.com.
You Might Also Like: