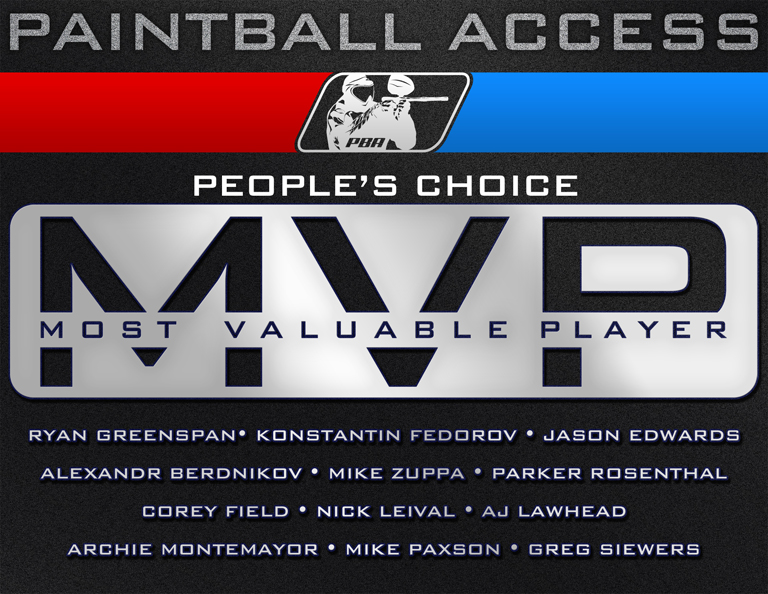 [poll id="15″]
Paintball Access is excited to announce the winners of the first People's Choice Team MVP vote. Some races were tight, some were blowouts, but the polls have now closed and here are the winners.
San Diego Dynasty —Ryan Greenspan
Houston Heat—Konsttantin Fedorov
Tampa Bay Damage—Jason Edwards
Moscow Russian Legion—Alexandr Berdnikov
Chattanooga CEP—Mike Zuppa
Omaha Vicious—Parker Rosenthal
Seattle Thunder—Corey Field
Upton 187 Crew—Nick Leival
Chicago Aftershock—AJ Lawhead
San Antonio X-Factor—Archie Montemayor
Los Angeles Ironmen—Mike Paxson
Los Angeles Infamous—Greg Siewers
Check out their stats here and watch all their games from the 2012 season On Demand here and decided who you feel is the Most Valuable Player of the year.
Congratulations to these 12 players, who represent the best paintball teams in the world, and will now be representing their squads in the overall PSP/ PBA MVP voting, which begins now, and runs till the end of the year. Help your favorite team and player by sharing the link and getting people to vote!

Make sure to like Paintball Access on Facebook, and follow us on Instagram and Twitter. Let all your friends and compatriots know about what we're doing to further the sport!
Get involved and make a difference; help us spread the paintball gospel!
If you have a paintball story you feel absolutely must be told, let's us know at yourstory@paintballaccess.com.
You Might Also Like: