One of paintball's most visible and charismatic personalities, Greg Hastings has quite an interesting life story. He has spent the past ten years developing his video game franchise, and is poised to come out with a new game. But he needs your help to do it– Kickstarter, which is an amazing crowd funding website, has all the details about his newest project. Greg sits down with Paintball Access' Matty Marshall to talk about his new venture and his life in the game.
This is part 2 of his interview, read Part 1 here.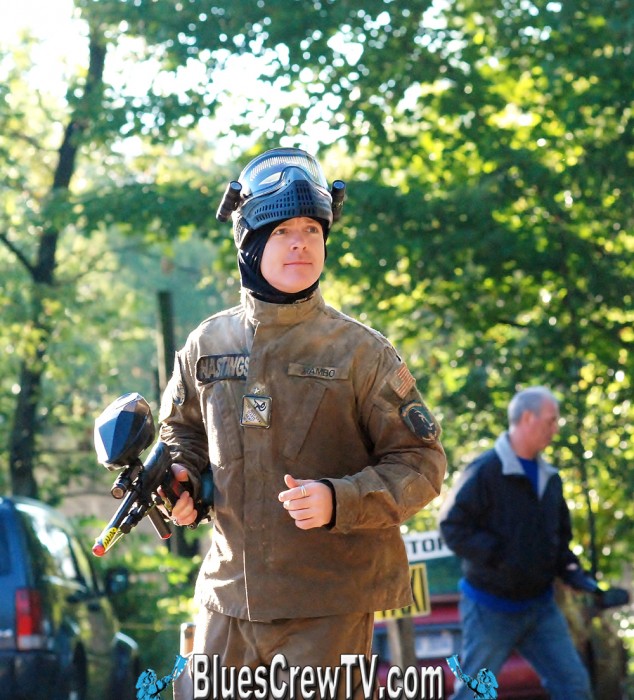 What paintball accomplishments are you most proud of?
That is tough question to answer. I feel like I found MY sport and have tried hard to allow myself the best chance of playing as much as I can. I never thought about, or really wanted to, become a pro in competitions. That was more about the players and being with them and experiencing all the fights and travel, etc. I thought more about becoming a profession paintball player. Not the label a league has given me, but actually being the sport. Representing this sport. Making a living at this sport. After 25 years, I think I actually made it to that level. I am a paintball professional. So maybe that is what I'm most proud of. It only took 25 years. It's also cool to tell the ladies I'm a pro "gunfighter". (Laughs) You know the drill Matty!!
You are now running a campaign on Kickstarter for your new game concept; let's talk about how people can get involved.
Well, this is a new way to raise money for our game franchise. We actually turned down money from a publisher, because that money is too expensive, if you know what I am saying. I thought it was a long shot, and still do, but we are hoping that players and fans of this franchise will contribute and actually be a part of making this game a reality. Kickstarter is a great "crowd funding" web site that has helped many projects become a reality.
Games are expensive, and our KS campaign goal is just part of what we need to complete this project. If we are successful, we'll release the highest-level PC multiplayer game we can do. ALL NEW EVERYTHING IN THIS GAME, with focus on Pro Level Multiplayer. If we exceed our goals, we'll be able to release this game on the popular consoles as well.
The rewards for contributing are incredible. Loads of FREE game play at iconic fields from around the world, be a game designer, actually be in the game with your team, the list goes on! Put in 1 dollar. Put in 10,000 dollars. Split the cost of the Team Contribution level, and get you and your team as playable characters AND be in all your sponsors' gear. Crazy rewards. In fact, the rewards exceed the contribution values by a mile!!!
So, this is new direction we are trying, in order to get our next game funded. Games take years and millions of dollars to make. This is a fact that is totally missed with many gamers. I guess they think that little elves make these games. Nope! We have to pay really smart and creative people to punch buttons to create our games.
I am hoping paintball fans see the value and not only contribute, but help promote this campaign. The campaign ends in mid-January, so there's not much time to get it done. This is not a charity. This is not a donation. This is buying our game before it is made and being a game developer with us. This is a great project that will help keep paintball high on the RADAR in the gaming world and we need your help to get it done. Thanks for helping highlight this Matty!
http://www.kickstarter.com/projects/857391215/greg-hastings-tournament-paintball-maxd-2
Go contribute NOW!
In addition to working on producing video games, you also tour around and play Big Games and Scenarios, which are some of the most fun things you can do with your clothes on in this lifetime. What is your favorite moment as you've gone around the world playing these big, badass games?
I agree Matt! These games are epic. Epic times, to say the least. Real fantasy boosters, if you will. The new camera system that my company R7 has been promoting, has allowed me to actually share my Big Game experiences. It has always been tough to explain how "real" these events seem. You know you can be caught up in this "combat" and really lose the attachment of fantasy. It becomes real. This style of paintball is really the ultimate in fantasy combat. All the same things that go on in real combat, with no death, starvation, destruction. Only beer, food, high fives, and crazy stories afterwards! I love it. THIS is my adrenaline rush I need and crave! I can't get enough. Traveling to some of the European big games has been amazing. I did the Euro Big Game in Germany, the big game at Veckring in France, and incredible game at a military training facility in Wales at Tippmann World Challenge. Holy hell, Matty, I am a spoiled baller. Meeting all those players who share my passion is really why I still do this!I no longer try to brag about my kills. I simply let my camera show the fun and excitement. Video is worth how many words? www.YouTube.com/NJNinja07
Kickstarter link: http://www.kickstarter.com/projects/857391215/greg-hastings-tournament-paintball-maxd-2

You Might Also Like: