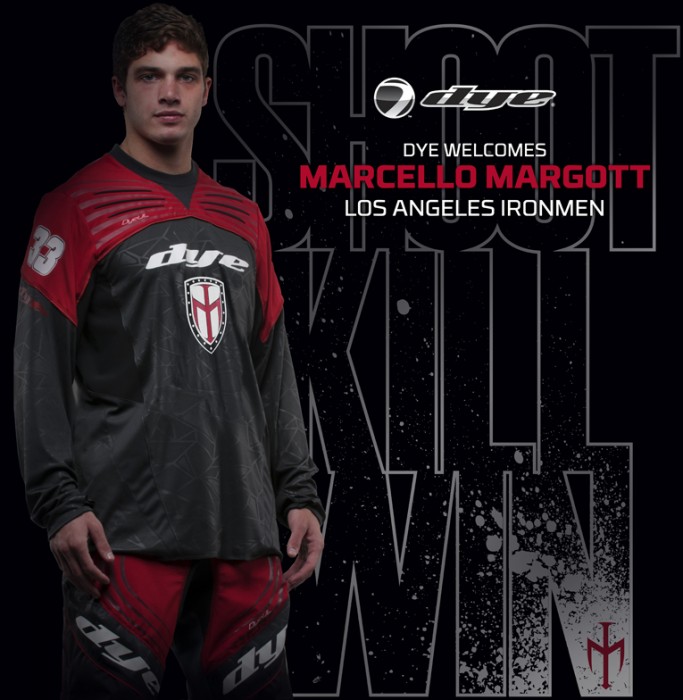 In the offseason chess match involving the top-level pro teams, the Los Angeles Ironmen have made the first big move, landing one the most coveted stars in the game, Marcello Margott, who spent 2012 with Moscow Red Legion, having one of the best seasons of his career.
This will be Margott's second stint on the Ironmen. He played for the team from 2006 to 2008, helping them win 2 World titles. He then went to back to SD Aftermath, the team he began his paintball career with, moving over to LA Infamous in 2010 where had major problems with his left knee, blowing it out twice, most recently in mid 2011.
He underwent his second knee surgery and subsequent rehab, and was then picked up by Moscow Red Legion for 2012, where he set the league on fire, dominating the #1 spot, until the very last event, where he was placed in the back center and lost the Top Gun title to teammate Alexandr Berdnikov. He finished 2nd in the 2012 Overall Player Ranking.
It's still unknown why Red Legion would take the #1 ranked player in the world, switch him to a different position, and force him to stay in the back center at the biggest event of the year, but it cost Margott his #1 ranking.
For a player who didn't know if he would even be able to play paintball again, let alone at a world class level, 2012 was a testament to Margott's will to be one of the best players in the league, which is why every big team was hoping to steal him away from Red Legion.
When asked about his move to the Ironman, and what was to come for 2013, all he had to say was, "Shoot. Kill. Win".
Maybe he'll have a bit more for us in a couple days. Regardless, this is the biggest story of the offseason so far, and it's looking like the management of the Los Angeles Ironmen are dead serious about quickly building a championship team again.

Make sure to like Paintball Access on Facebook, and follow us on Instagram and Twitter. Let all your friends and compatriots know about what we're doing to further the sport!
Get involved and make a difference; help us spread the paintball gospel!
If you have a paintball story you feel absolutely must be told, let's us know at yourstory@paintballaccess.com.
You Might Also Like: