Brandon Short is one of the best front snake players ever, period, and a two-time World Champion who has played on the Los Angeles Ironmen for his entire professional career– until last week. In a move few saw coming, Short is leaving the Los Angeles Ironmen and heading over to San Diego Dynasty, a team who did not perform up to their normal standards in 2012, but are making moves to stack their roster. Here are Short's thoughts on this pivotal move, his new team, and his career.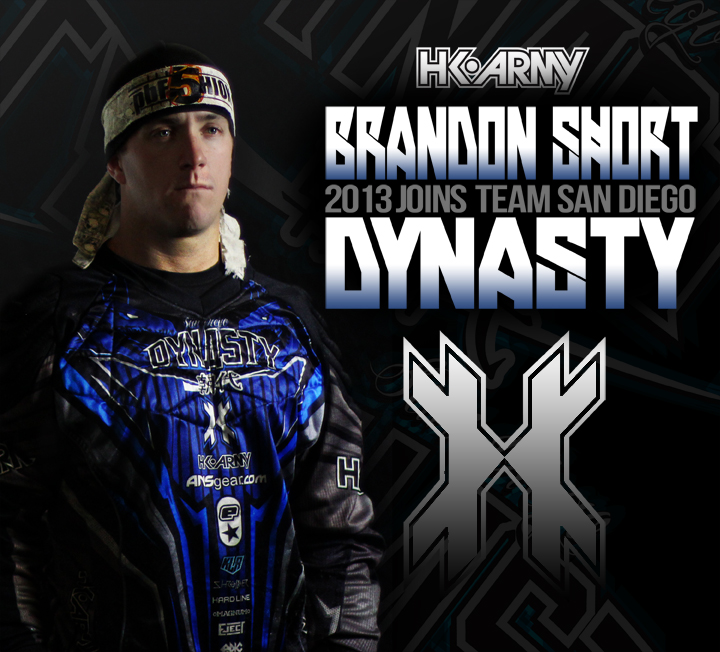 This is Part 2 of his interview. Read Part 1 here.
Matty Marshall: What do you think about the line up for Dynasty this year? They have Dalton coming back too, who almost got picked off by Impact.
Brandon Short: Well, I feel like Dynasty knows where they're at right now; they know they had a rough year and they are trying to make power moves. I think the roster is good; the core of the team is always solid. Granted, they're not getting any younger, but neither is anybody else. The roster is still undetermined, but I think it's solid. I do think that part of the problem last season was money, which still can be an issue now.
It's like, if you don't have the money you don't have the paint, you don't have the time and you don't have practice. But, like I was saying earlier, those guys are champions, and a champion will only stay down for so long until they really come screaming back for their last fight. They will come fighting back. I think as a player, I have lots to prove, as a team, we have a lot of prove, so it's a perfect fit. I was talking to some of the guys and they felt exactly the same way. They're amped up; I'm amped up.

Yeah, it should be good year. Because now they've fixed the deficiency they had last year where they didn't have a consistent Snake 1 (first attacker). You're going to go out there and play, and you're one of the best ones to do it. So if you play at the top of your game and then also with Spicka too, I saw flashes of brilliance from him last year, he still has that upward swing too. So, who knows how good he's going to be when he finally feels confident in his playing ability. I think that's a good pick up for you guys, for Dynasty.
Yeah, for sure. Not to mention it hurts the other big team in California (the Ironmen), I'm not proud to say that, but it really does put a dent in their team. We're adding on to this one now, so we're making things stronger. And also as a fellow pro paintballer who's been around forever, I can bring some insight to those guys. From what I saw from an outside prospective, that team needs to be shaken up a bit. We need to bring in younger guys, maybe not necessarily younger, but we need to keep everybody hungry, keep at the heels of these guys, some of these older guys, keep everybody motivated.
That's the one thing with Dynasty, is that they're all 30 now, which isn't a bad thing. Ryan Greenspan had a great year in 2012, Yosh Rau had some really good tournaments, so did Alex Fraige, and all of them played pretty well at World Cup, so it's not like the core of the team's bad at paintball all the sudden, on the decline.
Yeah they had a bad year, but skill wise, they're still as good as they have ever been. Yeah, there's the question of motivation, but I think that, and I see those guys all of the time, I think they are motivated. They are going to need to be, if there is going to be, because if there's a next chapter of Dynasty's history to be written, then there needs to be an influx of youth eventually.
For sure, like I was saying, they need it now just to keep people hungry. Our coach, Rusty Glaze, he needs to be on this. If we were to bring in a new kid, and he has been playing better than Ryan Greenspan's, then it's not about egos, it's about who's playing the best. As soon as John Doe starts trying to go after Ryan Greenspan's spot, Ryan is going to rise to the occasion even crazier than before.
Totally.
It's a good thing. And people forget that it was two seasons ago, but Dynasty won an insane amount of events. And then they have a rough year, and all of the sudden it's "they're old, they don't care"
Yeah, well, that's the fair-weather fans. You know how that is.
Yeah, that's how it is, and I get it. You're only as good as your last hurrah.
It's bullshit. It's pretty much the same team as two years ago!
Yeah, these are the same guys who have been winning forever. There's not a pro player out there who will tell you when Dynasty gets knocked out that, they aren't smiling because it's like, "Shit, thank God Dynasty's going home, it's one less thing to worry about." I know I always used to love it when they didn't make to Sunday, because it's like-
Thank God, we don't have to play them on Sunday because that's the last team we want to play on Sunday.
Yeah exactly, those guys sneak in. They always make it on the bubble and then come and wreck Hell on Sunday. But this year, things didn't tilt for them on Saturday, it just didn't go their way this year, which is unheard of. That's just fine, it's going to be a great year, hopefully one of the best years, and I get to be a part of that now.

Yeah. It's going to be crazy this year, but we will save that for the podcast.
Sweet, let's do it.
Like Paintball Access on Facebook, follow us on Twitter and Instagram! Let all your friends and compatriots know about what we're doing to further the sport!
Get Involved and make a difference; help us spread the paintball gospel!

If you have an interesting paintball story you feel absolutely must be told, contact us at yourstory@paintballaccess.com.
You Might Also Like: