Tampa Bay Damage is bringing back one of its historic killers for the 2013 season, as Bryan Smith will be donning the blue and grey again. Here are Smith's thoughts on his re-entrance into the pro ranks.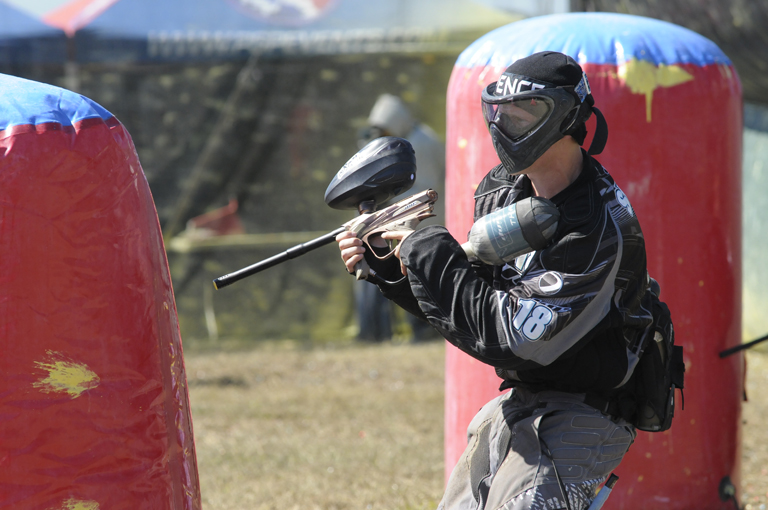 So, you decided to get back into the fight… for those who don't know, what made you walk away in the first place and what are your motivations for coming back?
Yes, it's about time to get back into the grind. For those that don't know me, I had to walk away from the game because I started a career with the Fire Department here in Florida. I call it the dream career. For the last few years I was attending school full time in pursuit of a career in the fire service/public safety. I finally finished paramedic school in August of 2012 and the opportunity I had been working so hard for came about in January of 2013. I had to complete a probationary period with the department of one year before I was granted any vacation, so at the age of 26 it was time for me to put paintball on stand by.

You've been doing this for a long time now, playing pro paintball, give the fans that don't know you a run down of your career so far.
Well, I'm a good ole country boy from Lakeland, FL. I raced motocross up to the age of about 13, which is when I realized breaking bones wasn't my favorite thing to do. So I started playing paintball in 1999 when Hyperball was popular and Sup Air was just getting it's start.
I played for a local paintball field team and after a few years I decided to start my own 3-man team named Deadlock. We played all the local tourneys and won a few hear and there but lost quite a few to Icon-Dan Holiday's team. At the age of 15 I traveled to my first national tournament in LA. I wish I could remember the name of the field but I can't off the top of me head. I know the field is still there and I remember the cows. That year I played for a team named Fallout. At the end of that year the team did exactly what it was named, fallout.
The next year I started playing for a Florida team who is still around today, Static. We played amateur that year. We won a few national tournaments that year and ended up winning the overall in one league and second in the other league to Kapp Factory.
The next year I decided to depart from Static and joined professional team Strange. I played 2 years for Strange in the NXL until a few of the guys and I had a disagreement with how the camp was run. My time with Strange was great and had a lot of unforgettable memories.
I believe 8 of us on Strange packed up and started playing for Doc's Raiders. I need to say something about Doc before I move on. Doc was a great guy. A lot of people only saw Doc as this short guy on the sidelines cursing at the refs or someone. If you got to know him like I did, you would know he would give you his shirt off his own back if you needed it. Anyhow, I played for the Raiders for 2 years. After 2 years Doc decided this sport wasn't right for him anymore. He respectfully folded the team and moved on with his life.
At that time Joey Blute (Damage's team Manager) gave me a ring. Joey was trying to recruit me to play for Damage. At first I wasn't too convinced. He said Mike Carthy (retired), Dan Holiday, and Matt Richards (retired) were coming to play for Damage. I was on the fence then, as I thought I was going to start playing for the Ironmen.
I knew one thing for certain, I wanted to play for a Dye team. To that point in my paintball career I never had the opportunity to use Dye gear and I was destined to shoot a DM. So I leaned back and forth trying to figure out what I was going to do. It came down to playing with my boys on Damage and on top of that Damage was a Dye team. At the same time I committed to Damage, Timmy Propst did too. So it all worked out and we won our 3rd tournament as a team. The rest is history.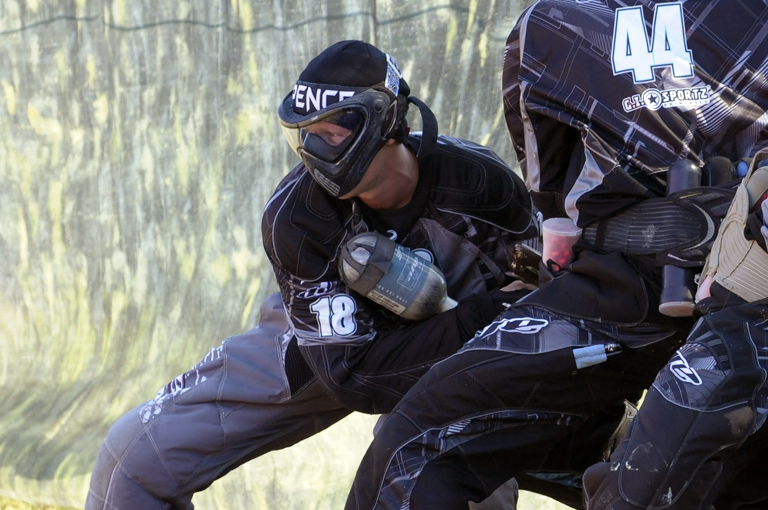 When you're on, you're one of the best players out there. I remember in Chicago a few years ago when you where just unstoppable en route to a Damage victory. Do you feel your going to come back at the same level as when you left, or do you think there's going to be any "ring rust"? How much have you been playing in your time away from Damage?
To be honest, I haven't played much this last year because of work. On the flip side, paintball, to me, is like the saying, "It's like riding a bike". I went out to a couple of the practices in 2012 and hung out with the guys. Didn't play though. I wasn't sure if I was going to make a come back. I thought I had my day and it was time to move on.
Well, I picked up a gun in October just before World Cup rolled around. I quickly realized how much I missed the game and how much of a stress relief it truly is. It's like nothing else matters when I'm on the field with the guys. So after obtaining permission from my significant other, I'm back. I've been playing every weekend trying to knock the dust or rust off. Overall, I feel good and I think it's going to be a smooth transition placing me back into the line up.

Who do you think stands in Damage's way this year? Who are the teams you really want to play?
I'm not sure who is going to stand in our way this year, but I'm looking forward to playing every team. Houston Heat obvious played very well last year. The Russians (Moscow Red Legion) are always very competitive. Dynasty's roster is great as well.
I think if we get back to our basics and game, we will do great. Damage is only focusing on PSP this year. With that said we will put more energy, time, and effort into only one format. The end result should be a positive.

Who do you consider to be the best players in the game, other than those you are surround by on Damage?
Well MVP Jason FK Edwards and Holiday/Busiere combo I have to mention. But on other teams, I'd have to give props to Fedorov, Mouse (Alex Goldman), and a couple Russians that I don't know how to say or spell their names.
Keep up with all of your favorite team and players here on PBA as we move toward the first PSP event March 15th -17th in Dallas, TX, brought to you live by Paintball Access!
Like Paintball Access on Facebook, follow us on Twitter and Instagram! Let all your friends and compatriots know about what we're doing to further the sport!
Get Involved and make a difference; help us spread the paintball gospel!

If you have an interesting paintball story you feel absolutely must be told, contact us at yourstory@paintballaccess.com.
You Might Also Like: