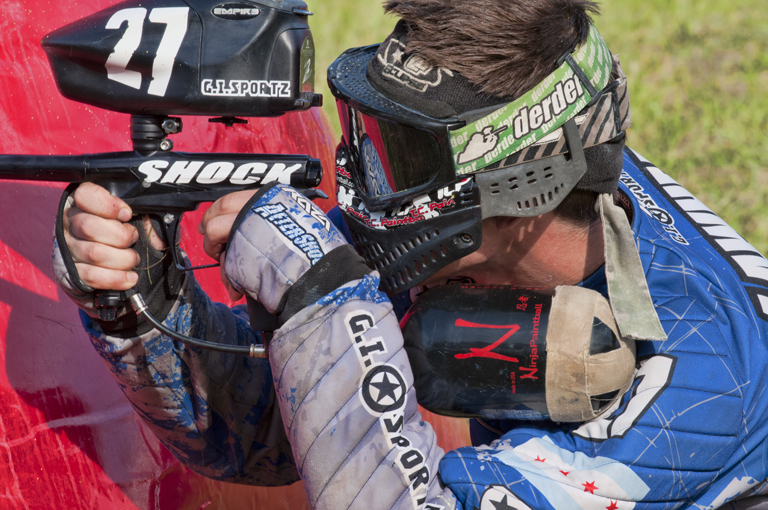 Congrats on being voted in as the MVP of your team, how would you personally rate your performance this year?
I've actually reflected a lot about this since World Cup. As we all know, Chicago Aftershock as a whole did not have a successful season by any stretch of the imagination. However, after looking back on the year, I feel like my individual performance this season was one of the best of my professional career. I feel like I continued to improve from event to event and really had an impact on many of our matches. That being said, I know that I still have a ways to go to get where I want to be, both as a player and as a leader on and off the field.

What was your favorite on-field moment of 2012?
My favorite on-field moment would definitely be our first and only win of the season at World Cup over CEP. I knew going into this season that it was going to be a long road. After we lost nearly our entire roster from 2011, we had to start fresh with mostly divisional players who were making a big leap into the Professional division. As we expected, we struggled to get our feet under us for the first event. But after that we started to make some steps in the right direction. We had so many close matches that we would throw away point after point on stupid little mistakes, and lose by 1 or 2 points in the end. I think that made it even harder to swallow all those losses over the year. Knowing that we had the ability to compete with these veteran and proven teams, but lacked the experience and mental focus to actually beat them. So when we finally put it all together for the last match of the season and came out with a win, it was such a relief.
What was your best move or game this season?
I don't really have a favorite specific move, but one of my favorite matches is when we played the Ironmen in Phoenix. I just felt like I was on-point with my lanes and could run wherever I wanted to. We went toe-to-toe with them all match, but we ended up down 6-4 with 2 minutes left. We had our backs against the wall, but we came out and ran a perfect 1 minute point and gave ourselves a great shot to tie it up. Unfortunately, we weren't able to pull off the last point to send it to overtime, but those last 3 points I just felt like I couldn't be stopped.
How does 2013 look for your team? Any news?
I'm pretty excited for the 2013 season to get here. I felt like we were in a lot of our matches this year and lost them purely from inexperience. Now all our rookies have a year of experience under their belt and hopefully have learned from our many mistakes last year. I don't have any breaking news to report as of now, but you never know what could happen between now and the season opener. Personally, I'm ready to have my best season yet and I can't wait to get back on the field.
Where there any things you struggled with this year, do you feel you've peaked as a player?
I would say the biggest thing that I struggled with was stepping into the role as a leader of Aftershock. I've always been a leader and a captain of any sport I've ever played, but I've never been a very vocal guy. I've always leaned more towards leading by example and inspiring my teammates by clocking in and producing on the field. But with such a young and inexperienced group, I didn't feel like that was going to be enough. So I definitely tried to become more vocal off the field this past season, although I feel it's something I need continue to work on.
I think I had one of my best seasons of my professional career, aside from the win/loss column. But I definitely don't think I've peaked as a player by any means. I felt like I got better as the season went on and I plan on taking my game to a whole new level in 2013.
What advice do you have for players who want to be in your position one day?
Stay on the grind. I know it's been said a thousand times by anyone and everyone, but it's true. If you want to compete at the highest level, you have to put in the work both on and off the field. Because if you don't, there's someone else who will.
You Might Also Like: