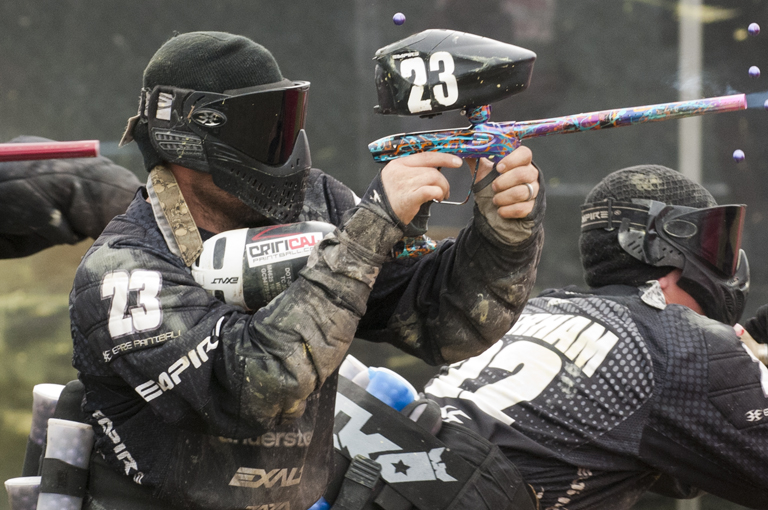 Congrats on being voted in as the MVP of your team, how would you personally rate your performance this year?
Thanks Matty. It's a real honor to be with this group of players. I would personally rate my performance this year a 5 out of 10. I hold myself to a very high standard, because I am more than just a player on Seattle Thunder: I am a captain, player, and manager for this team. We, as a team, had a lot of mistakes this year. On the field and off the field, making sure 5 guys were on the field before each point, who was going out there, and actually knowing the rules☺.
I had the "wing-it" mentality this year, and found out quick that was not going to fly in this league. I have played many years in the PSP with the Naughty Dogs under Rocky Knuth, and I am here to tell you just being a player is a total 360 from playing and managing a team in the PSP.

What was your favorite on-field moment of 2012?
My favorite on field moment for this year was just stepping onto the field in this league with my Team Seattle Thunder at the first event in Texas.

What was your best move or game this season?
Wouldn't say I had a best Move this year. I did have a great Match this year. First event in Texas we played San Antonio X-Factor. It was just one of those matches where I was just clicking.
I had 1 point where we were down 1-2 in the Match, just me and Jack Crimian left, I was in the Back Center. I had just loader my loader left, when I see an X-Factor player bunker Jack. I turned my gun and shot him, and while I was shooting at him, I hit another player in the dorritos.
I then turned to my left to see another X-Factor player running up the sideline and shooting in my direction. I turned my gun towards him and shot him before he made it to me. This all happened in a matter of 35-40 seconds in this match. After all that went down, I had time to take a deep breath and load another pod.
While I was loading I had seen an X-Factor player look out from his bunker, I knew I had to act quick to ensure I would get my gun up on him before he could get on me. I raised my gun just in time to see the player start to move. I was able to put enough paint in his direction to get the kill. I then went and hung the flag. Was just one of those games where my gun, and my instincts pointed me in the right direction. We ended up holding on and winning the match, making Sunday in our first event as a PSP pro team. I was excited.
How does 2013 look for your team? Any news?
I did have to make a few roster changes this year. But we are well, and ready to take on 2013.
Seattle Thunder looks as hungry as ever for the 2013 season. I was really easy as a captain in the 2012 season. My guys are working out, doing more drills at practice, and playing paintball every weekend. We will be coming out stronger, more disciplined than the 2012 season.
Where there any things you struggled with this year, do you feel you've peaked as a player?
I struggled with endurance, and making moves this year. I've been trained as a back player. My role was to support and finish games when it came down to it. To win those 1 on 1's, and 1 on 2's, sometimes 1 on 3's. My team relied on me to do so. In the PSP my mentality needed to, and has, changed for the 2013 season.
I have been working out since July of 2012. I weighed 218 LBS, and now weigh 168 LBS. I run 5 Miles a day now. I want to play every point for Seattle Thunder in 2013. As a professional paintball player, I feel you will always have room for improvement. I'm always pushing myself to be better. As a player, captain, and mentor for paintballer's in the Northwest.

What advice do you have for players who want to be in your position one day?
Save your money. Hahahaha! Seriously, just work hard and your accomplishments will be seen. I made it a point to play where the best players were playing every weekend. I also made it a habit to play every position on the field; I strive to be the best at what I put my mind to. If you have that same mentality, you will accomplish your goals!
Vote for Corey Field Here!!
Make sure to like Paintball Access on Facebook, and follow us on Instagram and Twitter. Let all your friends and compatriots know about what we're doing to further the sport!
Get involved and make a difference; help us spread the paintball gospel!
If you have a paintball story you feel absolutely must be told, let's us know at yourstory@paintballaccess.com.
You Might Also Like: