Los Angeles Infamous' Greg Siewers finally came out of his shell to dominate the D-side in 2012, proving right all the paintball sages who have been hailing him as the second coming for years. Here are his thoughts on his MVP nomination.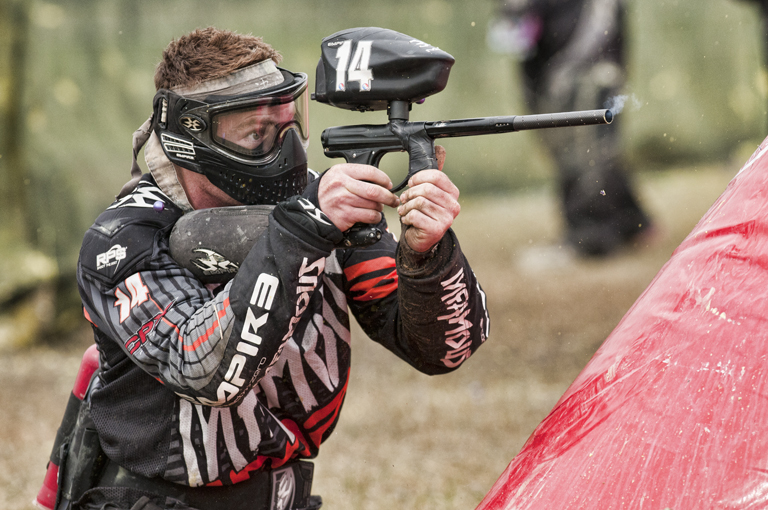 Congrats on being voted in as the MVP of your team, how would you personally rate your performance this year?
Thanks. I think my performance this year has finally reached the potential that so many people have expected from me over the last few years. I really felt like I was a driving force behind winning points this season and was able to contribute to Infamous' success throughout the season.
What was your favorite on-field moment of 2012?
My favorite on-field moment was definitely winning the Overtime point to take the victory at the Chicago Open. I had played every point that event, could barely breathe or hold my gun up by the time we made it to the overtime point in the finals on Sunday. I was driving myself to make my moves as crisp as I could and once we got that final kill, it was like a huge weight came off my shoulders and my heart dropped.
What was your best move or game this season?
That is a little tougher question. I think one of my best moves this year was against the Russians in the finals at Chicago open. We were in a long point that had been 5-5 nearly the entire point. I was sitting, pushed into a standup can. I pulled a "Kentucky Long Arm" (right handed, cross body shot) snap on the snake, and my first paintball hit the guy's goggles, lying in the snake. From there the game broke open, and I ran down the Doritos shooting both of the center players. Felt pretty good, I actually laughed in my bunker when I shot him.
How does 2013 look for your team? Any news?
2013 is looking like another powerhouse season for Infamous. No news about players but keep your eye on Kee Action Sports for some top notch gear!

Where there any things you struggled with this year, do you feel you've peaked as a player?
I definitely had a few ups and downs this year, with my biggest struggle being making my long sprints off the break. When you risk those long runs, you can't help but get shot off the break occasionally. Sometimes this messes with your head and takes away from my game, even when I'm making my bunker. So with that, there's no way I have peaked as a player because I know I expect more from myself.

What advice do you have for players who want to be in your position one day?
I think players today who are looking to be in my position just need to remember to focus on their game, not how fun the vacation/party is when you get to the event or what new gear companies put out. You can only get better through practicing diligently and remembering to stay focused.
Vote for Greg here!

Make sure to like Paintball Access on Facebook, and follow us on Instagram and Twitter. Let all your friends and compatriots know about what we're doing to further the sport!
Get involved and make a difference; help us spread the paintball gospel!
If you have a paintball story you feel absolutely must be told, let's us know at yourstory@paintballaccess.com.
You Might Also Like: