The off-season madness continues—Kevin "SK" Bredthauer has left the Los Angeles Ironmen, moving on to coach one of the best teams in the world, Tampa Bay Damage. Team manager Joey Blute, talks to PBA about the move, and the up-coming season.
So, Joey, Damage just picked up Kevin "SK" Bredthauer as its head coach. How long have you been working to get SK?
We started to flirt with the idea at World Cup, more an idea of trying to work with him in some way. I could tell his time with Ironmen was coming to an end when they brought in Mike Hinmen. We have been talking back and forth the whole off-season and are making it public today.
What qualities do you feel SK has which are going to help Damage get that title back?
SK took a roster last year that most people thought was going to be a middle of the pack team at best and turned them into contenders. If he has that kind of growth with us, we should win every PSP event this season.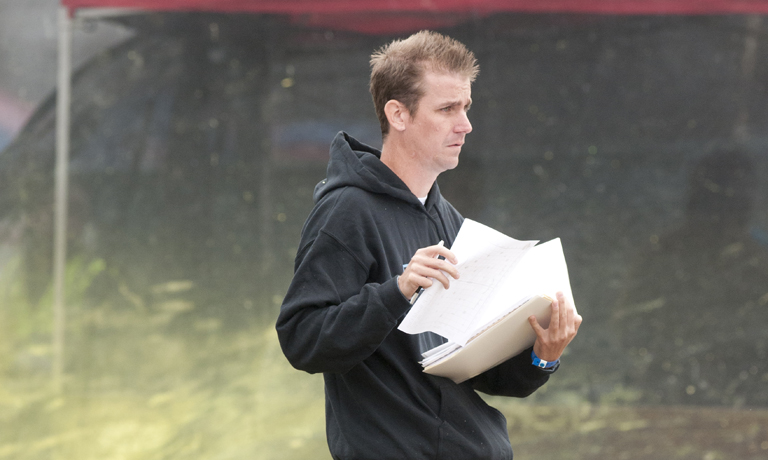 Damage is a very different team than the one SK just came from: Damage is stocked with seasoned vets whereas the Ironmen had young up and coming players. But since SK has also coached Dynasty and Infamous, it shouldn't be too much of a switch. What are your feelings?
SK is coming to us from an Ironman team that was always in the top 4 at each event last year during their rebuilding season. If he could do that there, imagine what he will do with our roster. He brings one huge thing that coach Paul does not have: he has played at the highest level in the most important part of the events – he knows what it takes to win and he puts that into his coaching.
Do you feel losing Paul Richards, the coach Damage had for so long and was able to win with, hurts the team?
First off I would like to say coach Paul is a great man and a great coach. We felt it was time to move on after being together longer than any other coach/team combo at the pro level. We felt we needed to shake things up this season. We tried to work with Paul to put him in a different roll, but he decided to test the waters and landed with X-Factor. We wish him good luck this year and hope the best for him.
So to answer your question, no I believe we have upgraded our coach position.
Is SK planning on having his own system or is he going to work within the system you guys already have in place?
SK and I have talked about how this team will be run. I know he has his own style and I want him to bring his style to us. He is smart and will work with the guys to get the most out of them.
A lot of people have said Damage is heading downhill because of the recent personnel losses, what would you say to those critics?
Well let's break down our "losses"–
Justin- When we made the move to get Justin it was right after Bryan Smith told us he was not going to be able to play the 2012 season due to his new job as a Firefighter. We needed to fill his spot with someone of the same caliber. This is the main reason we brought Justin in. It did not work like it should have on paper. Justin is a good player; he's just not a good player on Damage. This year Bryan is back and has not missed a beat. He has played this off-season almost every weekend and looks stronger than when he left.
Mouse- People are making this into some big deal that we lost him. He played one event with us. We have talented players who already fill his position. Let's not forget who we have on our snake side Keith, Ramzi, Bryan, Timmy, and Holliday. I would like any other team in paintball to show me that much depth on the snake side. Good luck to Mouse but he was in a spot we are crazy deep.
Dave- He is the one player that will be missed. He brought more than his play to the team. We have found a fix to this as well: We will just play Jason Edwards every point of every match. We learned last year after watching Heat play the same 4 guys in almost every important point to do the same. The game is changing and we will as well.
Since the rosters have gone to 12 are you looking to pick up any players?
We are holding a tryout later this month. It is an invite only tryout. If you have at least one full year of D1 experience and would like to see if you can make the team email us at TBDCrew@gmail.com Include your name and team you played with.
We have always tried to bring in the next superstar sometimes it works (Jacob Edwards, Keith Brown) sometimes it does not.
To answer your question yes we are looking at getting one or maybe 2 players.

So, overall, how do you feel about Damage's line up this season?
I think we will be stronger this year than any time in Damage history. All the guys are ready to prove that Damage is and will stay the best team in paintball.
How do you feel about all the offseason roster moves?
I do not think this year is any crazier than any other year. I feel social media has made a huge impact on how people perceive stuff. Hell, look at last year as an example: just off the top of my head: Infamous lost half their team and picked up 5 guys from shock; Marcello, Jason, and Axel all went to the Russians; Heat was formed, taking three Russians; Dynasty signed Mike Hinman as a coach and added players; Ironmen picked up a bunch of people I still do not know; 187 went pro; Damage picked up Justin; Impact pulled out of the PSP.
These are just a few things that happened last year during the off-season.So this year is like any other year in paintball.

How hard is it to manage a team of Damage's caliber? Who are you problem children?
I would not say it is hard, but it is crazy time consuming. Just booking plane tickets is like a 3-hour project. As far as dealing with the guys it is not a huge deal for me; they are all grown ass men at this point.
Problem children: they all left this off season, so I have no problem children left.
What are your thoughts on the new "Champions and Challengers" format the PSP is going to implement this year?
Matty, you and I talked about this at the end of last season. I think it is something that was a must have for the PSP pro division. It is so top heavy the guys on the bottom have little chance of taking down the big guys. This is not meant to be a dig to the bottom half of the pro division, just the truth. The one thing last year that would irritate me more than anything was when you went to an event, you had a division of all top tier and a division of new unproven teams, resulting in crazy unbalanced divisions. This year you will have 8 of the best teams at every event playing every point like it is the most important point of their season. Now with the webcast going, it will give people at home a webcast that will be something worth taking 3 or 4 hours out of their day to watch. There will be very few blowouts and bad matches. I would like for them to turn the new Champion division into a real match now, not a race-to format. I will take this as a win and preach on for my next desire starting now.
Make sure to mark you calendars, tell your friends, and tune in as the first event is brought to you live March 15th -17th by PaintballAccess.com.
Check back tomorrow for Part 2 of this interview
Like Paintball Access on Facebook, follow us on Twitter and Instagram! Let all your friends and compatriots know about what we're doing to further the sport!
Get Involved and make a difference; help us spread the paintball gospel!

If you have an interesting paintball story you feel absolutely must be told, contact us at yourstory@paintballaccess.com.
You Might Also Like: