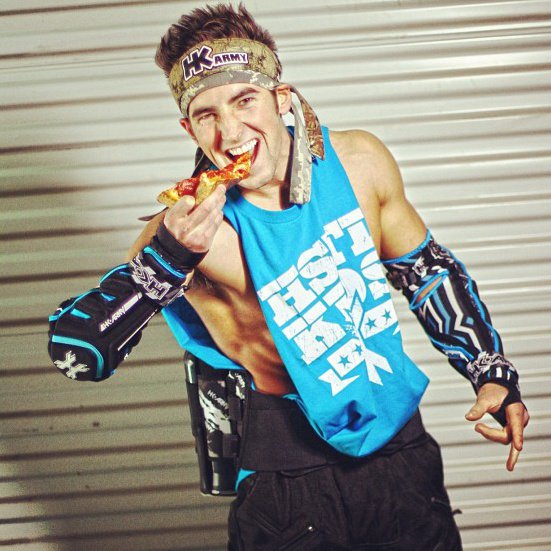 Photo taken from Kyle's Facebook
So, just to refresh everyone's mind a little bit, I recently parted ways with the LA Ironmen and Dye paintball, along with one of my best friends and roommate Brandon Short. The decision was extremely tough for me and I loved the Ironmen family I was apart of. There were a lot of changes going on with Ironmen, coaching staff, players leaving, and new guys joining, typical off-season stuff that makes every aspect of the team different. Not necessarily in a bad way, but makes you wonder how everything will turn out.
I was with the Ironmen going on to my 4th season now and I loved it. Brandon and had long talks about this, contemplating our decision to join Dynasty. By any means it was not easy; it's almost like starting a new job. No matter what you do in life at some point you get into a routine or comfort zone. I feel you have to push yourself into uncharted waters to better yourself.
So I felt the need for a change in a good way, I wanted to strive to take myself to another level and play better than ever before. All the Dynasty guys are players I've looked up too and respected since I started playing. These guys have so much wisdom; playing for Ironmen and Dynasty was something I could've only dreamed about as a kid. Now I'm here doing it and working harder than ever before.
We had our first actual practice this past weekend of the season and first for myself with San Diego Dynasty. Short, Greenspan and myself all carpool cause we live about 2 miles from each other in Pacific Beach, San Diego. We Pin it up north to Camp Pendleton military base to get started around 9am. Get up there, say our hellos, talk some shit talking for about 10mins then we all suit up. You could tell everyone out there was eager and hungry to start off 2013.
Of course, you play paintball on those random weekends with a couple of your teammates, but when you have all your boys there it's a completely different feeling. It's time to start putting in work and crafting our team into a masterpiece. This weekend we were going to be doing lot of drilling against ourselves. Our coach Rusty Glaze, who is extremely knowledgeable about the sport, formulated a great practice regimen for us.
We did a lot of communication and teamwork exercises, fundamental training drills, and unique mid-game situations. I'll leave it at that, can't disclose coach Glaze's top secret drills to all our other competition out there. We have a team lunch afterwards and Alex Fraige tells everyone he will buy the whole lunch if Ryan admits Alex worked him in this one point at practice today. It was pretty funny Ryan didn't want to spit it out but he swallowed his pride and took one for the team. Thanks again Ryan!
The team chemistry is great already, everyone is hyping each other up, really pushing each other to exert themselves. We had a ton of competition between members of the team; it was the perfect mix fun vibes and working our ass off. After only one weekend I am certain you will see great things from Dynasty this year. We're pumping out hard work and determination all season long.
Right now Dynasty is like a puzzle, we have all the right unique pieces and we're composing something colossal, watch closely!
Make sure to mark your calendars for March 14th-17th as the first PSP event is brought to live by Paintball Access.
Like Paintball Access on Facebook, follow us on Twitter and Instagram! Let all your friends and compatriots know about what we're doing to further the sport!
Get Involved and make a difference; help us spread the paintball gospel!

If you have an interesting paintball story you feel absolutely must be told, contact us at yourstory@paintballaccess.com.
You Might Also Like: