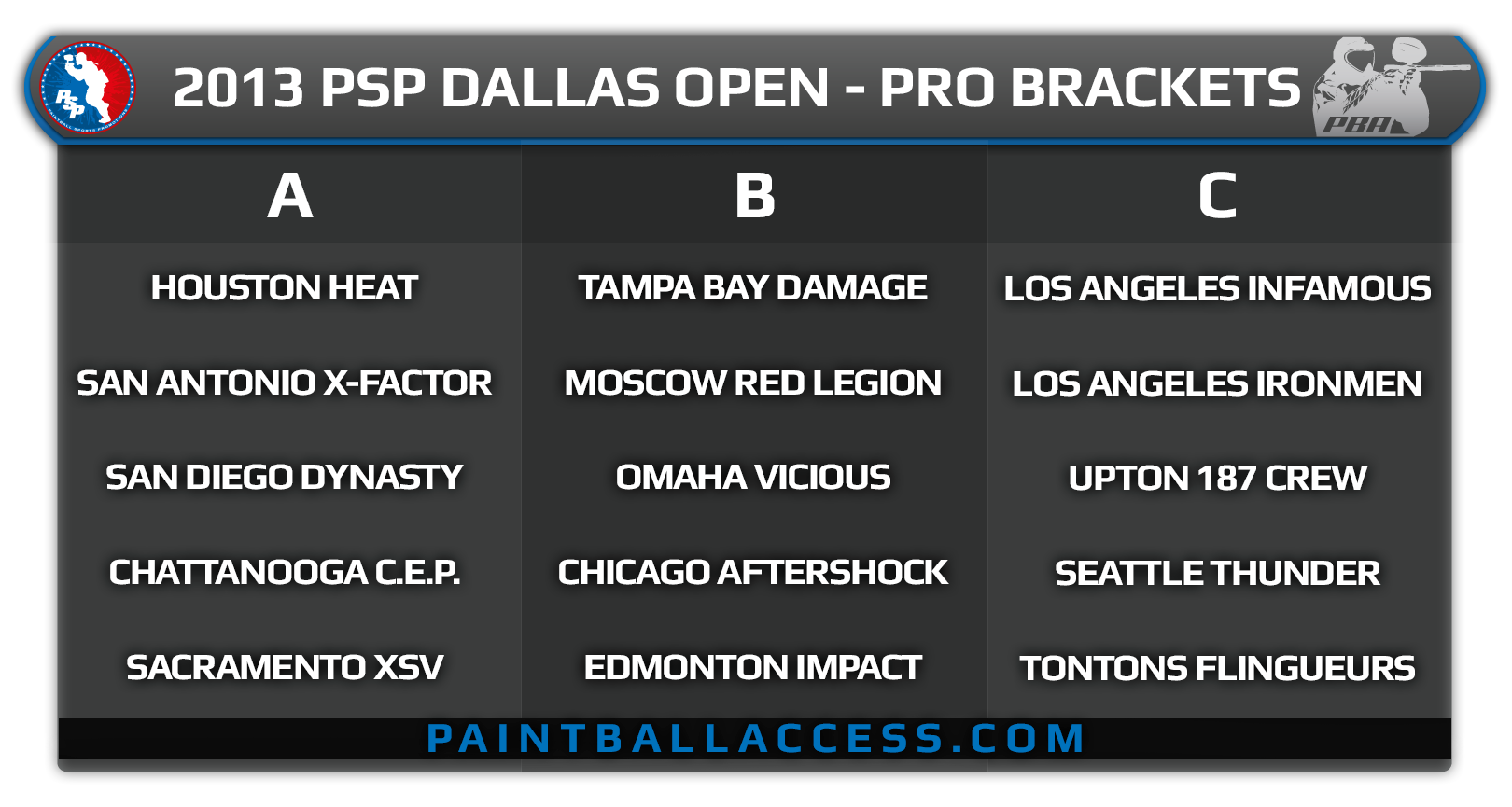 Bracket B Breakdown

Here's how it breaks down for the first PSP event in the pro division. There are 5 teams in each division. 15 teams total. The top two teams from each bracket, after the prelim games, will move on to the Quarterfinals. The 3rd ranked team in each bracket will advance to the Champions Division for the second event. The 5th spot heads to the Challengers division for the next event, and must fight their way back into the Champions Division. The 4th spot will play each other to see who stays in Champions and who goes to the Challengers, to see who gets that 10th spot. 12th plays 11th, then the winner will play the 10th place team to see who gets the last spot in Champions Division, which begins at the second event.
It will be an awesome, brutal fight. And it will brought to you live next week, March 14th-17th by Paintballaccess.com
Tampa Bay Damage (Ranked 2nd)
a year ago today we were talking about how unbeatable Damage looked on their road to winning three events in a row– 2011 MAO, 2011 World Cup, and the season opener of 2012. But then Houston Heat was born, and the paintball landscape changed at the highest level of the sport. Damage also had two 3rd place finishes, and came in second at the World Cup last year, and the fall down a notch, though it may look slight to the rest of the world, has caused some drastic changes for the team.
Tampa picked up Coach Kevin "SK" Bredthauer, who left the LA Ironmen, to replace Paul Richards, who left for San Antonio X-Factor. This move is a whole article in itself. Only time will time if Bredthauer will work out, but the smart money is he will, because he did so well with the team he coached before.
Tampa also lost Dave Bains and Justin Rabackoff to Impact, and Alex "Mouse Goldman to the Ironmen. Big hits indeed, but the Tampa camp would counter it all for the best. They have People's choice MVP Jason Edwards (ranked 4th overall), who might just be the best back player in the world, and is a yoked monster who can just play more points with the loss of Bains. Raney Stanczak (36th overall) also has come over from the Ironmen to fill in the back spot as well.
Alex Goldman was only on the team for one event, and the return of Brian Smith (unranked), who tore people's heads off when Damage was first marching up through the ranks, making a name for themselves, could be the biggest thing to happen to the team during the off-season. As good as Timmy Propst (14th overall) and lightening fast Keith Brown (56th overall) are, which is pretty damn good, Smith was better when the team had something to prove. The team has something to prove again, especially with all the offseason drama.
On the Dorito side, Chad Busier (17th overall) is most explosive player in the league. His burst speed, timing, and willingness to launch forward at any point always gives other teams problems. All teams who play Damage must actively contain Busier, or risk having him in the 50-yard line bunkers in seconds, scalping people. Dan Holiday (3rd overall) had great points all over the field in 2012, but with the addition of Smith he'll most likely be on the D-side with Busier, and he's just as good, if not better, than his young cohort. He's the highest ranked player on Damage for a good reason, and he turns in highlight reel moves almost every event. Adding to the Damage's depth on the D-side is Jacob Edwards (21st overall), Jason's younger brother, who is ridiculously talented and is starting to get enough experience to match his team mates level of play on a consistent basis. Also, cancer survivor Alex Spence (unranked) is back on the team, and is healthy enough to get reps, hopefully he can get back to where he was before he started his successful cancer battle two years ago.
As it plain to see, Damage still has an insane roster, that could win events this year, and contend for Heat's title. Don't forget, they have something to prove again, which makes them scarier than they have been for years.

Odds to advance: 1/1
Moscow Red Legion (Ranked 5th)
is rebuilding again this year after losing their front players, their "1s", on both sides of the field. Marcello Margott went back to the LA Ironmen, and Axel Guiden heads back to his original team, the Ton Tons, as well. Margott and Axel were the heart of the team's offense last year and a big part of their two 2nd place finishes.
Lucky for them the still have 2012's Top Gun winner, Alexandr Berdnikov (1st overall), who can play any spot on the field and should come out gun blazing up the field, because of the aggressive layout. Team Captain Kirill Prikhdni (22nd overall) also had a great season, and is always a rock on the D-side. He's not as flashy as some of the players to come through the system, but
New addition Kevin Coulm (unranked) who comes over from the French CPL pro team Marseille Icon, has been brought in to replace Margott on the D-side. Coulm is untested at the highest levels of the game, but so was Axel last year and he performed admirably. He's an unknown in the PSP pro league, but he must have impressed the coaching staff enough to get the spin.
Historically, the coaching staff of the Red Legion is one of their great strengths, but they have a new head coach this year, and had some coaching mistakes at World Cup, a giant one was playing the # 1 player in the world at the time, Margott, out of position, which would be the same as saying "Hey, let's play Kobe at Center in the NBA finals". But Moscow has been able to take every hit over the years on the chin and always come back as strong as ever. So our guess is that they will still be able to compete with the best teams.
Mykel Kovar(90th overall), a solid long time San Antonio X-Factor veteran, replaces Axel in the snake. Kovar is a work horse, but he struggled a bit in 2012 as his ranking shows. But with his work ethic, Kovar could flourish in the Red Legion program, and he now lives in Europe, so it will be easier for him to train with the team. He also speaks Russian, which won't hurt either, as communication has always been a problem for American imports.
They also have role players Vasilliy Panteleev (86th overall), Denis Golev (81st overall), and the 2012 rookie of the year Jason Wheeler (6th overall). Wheeler is the real deal, and should play even better this year after getting a full season against the best players in the world.
Like most teams who made big roster moves this off-season, they have a lot to prove, and those are the most exciting teams to watch play.
Odds to Advance: 4/1
Omaha Vicious (ranked 8th)
is in their 4th professional season, and the Midwest boys from Omaha are just starting to find their form. They went 3-1 at the 2012 World Cup, and barely missed the cut. Anyone who watched them play last year knows they are looking better than they ever have. They still lack a full time head coach, and that has is always been an issue as teams try to tier up the pro ranks.
Their main snake attackers, Phil Kahnk (9th overall), Bryan Bortal (65th overall), and Shane Colby (54th overall) are all capable of blowing open points. Kahnk stands out in this crowd, as anyone can see by the fact he's ranked in the top ten of all Pro players in the PSP. He's an aggressive machine, and very fun to watch. Actually, the whole team is fun to watch, and should do well on this field layout, as long as they focus and stay on the attack. Bortal has a smooth style, and is never afraid to attack and he could have a breakout year if he's just believes in himself.

Trevor Resar (61st overall) has gotten better and better, and could have a big year as well. Zachary Sherman (60th overall) is the leader of this team, is highly respected by his peers, and for good reason, though if Omaha picked up a coach, Sherman would be move up the rankings, as he would only have to worry about playing.
Their back line is equally as talented. Parker Rosenthal (35th overall) played some clutch ball last season, and was the second highest ranked player on the roster. He's better than most people realize. Chris Hooker (89th overall) is deadly accurate, and one of the best off-the-break shooters in the game, though he's the least mobile player on the team. Matt Sossoman (51st overall) stood out from the crowd in his rookie year. There was a public backlash when PBA didn't nominate him for rookie of the year, and it's true, he deserved a nod. Vicious can beat any team in the league, the question is can they string enough wins together to get to Sunday on a constant basis. We will find out in 2013.
Odds to advance: 4/1
Chicago Aftershock (Ranked 11th)
is coming off one of the worst seasons the team has ever had. Though they struggled to win games last season (they won one game against CEP, who also only won one game) Chicago Aftershock is one of the most entertaining teams in paintball with their wild and reckless style. They're fearless, they push fast, and take forward spots, attacking in ways most teams wouldn't dream of.
Coming into 2013, the team has much to prove. Lucky for them, most of the talented young players they had last season are returning. They were decimated in the 2011 off-season as all the talented players they had built up left the team to go to both Houston Heat and LA Infamous. Both those teams saw success. Pretty heart breaking if you're a Shock fan, which most people should be as they are the most successful team to ever come out of the Midwest. Actually, Shock is one of the most legendary teams of all time. They've won 5 world titles and invented the cliché "People come to World Cup to watch Aftershock pound people". But those days are not these days, and the team is now fighting for relevance. They have talent, but that talent was mostly at a D2 level last year.
Things could change this year though, as the team is young ,fast, hungry, and talented, and just spent an entire pro season learning the hard way. But what the fire does not destroy, destroys the fire; only the hardest of the hardcore are left.
Caleb Abel (77th overall) should be a beast for Shock this year; he's one of the only guys on the team who's versatile enough to play every bunker on the field. He should help the wreaking ball of a front line that takes the field for Shock. Trevor Regan (107th) might be the most naturally talented player on the team, but natural talent can only get you so far when you're playing against the best players in the world. Hard work is how you win tournaments in this league, and shock needs to spend time doing situations drills in practice to speed up their forward progress. If Aftershock works on their survivability issue, they'll start winning games. They get to great positions but have a hard time living in them.
Shock also has awesome attackers in Davey Simmons (99th overall) and AJ Lawhead (50th overall), who's the most seasoned guy on the squad and the team's highest ranked player. Coach and paintball legend Mikey Bruno knows where they are at and is trying hard to get the team on the same page. This bracket is brutal, but win or lose, expect the unexpected from the most aggressive team in the league.
Odds to advance: 20/1
Edmonton Impact (Ranked 14th)
has added a ton of firepower to an already stellar line up for 2013. Dave Bains (34th overall) and Justin Rabackoff (19th overall) have come over from Damage, and they signed Greg Siewers (23rd overall), who really tore up the D-side in 2012 for LA Infamous.
Bains has the best resume of any player from the past ten years, as he's played with almost every top team; Avalanche, Dynasty, XSV, Red Legion, and Damage, winning tournaments and titles all along the way. We don't say, "and that's why you pay Dave Bains" just for fun. Bains is a proven leader, all star player, and all-around good luck charm for every team he's been on.
Rabackoff has something to prove this year. Everyone expected him to contend for the Top Gun title, but finished the year 19th overall, though he was 2nd in the G-rating (kill count) category. And Greg Siewers finally came out of his shell in 2012, finding a level of play everyone always knew he had in him.
Those three stars join a team already stacked with veterans like Ryan Moorhead (unranked), Justin Cornell (unranked) and Tim Montressor (unranked), who have won events in the PSP before, and come into this year with a strong will to get back to the top. Cornell is Top 5 snake player on his bad days, and Moorhead was Chad Busier when Chad was just dreaming of playing pro ball; Ryan play style helped define what a D-side killer is supposed to do on the field. Montressor led the now defunct Philly Americans to event wins just a few years ago, and is one of most well liked players in the industry; you want to play well when Tim is playing beside you, and his versatility adds strength to Impact.
The Yachimec brothers, Zane and Zach (both unranked), are great players in the their own right, but with absolutely no holes in their roster, Impact is under a lot of pressure to perform. Especially adding the fact they blew out at World Cup finishing 12th out of 14 teams. With all the talent now on this team, they are an instant contender for Houston Heat's title. The only questions remaining are: What starting line do they go with, and can all these stars play on the same page? But even if just half of them show up with their A game, they're an instant favorite to win the PSP title this season.
Odds to advance: 1/1
Who do you think will make it out of the bracket?

Make sure to mark your calendars for March 14th-17th as the first PSP event is brought to live by Paintball Access.
Like Paintball Access on Facebook, follow us on Twitter and Instagram! Let all your friends and compatriots know about what we're doing to further the sport!
Get Involved and make a difference; help us spread the paintball gospel!

If you have an interesting paintball story you feel absolutely must be told, contact us at yourstory@paintballaccess.com.
You Might Also Like: