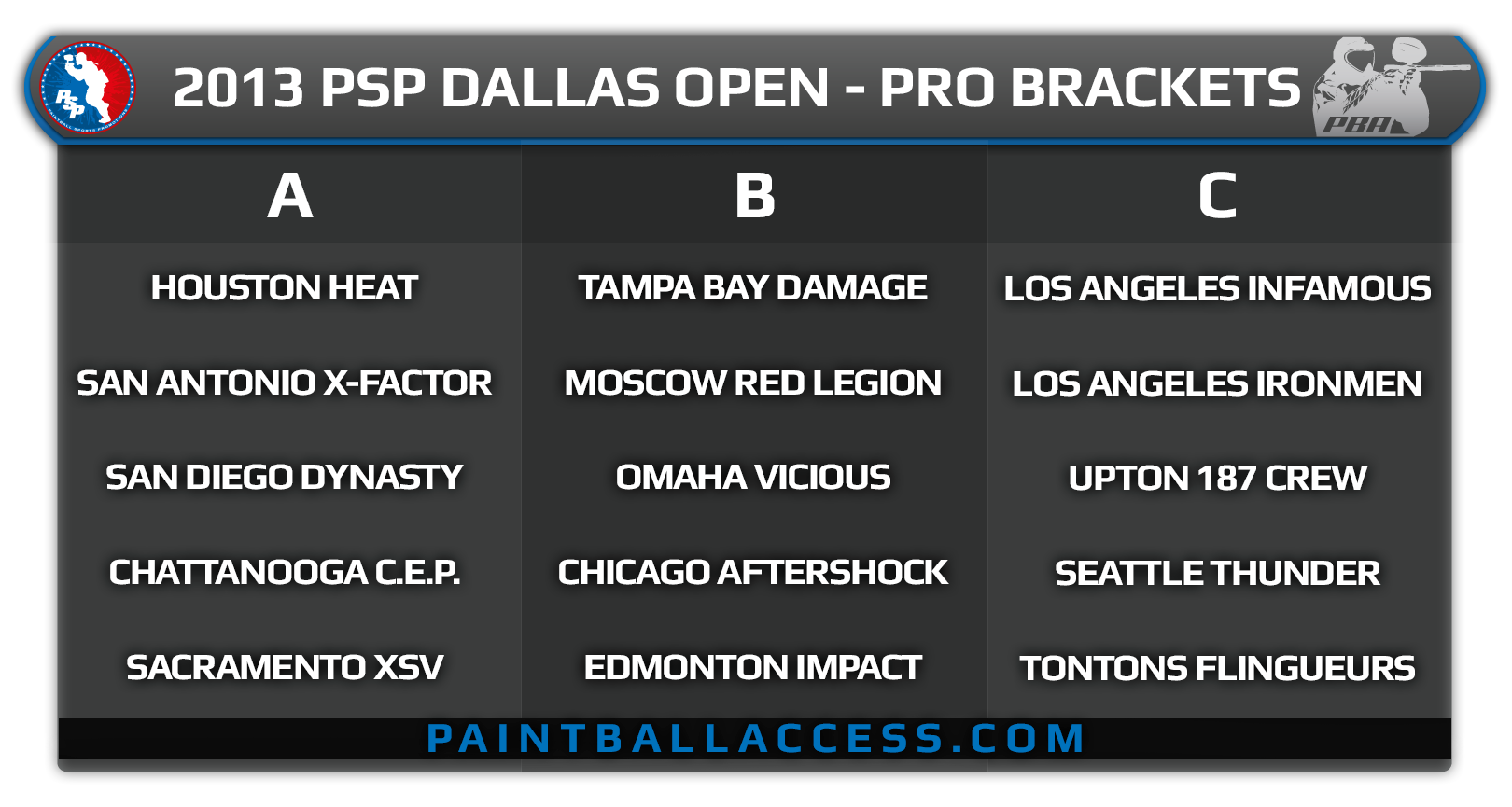 Bracket C Breakdown

Here's how it breaks down for the first PSP event in the pro division. There are 5 teams in each division. 15 teams total. The top two teams from each bracket, after the prelim games, will move on to the Quarterfinals. The 3rd ranked team in each bracket will advance to the Champions Division for the second event. The 5th spot heads to the Challengers division for the next event, and must fight their way back into the Champions Division. The 4th spot will play each other to see who stays in Champions and who goes to the Challengers, to see who gets that 10th spot. 12th plays 11th, then the winner will play the 10th place team to see who gets the last spot in Champions Division, which begins at the second event.
It will be an awesome, brutal fight. And it will brought to you live next week, March 14th-17th by Paintballaccess.com
Los Angeles Ironmen (Ranked 4th)
There is no other pro paintball team in the world that has been practicing as hard as the LA Ironmen in the off-season. This is a affect of both the desire for their team to get back into the mix at the top of the game and also the prefect SoCal weather at their home field. Even though San Diego has seen more rain than usual, it's still a world away from the winter onslaught the rest of the US has seen.
Even though they didn't require players to practice, the internal pressure from the leaders on the team, and the inner motivation and desire from the players themselves to get out and grind should give them an edge in the beginning of the season; the Ironmen's ability to play outdoors on regulation-sized fields in good weather gives them an early and distinct advantage.
Couple that with the fact they have picked up some experienced pros, and you have a brand new Ironmen squad doing everything they can so far to get back into the winner circle.
Marcello Margott (2nd overall) came back to the Ironmen, where he won two World Titles to start off his career. He played on a reconstructed knee and performed outstanding with Moscow Red Legion, proving in 2012 that not only can he still play the game at a high level, but that he's one of the best players on earth. He was the Top Gun rankings leader for the entire season, until the new Red Legion Coach played him out of position at the World Cup, in one of the worst coaching errors in the modern era. Heading into 'Cup Marcello had been the best overall player for the entire year, the #1 guy in the entire league. But Moscow stuck him in the back center and had Zack Wake take over the attack on the doritio side. Neither Wake nor Marcello played well that event, Moscow finished 6th at the event, and the Marcello lost the #1 spot to his teammate Alexandr Berdnikov.

Alex "Mouse" Goldman (12th overall) who also played with Marcello on the Ironmen to start off his career and won titles 5 years ago, comes back after almost signing with Edmonton Impact. Even though he finished 12th to Marcello's 2nd, Mouse still carries the same weight with his peers as Margott. There are few players like him in the league, he's about as high touted as they come, but he's playing with a giant chip on his shoulder in 2013, because he underperformed last season, giving himself a D grade for the year.

Steven Pitts (unranked) will be taking the field for the Ironmen as well, and he is a virtual terror of a support player. Pitts is methodical and calculating, but can also play aggressive, launching from the back position.
Justin "LJ" Schwarz (31st overall) will be on the D-side with Margott and could have his best season in years; he's been in the gym and playing as much paintball as he can. Most importantly his attitude has been better than ever. LJ has been his own worst enemy in years past and he's now is a positive influence on his teammates, and is growing into his role as one of the most experienced players on the team.
The Ironmen were characterized by their young players in 2012, and 2013 could be a real breakout year for a few key members. Alex Rodriguez (7th overall) and Eric Humphries (26th overall) more than carried their weight last year, especially Arod, who was one of the Rookie of the Year candidates. Add in the one of the best back players in the PSP, Mike Paxson (5th overall), and coach Mike Hinman, who is uniquely suited to lead these players forward, as many of them have played for him when the first started they careers, and are accustom to his intense coaching style.
The Ironmen look tenacious this season, and are one of the favorites to take Heat's title.
Odds to advance: 1/1
Los Angeles Infamous (Ranked 3rd)
is one of only three teams to win a PSP event in 2012. They took 2nd at MAO and first at Chicago, which is one of the hardest events to win. They did this because of the strength of their leadership and depth of their roster. They have the majority of the team returning for this season, which should bode well for their chances.
There's bad news for Infamous fans though, as they lost one of their best players, Greg Siewers (ranked 23rd overall) and their Coach Todd Martinez, and they haven't picked up anyone of equal talent to cover those losses.
Martinez will move into the PBA Broadcast tower to do play-by-play duties alongside Matty Marshall and Siewers was picked up by Impact.
These losses should light a fire under the players who remain, because they are going to need everyone playing to their potential to have a chance to repeat their success of 2012.
They also have a few players coming back from injuries. Young Brad McCurley (53rd overall), who was the Chicago Open Finals MVP after his amazing overtime performance, where he shot 4 Red Legion players single handedly to win the event for his team, is coming off a knee injury and Zach Patient (85th overall), who is very talented and has potential to be a top level player, is coming back from a surgically repaired shoulder.
Here's the good news for Infamous fans, they still have a rockstar roster that could contend for the title, if they stay focus and play up their ablilty. Infamous has a history of not performing up to their potential, a story they flipped 180 degrees last season. But without Martinez the Motivator, and the weapon that Siewers had become, they really need their roster of stars to step up.
Veteran and World Champ Nicky Cuba (46th overall) has made a name for himself as one of the most clutch players in paintball, and is always a hardcore competitor his team can count on to contribute. Bobby Aviles (40th overall) is a weapon at all stages of the game, and Damien Ryan (16th overall), was their highest ranked player, and needs to have a big year. He played outstanding and got better and better and the tournaments progressed in 2012, and Infamous needs him breaking open games now that Siewers is gone. Also, Drew Templeton (64th overall) has emerged the past few seasons as an outstanding snake player and will most likely see play many points this season, especially if there's any question about McCurley's knee or Patient's shoulder.
One thing is for sure, team Captain and one of the longest standing vets in the game, Travis Lemanski (66th overall), will keep the team on track and shoot lots of people off the break, which is his specialty.
Odds to Advance: 3/1
Upton 187 Crew (ranked 9th)
turned heads all year long and were one of the most entertaining teams to watch. Though they are young and inexperienced, they fear no team, submit to no one easily, and play an aggressive style of ball.
They beat a solid Ironmen team last year and took the Russian Legion into sudden death twice, the first time in their first game in the pro division.
187 has an obviously high level of young talent and they're bringing mostly the same roster back for this season, but with a few twists. Dan Zaleski (91st overall) did damage for 187 as Upton's main attacker in the snake, during a year that was hard on front snake players, and Robert "Max" Traylor (43rd overall) did work on the D-side, proving he could hang with the best players in the world. But for the 2013 season, they will be switching sides, with Zaleski now in the doritos and Traylor as the main attacker on the snake side.
They will be backed up by the hardcore duo of Eddie Painter (78th overall), who was always quick to attack out of the backfield, and Team Captain and rookie of the year nominee Nick Leival (32nd). Leival has been heralded by his peers as the best player on the team, and blew people away in 2012, he's a true beast. He was ranked one slot higher than legend Oliver Lang in only his first season.
If 187 brings the same fire to this season that they did last year, they could start marching up the rankings board and make a name for themselves in the hardest tournament series in the world.

Odds to advance: 7/1
Seattle Thunder (Ranked 10th)
made it to Sunday's Quarter-finals in their first pro PSP event last year, but stumbled at the rest of the events, plagued by penalties and underperformance. Team Captain and long time veteran Corey Field (52nd overall) refuses to let this happen to his team in 2013 and is running with the hardest crew he can find. His last minute heroics against X-Factor were the reason Thunder made a Sunday in 2012.
Thunder has been training all offseason in order to have a better result than they produced last season. Field dropped weight before Cup and looked faster than he has in years. He plans to play every point this year.
On the D-side we will see Andrew Stoddard (94th overall) and the young Nico Perry (113th overall), who has yet to live up to his vast potential. They will push forward, and they are going to have a lot to work with on that side of the field, with Dallas layout playing fast on the D-side. Perry could be really good, but he's young and inexperienced and has yet to find his form, though he looks like it could come together at any point if he just believes in his timing.
Jack Crimian (75th overall) returns to the Thunder line up, as does Scott Knight (106th overall), who both turned in solid performances occasionally last season, but need to step it up in 2013. Tommy Tucker (unranked) and rookie Burton Tuttle (unranked) have joined the squad, and Field has high hopes they'll fit right in and contribute to the squad.
Thunder is only running with eight players this event, and everyone on the roster is hungry to prove Seattle Thunder deserves a place with the best teams in the game.
Odds to advance: 10/1
Ton Ton Flingueurs (Ranked 15th)
one Europe's most successful teams, are bringing their unique brand of paintball to the PSP for the 2013 season. They've been turning heads for years on the European scene, and are now prepared to make a run at the best teams in the world.
The Ton Ton's have been around for well over ten years, but only recently have they built themselves into the dynamic European powerhouse we'll see in the States this season. Axel Gaudin (18th overall) is, by far, their best player, he proved himself very capable as the first attacker on the snake side while playing with Moscow Red Legion last season. If Axel plays well the Ton Tons have a chance, as everyone knows how crucial a good snake 1 player is for the health of a top-level team.
But they also picked up former pro players Haymen Champan (unranked) and Stephan Lasher (unranked), who have been tearing it up for T1 Top Gun Union in Division 1 the past few seasons. Both of them are professional caliber players and both saw playing time at the pro level for Trauma, Infamous, and Red Legion. Chapman in particular has stood out as a talent who deserves a shot at pro league again, it will be entertaining watching what he does this year.
The rest of the team is relatively unknown state side, and this first event is big test for them. We'll see who steps up to perform and lead the team on the field.
The word coming back from pros who have played against them in Europe is that the Ton Ton's are known for their aggressive coordinated attacks. 2013 will be a big test for the best team to ever come out of France.

Odds to advance: 10/1

Who do you think will make it out of the bracket?

Make sure to mark your calendars for March 14th-17th as the first PSP event is brought to live by Paintball Access.
Like Paintball Access on Facebook, follow us on Twitter and Instagram! Let all your friends and compatriots know about what we're doing to further the sport!
Get Involved and make a difference; help us spread the paintball gospel!

If you have an interesting paintball story you feel absolutely must be told, contact us at yourstory@paintballaccess.com.
You Might Also Like: