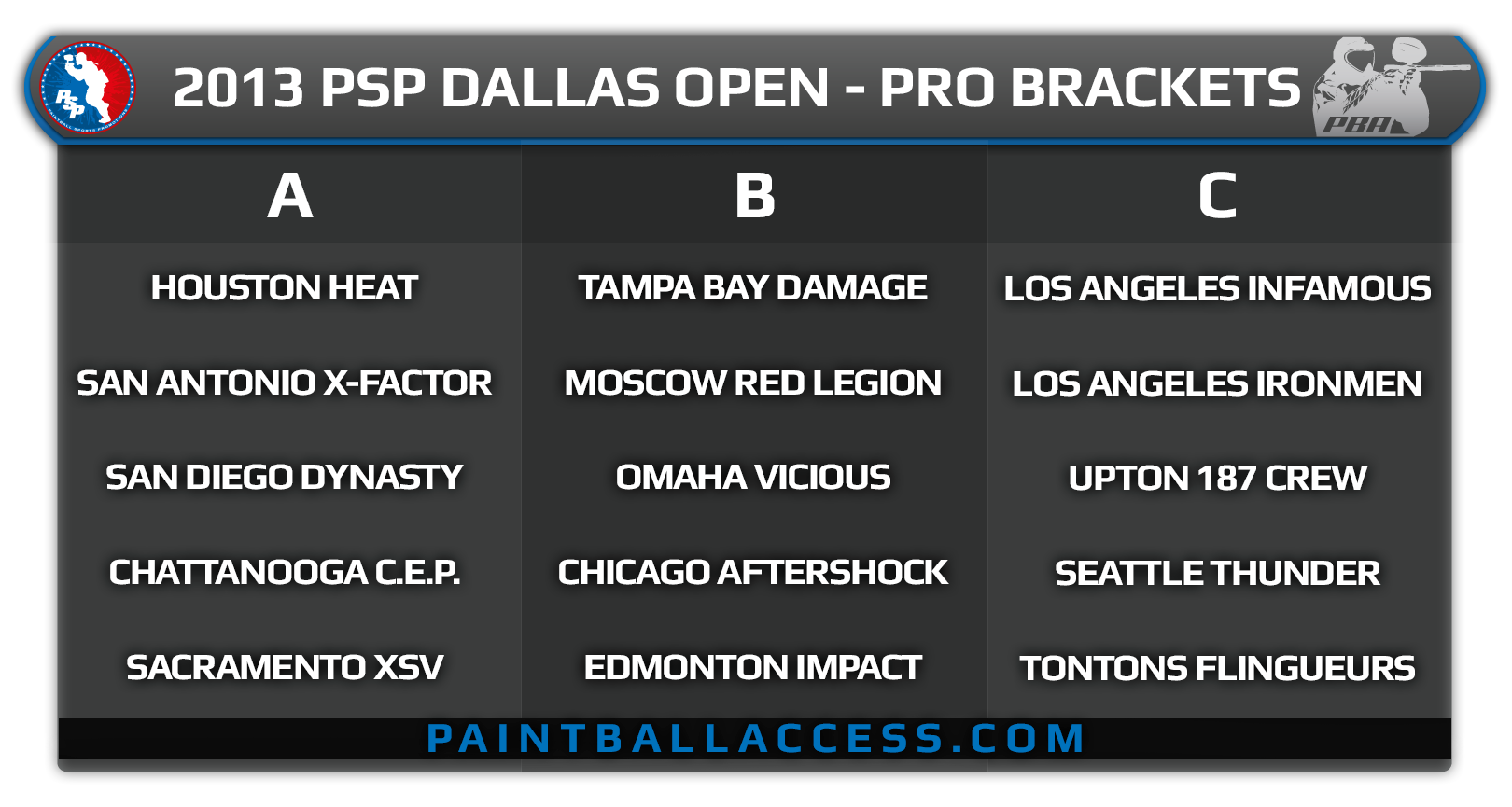 Bracket Breakdown
Here's how it breaks down for the first PSP event in the pro division. There are 5 teams in each division. 15 teams total. The top two teams from each bracket, after the prelim games, will move on to the Quarterfinals. The 3rd ranked team in each bracket will advance to the Champions Division for the second event. The 5th spot heads to the Challengers division for the next event, and must fight their way back into the Champions Division. The 4th spot will play each other to see who stays in Champions and who goes to the Challengers, to see who gets that 10th spot. 12th plays 11th, then the winner will play the 10th place team to see who gets the last spot in Champions Division, which begins at the second event.
It will be an awesome, brutal fight. And it will brought to you live next week, March 14th-17th by Paintballaccess.com
Bracket A
Houston Heat (Ranked 1st)
is the reigning, defending, PSP World Champions. They haven't changed a thing, and that's not good for the rest of the league. They are also healthy, which isn't something that all the other top teams can say. The only player who might have a problem is Mikhail "Mishca" Knyazev (ranked 29th), as he had an issue with his knee mid year in 2012, and he's isn't getting any younger. But even if he's running at 80%, he still better than 2/3 of the players in the league.
Their Coach, Jason Trosen, was the best coach of 2012, hands down: 3 wins and a 2nd place, in only their first year together, speaks for itself. Trosen has Heat running with a starting 5, instead of having two separate lines. Which gives them strength, as their starting five are flat out amazing.
Konstantin Fedorov (8th overall) had an amazing season last year, and if the players voted on an MVP, he would have won. Chad George (27th overall) was picked by most of the coaches in the league as the best snake player for 2012, Sergey Solnyshkov (10th overall) really came into his own last year, and even got some nods in the Coach's Choice Awards as well. Mischa's one of the best players ever, Sam Monville (28th overall) was the reason Heat won Phoenix, by shooting out the eventual Top Gun award winner Alexandr Berdnikov in a clutch point. He played solid aggressive paintball all year long, really making a name for himself.
They also have great role players in Nick Slowiak (45th overall), Ryan Smith (44th overall), Chad "Yaya" Bouchez (Ranked 42nd) and Ronnie Dizon (41st overall). Jon "LJ" Woodley (57th overall) also looked great during most of heat's dominant season, and could make the starting 5 if he was a little more consistent.
Even though most of the top teams have made power moves to strengthen their rosters, Houston Heat is still the team to beat in 2013.
Odds to advance: 1/1
San Antonio X-Factor (Ranked 6th)
finished 3rd at the World Cup, and is looking the strongest they have in years. But they're a slightly different team than the one that took the field in October.
They picked up Zack Wake (24th overall) to replace long time vet Mykel Kovar, who left for Moscow Red Legion two months ago. There's no doubt Wake is talented and experienced, and he really could help X-factor if he plays well. But he's bounced around from team to team over the past couple of seasons trying to find a home. Since he has so much to prove, this could be a big season for him. Billy Bernacchia (63rd overall), who finally played up to his potential at World Cup and contributed greatly for the team in their 3rd place finish after having a lackluster season, will be missing the first event. They also have Jesse Stephens (Not Ranked), but word is he's been struggling at practice leading up to the first event.
Archie Montemayor (37th overall) will be backing whoever plays the 1 on the snake side. He didn't rank as high in the stats as you would have thought based on the fact many people consider him the best player from Texas. But he's hasn't lost a step and is still the player he used to be, but had to struggle with adversity in 2012, as the players in front of him were inconsistent. But don't get it twisted; he's still one of the best.
On the D-side, Scott Kemp (74th overall) and Colt Roberts (20th overall) will be on the attack. Colt Roberts' name also is brought up, along with Montemayor, when people are talking about who's the best player to ever come out of Texas. Scott Kemp has a big opportunity to reassert himself as one of the top players in the league after a tough season with the La Ironmen and LA Infamous.
They also have Ashton Johnson (80th overall) coming back from a serve ankle injury soon. But as talented as he is, and as well as he played in most games, he has confidence issues to overcome, like many of the young up and coming stars in the league. He started the year in the top half of the leader boards but fell as the season progressed, and he saw limited playing time at World Cup
Also, Grayson Goff (13th overall) played outstanding last year, and he was the team's highest ranked player. Todd Morrow (70th overall) had many clutch points and needs to be a rock the more aggressive players can count on to finish points when the chaos begins.
A big note, and a boost, for X-Factor is Paul Richards comes over to help Head Coach Ryan Brand with the coaching duties. He left Tampa Bay Damage in the offseason and should really help organize things off the field. Tampa became World Champs under his leadership, and he knows what it takes on and off the field to win. Owner Alex Martinez has grown tired of his team underperforming and is doing everything he can to make sure his team is not a mid-level boss. It's showing, and we'll see if X-Factor can make all their hard work pay off, if they can continue their upward swing, in 2013.
Odds to Advance: 3/1
San Diego Dynasty (ranked 7th)
is coming off a bad year, where the best they could do in the PSP was 3rd at the first event. They have a slightly different roster this year, but it's important to remember who is still the core of the team. Oliver Lang (33rd overall), Yosh Rau (38th overall), Alex Fraige (62nd overall), and Ryan Greenspan (11th overall) have won close to 55 tournaments worldwide together since Dynasty began. They are simply the most successful paintball team ever.
Yosh Rau had a pretty good year, and was the #1 ranked player for the Phoenix Open, though the team struggled at that event, and his ranking fell towards the end of the year. Yosh is, without a doubt, one of the best gunfighters in paintball. Oliver Lang was expected to be in the running for the Top Gun title, but ended up finishing 33rd. As paintball's #1 guy for years, you can be sure Lang is going to do everything in his power to reclaim his throne, and help get Dynasty back to the top.
Coach Rusty Glaze is probably the best person Dynasty could find to help lead all these charismatic players, and get them on the same page. He's done a great job guiding the team since he put down his gun and picked up the clipboard after Coach Mike Hinman left late last season.
Kyle Spicka (47th overall) has been playing really well in practice leading up to the event, and it's important he carries weight, because Dynasty's big problem in 2012 was their lack of consistent 1 on the snake side. Brandon Short (48th overall) broke his hand a week ago, needs surgery, and will be out 6-10 weeks, which hurts the team, as he was flirting with the idea of being another front attacker in the snake, and had been training hard in the offseason.
But Dynasty recently picked up former XSV player Tyler Harmon (not ranked) who can play pretty much anywhere, as he's been playing high-level paintball since his early teens and could play this snake layout very well. Alex Fraige played great counter punch paintball in 2012, considering the guys in front of him weren't getting it done with any consistency.
Ryan Greenspan had another standout year, finished 2nd to Jason Edwards in the People's Choice MVP award, was by far the most productive player on the team, and was on many Coach's lists as one of the best last season. He did struggle a bit with penalties, but that's the only flaw in his game. Dalton Vanberbyl (15th overall) is a straight killer on the D-side, and almost went to Impact during the offseason, but Dynasty was able to keep him on the team at the last minute. Also, Glen Takemoto (39th overall) is probably the most underrated player on the team, and is another guy who can play either the 1,2, or 3 on either side of the field if he needs to. If Glen steps up this year, it could be a huge boost to the team.
Overall, Dynasty looks pretty strong, and they're as hungry as the up and coming team to prove they're still one of the best.

Odds to advance: 3/1
Chattanooga CEP (Ranked 12th)
had a disastrous 2012, where they struggled to win games and were haunted by penalties. Led by the charismatic Robbie Goldsmith (108th overall), Chattanooga CEP has re-energized their team. Goldsmith has taken in the lessons from last year and made moves to strengthen the squad, both on the field and off.
Under new ownership, they've thinned the herd, leaving only the most talented and dedicated players on their squad. The players who remain are fast and hungry to improve. Starting in the snake 1 position is Osvaldo Lopes (96th overall), who played amazing at the World Cup last year. After the first two days of the event he was playing the best out of all the snake players in the league. Osvaldo played with the Ironmen for the past few seasons and CEP can learn a lot from him about how top teams work. And that's the biggest thing CEP needs—structure and experience.
Dan Keene (102nd overall), and Peter Velardi (110th overall), will join Osvaldo in the attack on the snake side; they're raw but talented. Collin Cherry (100th overall), Evan Fyfe (109th overall), and Mike Zuppa (58th overall), will be starting on the Dorito side, and all three of these players can break open points. You could argue CEP D-side is their strongest, because Zuppa is by far their highest ranked player, which should help them on this aggressive field layout. CEP will be trying to turn heads this year; they have nothing to lose, and everything to gain by pushing the action all season long.
The best thing CEP has going for them is their attitude; they understand where they are, and what they need to do to get better. If you live in their area of the country, or are a fan of the underdog, this should be your team, because there are no other teams carrying the banner for that slice of the paintball world.
If you look at their roster, they have a lot of talent, now they just need to refine and hone the players who remain in the fight. This field layout could help their cause too, because on this field, fortune favors the bold. And the players who will take the field in Dallas will not be scared to attack.
Odds to advance: 20/1
Sacramento XSV (Ranked 13th)
is led by hardcore, long time vet and world Champ Rich Telford as well as the hardworking and tenacious Junior Brown, Sacramento XSV is one of the best-known teams in paintball. The squad XSV fields this year is arguably the best team they have assembled since their heyday in 2006. They have weapons all over the field, but a few players standout.
Thomas Taylor is one of the most aggressive snake players of the past decade, but his body has paid a toll for the past ten years, and his knee is still suspect. Knowing Thomas, he'll play regardless of the pain. Riley Sullivan is an athletic specimen, and will be focusing on the Dorito side, along with Aaron Tholey who is more than capable in his own right. Both Tholey and Sullivan can play aggressive, and they need to be pushing the action, as the D-side is set up for speed, which they both have. This field layout seems to be favoring the more aggressive teams and players.
XSV veteran Jesse Lapid makes his return after a long layoff, but has been training every weekend during the offseason. He is going to need to play well, as does young, talent Jerry D'Amato. The D-side will play fast and the players over there need the snake side to take care of itself on this field.
XSV had a successful 2012, and now comes over to the PSP fulltime to see how their team matches up against the very best in the world. They beat Damage at World Cup, so there's no doubt they can contend with the hardest hitting teams in the league.

Odds to advance: 5/1
Who do you think will make it out of the bracket?

Make sure to mark your calendars for March 14th-17th as the first PSP event is brought to live by Paintball Access.
Like Paintball Access on Facebook, follow us on Twitter and Instagram! Let all your friends and compatriots know about what we're doing to further the sport!
Get Involved and make a difference; help us spread the paintball gospel!

If you have an interesting paintball story you feel absolutely must be told, contact us at yourstory@paintballaccess.com.
You Might Also Like: