Justin Rabackoff, better know as simply Jrab, is the son of paintball legend Steve Rabackoff, but as good as the Steve was, his son has eclipsed his on-field accomplishments. Coming into this season Jrab has something to prove, because he did not play up to his potential while taking the field for Tampa Bay Damage. One could argue the public had too high an expectation for him, he did finish ranked 19th overall, but after the paintball we all watched him play in 2010 and 2011, he was expected to contend for the Top Gun title, which was won by his old teammate Alexandr Berdnikov from Moscow Red Legion. The 2013 season is about to kick off in Dallas March 14th-18th, and Jrab was picked up in the off-season by Edmonton Impact, who also brought in Dave Bains and Greg Siewers, to add to their already stellar line up. They are one of the favorites to take Houston Heat's title. Paintball Access' Matty Marshall sat down with Jrab to get his thoughts on the year and this level of performance last year.
This is part one of his interview.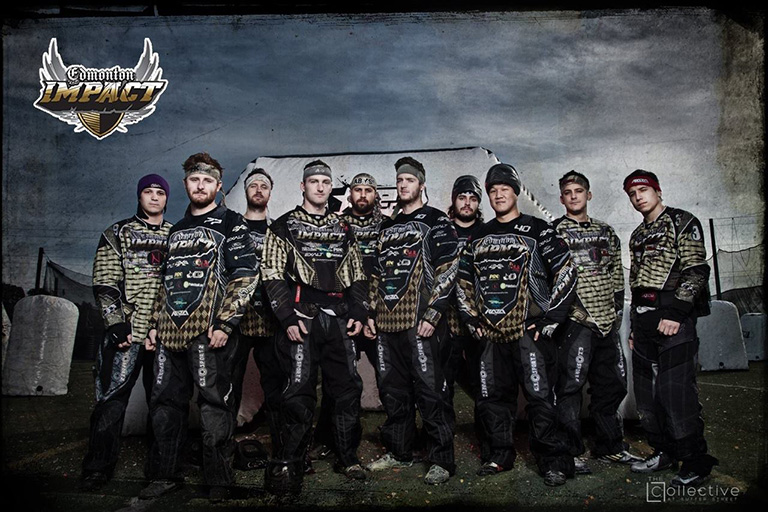 Photo Taken from Edmonton Impact Facebook, Justin Rabackoff on Far Left
So, you just got done with practice against Dynasty this past weekend, and rumor around the campfire was you were playing pretty good. How did you feel about your performance this practice?
I actually thought I played pretty well, but we played well as a team, and that's what was important, you know what I mean? This field makes it tough because it's hard to communicate across the board, because there's no back center. You have to work more in pairs, that's what we figured out. Those pairs are super important. If those pairs aren't talking and communicating and playing off of each other, it is going to be hard to win a game, win a match, win single points.
So I mean, like I said, the communication off across the board is tough because the back center isn't there. It might slow down on Sunday when it counts, but as of right now, it was playing super aggressive, and it was more pair play rather than complete team play.
Well that's good to hear, that's exactly what we want, super aggressive field layout.
Yeah!
I don't want to ever call another game that goes like this, "And Damage and Heat both triple up at the back center again!" I never heard of that, that's boring paintball. We don't need any boring paintball.
Especially in the finals in world cup! It was just so slow.
Yeah, no back center, lots of good bunkers up in front, so just get to it, you know? Get up the field and square off. So how do you feel about Impact this year? It was kind of big move to transition over from Damage to Impact for you. It looks like Impact is really building up a super star squad to make run at the Heat's title.
The reason I left Damage is because I wanted to play all the leagues. Damage was just going to focus strictly on PSP, which is absolutely fine, but as a player trying to do this for a living, playing all the leagues is in my best interest. So, that's kind of what I was looking at in trying to find a team.
I tried to make it work with Damage, but playing all three leagues was what I wanted to do. Now obviously, there was a little bit of that drama where we couldn't play PSP for a little bit, and now we're not playing at NPPL, which I'm OK with because we are going to play Millennium and PSP. So both Impact and I will be playing a lot of paintball this year, so it worked out.
If you're not playing the NPPL, that leaves some free weekends for you to teach clinics, or play in other international events, maybe in Asia, whatever you want really. Because I am sure you can get on whatever team you wanted to and travel around a bit.
And I thought about playing at the NPPL, if I wanted to you know I could, but it's just, at this point, do I want to spend that weekend there? As you said it, I could do a clinic instead, go to Asia, or go to Mexico, something like that, do something a little more fun.

So, you were saying the team played well this weekend? Talk to me about who's playing well. How is Dave Bains playing? how is Greg Siewers playing? How about the core Impact guys? It's kind of an All Star squad now. It was a pretty stacked squad to start with, with Justin Cornell, Ryan Moorhead and Tim M., and the guys who have been on Impact for a long time already. I talked to Bart (the owner of Impact) over the weekend, and we agreed on the same thing, that on paper, it's a really good team, but is everyone actually going to actually show up and play, well, that remains to be seen.
And that's one thing you have to think about first when you are joining a new team, especially a team with three new players. I think three players joining a new team is a perfect number because you take those three players and you're going to be absorbed into the new system, rather than bringing four or five and then trying to create a new system. You know what I mean?
It's like with Heat, the three Russians, they came together right? So they are not creating, trying to create their own system, it's Randy's system. So it's Bart's system for Impact and us three coming over there, we are not trying to change the way the whole team works. So, we just came in there like ok, tell us what to do and we'll do it.
As far as playing as a team, I was just a little worried because I had never played with any of these guys besides Dave. Seweres, Ryan Morehead, and the rest of the guys, I'd never played with any of them on any other team, so I was a little worried. But getting onto the team, we actually mixed it up real well and everyone can play both sides, everyone can play well off each other.
And our first practice, even though we played a D1 team, everything just meshed perfectly. And against Dynasty, I felt like I had been playing with these guys for two seasons. It just works and that's good to see going into the first tournament. It builds that confidence, at least for me. It builds that confidence going into the first tournament knowing that we don't have to have that learning curve.

Yeah, I think Impact's roster is as good as any ones in the league, to be honest. Do you feel you guys are going to be able to get it together quickly enough to win events immediately or do you think it's going to take some time?
You know, obviously I hope that's the plan; we hope we can go in there and compete with the best of them. I think we are going to have a little troubles, but I think every new team, I mean, I can't even say we are a new team, but every team is going to have those if you're bringing on three or more players. I do have complete confidence in the team, I feel like even going in to the first tournament, we can win. But it's going to be that first tournament I feel like is going to help us as a team, whether we do win or whether we take second, or third or fourth or anything like that. I feel like the first tournament is going to push us to that next level, no matter what place we take.
Do you feel a little bit of a need to come out and really assert yourself as one of the best players in the game this year?
Absolutely. I've been training and I will be playing all this week with my buddy Chris. I will be playing Monday through Thursday and take Friday off, then we have Houston Heat Saturday and Sunday, and I think that we might play Tuesday as well. I have been playing during the week, doing drills, doing anything I can to stay at a high level ,because everyone is good now.
Everyone is getting really good, so that's the goal I'm trying to accomplish right now. I felt like I was that great, and I did shine, and maybe last year I did fall off a little bit. I just keep hearing over and over and over and obviously I don't want to listen to it. But if enough people are saying it, then it has got to be true, right? So this year I have been trying to play as much as I can and keep that high level up to speed.
Tune in tomorrow for Part 2 of Jrab's interview.
See how Jrab and Impact perform at the first event! Make sure to mark your calendars for March 14th-17th as the first PSP event of the 2013 season is brought to live by Paintball Access!
Also, like Paintball Access on Facebook, and follow us on Instagram and Twitter. Let all your friends and compatriots know about what we're doing to further the sport!
Get involved and make a difference; help us spread the paintball gospel!
If you have a paintball story you feel absolutely must be told, let's us know at yourstory@paintballaccess.com
You Might Also Like: