At the first PSP event in Dallas last month, Kyle Spicka finally came into his own, helping San Diego Dynasty take the victory. He scored the last second point to beat Infamous and got his new team into the finals, where they defeated Tampa Bay Damage. He's matured from an undersized kid from North Carolina with big dreams, into one of the most aggressive forces on the snake side in the game today. This story is about Spicka's first PSP win, his thoughts about leaving the Ironmen and making an impact with Dynasty in his first event with the team.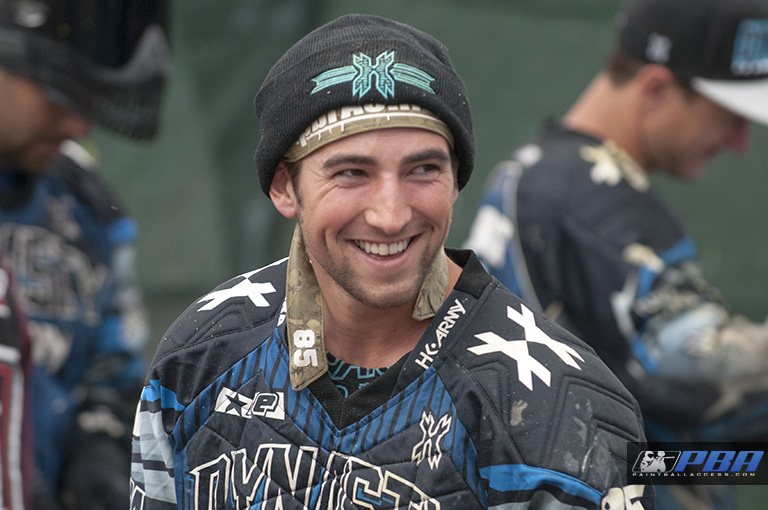 My heart was about to shoot out of my chest. I was so beat up and tired my subconscious just took over. We have to win this point or we go home losers. A thought flashes right before I head into the guns –Are we really going to let this happen after pouring our sweat and blood into all those 8-hour long practices? I'm willing to fight, put everything on the line, and achieve something that is almost statistically impossible: come back after being down 3 points. Less the 8% of teams come back from that big a deficit.
Let me quickly tell you how I got here though before we get into Sunday at Dallas. It's been a successful, but rough, road for myself since I've been in the pro league. To some it looks great: small kid from North Carolina makes it as a pro after moving out to California. But truthfully, I didn't feel quite yet I was playing at the pro level. Playing out here in California there are some really good paintball players, and I mean reallllllllly good. The bar is set so high and I had to pick up knowledge and experience fast just to stick around.
I've had terrific mentors along the way players, guys who really pushed me, really wanted me to become a successful player. Brandon Short, who is my roommate and basically a brother to me, Billy Wing, Mikko Huttunen, Mike Paxson and Oliver Lang; I owe them all a debt of gratitude. I was falling short most of the time at tournaments, and even though I had my share of standout games, I wasn't quite there yet. I always struggled with my consistency, which created a tough battle, not only for the team to have faith in me and give me reps, but it's also been a struggle to have faith in myself, in my own talent.
Leaving the nest was very hard as the Ironmen and Dye was my home. I learned from the best, receiving knowledge not only about paintball, but the overall experience of life. I spent enough time on the Ironmen that I was one of the guys who had been around the longest. I was almost a veteran. Yeah, a veteran, it blows my mind even as I type this! The whole team was basically new, mostly young guys.
At this point the longest standing members were Mike Paxson, Brandon Short, Eric Humphreys, and myself. I'd also become an employee for Dye, managing team Ironmen travel and logistics. I was pretty excited about having the experience/title. I felt the responsibility was giving me a great life lesson. But this is my third season pro; I needed to be breaking through my rut. It's my time to take charge and help be a leader on the field. The newer guys on the team looked to us to guide them.
I was supposed to show trust and help them have keep faith in our team. This wasn't happening, as a unit we were missing a beat. I don't want to say my job as team manager put a damper on my performance last year, but I think it really had an effect. Maybe I wasn't ready for that yet. I felt an enormous weight on my shoulders just trying to better myself, with the additional responsibility of watching and taking care of 11 people.
Granted, it wasn't the hardest task in the world. But it took my mind off what was most important to me, which was becoming a top tier paintball player. I think it set the advancement of my abilities on standby. It was a great experience all in all and I don't regret it one bit.
Just as this season starts, I get a chance to fill an important spot on San Diego Dynasty's roster, to be the first attacker in the snake, a position once filled by Angel Fragoza, one of the best snake players ever. This is a big opportunity and I have to make the best out of it, not only for myself but also for Dynasty. I mean really this is DYNASTY, arguably one of, if not THE, best team it ever walk the earth. These are big shoes to fill, I need to help carry on a legacy which far supersedes anything I've done in paintball life. I told myself I'd rise to the occasion to make sure I don't let down my childhood idols.
I remember putting a Dynasty poster on my wall as a kid, amazed by their accomplishments. Paintball is the sport I love, and it's like I'm playing along side of LeBron James or Kobe. But at a certain point you have to put aside the star struck awe and remember why you are here. I am here to perform and become an elite member of the core group.
I was struck with a new understanding at one point in Dallas when we went to sign autographs. I'd done many signings on the Ironmen so it shouldn't have felt any different. As the newest Dynasty poster came down the line of team members, everyone scribbling their signatures and saying hi to fans, I looked at the poster for the first time, and there I was, standing in front of the starting gate with Oliver Lang, Yosh Rau, Ryan Greenspan, Alex Fraige. I stared at it for a minute, like a scene from a movie.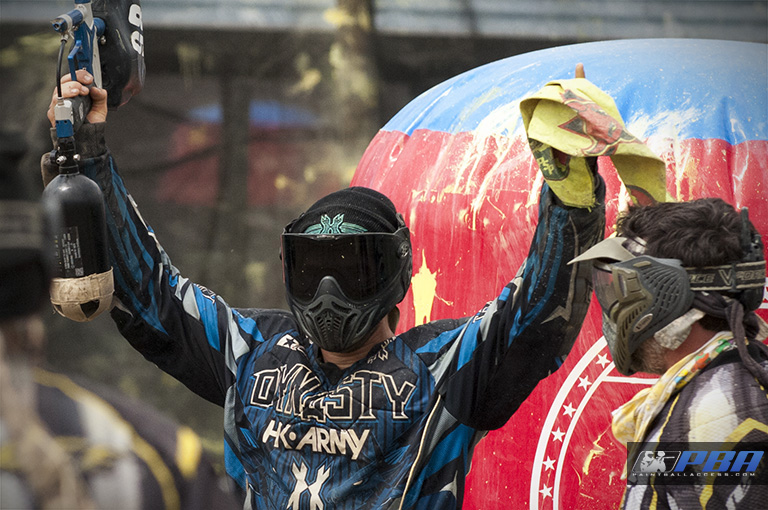 My past was flashing through my head, all the hard work over the years, all the numerous hours of traveling to unfamiliar places, all the sacrifices and hardships with family, work, and school. Paintball took me on a ride I couldn't have planned any other way. I then realized I was now a role model for the next generation to hang up on their wall and aspire to achieve their own greatness. I did it, I made it, and I manifested this incredible destiny. But it's time to raise the bar, I made it to the moon, now let's go to mars.
I want more…

Click HERE to read part 2 of this story.
Can Kyle Spicka and Dynasty dominate again at the next event? Mark your calendars for the second event of the 2013 PSP season brought to you live from OXCC Paintball Park May 3rd – 5th. The new Champions and Challenger format makes its debut at the Mid Atlantic Open, don't miss it!
Make sure to like Paintball Access on Facebook, and follow us on Instagram and Twitter. Let all your friends and compatriots know about what we're doing to further the sport.
You Might Also Like: