At the first PSP event in Dallas last month, Kyle Spicka finally came into his own, helping San Diego Dynasty take the victory. He scored the last second point to beat Infamous and got his new team into the finals, where they defeated Tampa Bay Damage. He's matured from an undersized kid from North Carolina with big dreams, into one of the most aggressive forces on the snake side in the game today. This story is about Spicka's first PSP win.
This is Part 2 of his story, read Part 1 here.
Going into Dallas not only already did I have high expectations on my plate, but with Brandon Short injured, I had even more. Heading into the prelims I was starting on the first line and hungry to prove myself to our coach Rusty Glaze, as well as the team. They put faith in my abilities and I wasn't going to let them down. Starting out in the prelims we had a solid win against XSV, which was good to get my feet wet.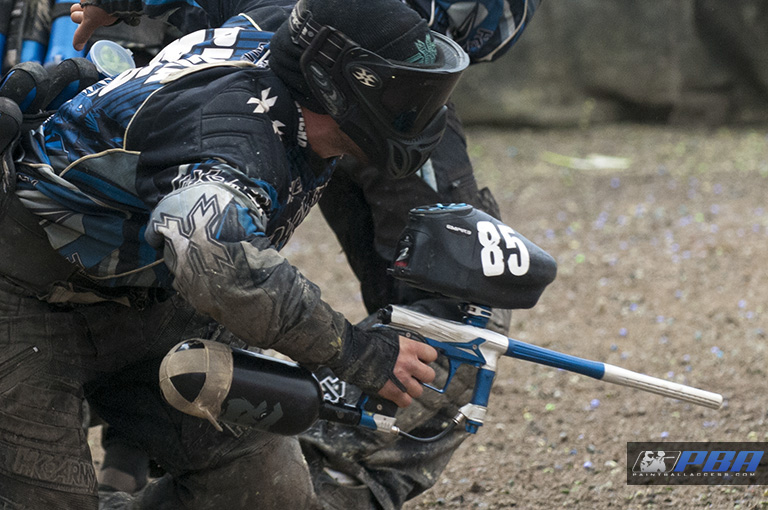 Next up we had the defending World and PSP Series Champs Houston Heat. I knew the game was not only going to a tough match, but a big test for me personally. I put everything on the line, and tried every point to bring a higher intensity. I remember thinking, "We're going to beat these guys!" We traded blows, going point for point.
Unfortunately we fell short by one point. I wasn't fazed, I learned how much I could take, and knew this loss would assist us as the event played out, help us to play as tight as possible. Our Friday matches went well and we finished up the prelims 3-1 with a high point margin, which would help us if other teams also went 3-1. We had Saturday off which worked out perfect; giving our bodies some time to recover and focus on our strategy and game plans.
That night we found out were going to be playing the Ironmen in the first Quarterfinal game. It was incredibly important for me to beat them. My pride was on the line after just leaving to join Dynasty. This is a big game, win or go home, and bragging rights for a intense rivalry that has been playing out since I was in middle school.
The match was a difficult as they come, every single second was a grind, both Ironmen and us were clawing with everything we had. If you watch our game in the On-Demand section of PBA you can see how bad every single player on the field wanted this, penalties were flying and big moves were igniting the whole game. Holding our composure we were able to prevail and take the match.
Next up was against Infamous for the semi-final, with the winner moving on to plays for 1st. No joke, and I'm not alone in saying this, it was one of the most intense matches in recent memory. We lost the first point, which always sucks because it's what creates the initial momentum of the game.
We shook it off and went back out to regain some pride. We lose another point, not good. Point three, it's really time to turn this around before things start going south. We lose again. I remember thinking, "Shit, this is bad, really bad". It's the moment where a slight panic goes through everyone's head. No one says anything, we're still all professionals here, but realistically the odds of coming back from 0-3 are nearly impossible; only 8% of team who go down by three end up coming back to get the win.
Setting all thoughts and fears aside, we started attacking, penalties started flying, and all the guys on Dynasty thought, "Nice, we can build up some points". Until, from the pits, everyone realizes the penalties are on us. It could not have looked worse.
We fought back, pulling some wins while being in the box. Chaos reigns, Infamous still had a 2 point lead on us with the score being 4-3 with about 1:50 left on the clock. With the experienced talent Infamous had on the field they should have been able to hold us off and head into the finals.
I walked out onto the field, looked up at the clock and then into the crowd, shaking my head. This wasn't how I wanted to go out; I worked too hard for this. I remember focusing and telling myself I wasn't going to let that happen. The horn goes for the final point and I'm digging with everything I have to safely get to my spot.
We're shooting players and losing our own bodies, time was ticking away, and something had to happen. I ended up in their snake, past the 50 yard line, and all I could hear was screams from the sideline. Unable to comprehend anything from our sideline coaches, I made out a "god!" call from Brandon Short, which is the code for an important position.
As I ran down the last Infamous player, Brad McCurley, in the bunker before the snake, he spun and drew a penalty. I immediately sprinted for the flag and ran it in with all the energy I have left, leaving 23 seconds on the clock. The crowd was ecstatic at this point, everyone on their feet.
Going back into the pit we knew we could do this; they had a major penalty and we were going to push right into their guns. Granted, there probably wasn't enough time to win, but we were going to make an attempt before we go to overtime.
I strapped one pod on my back and got ready for the starting horn. As the point begins, I started shooting towards the snake corner and I realized my gun is down! Not many people know this, but the bolt had broken inside and there was no time for an easy fix.
Dalton got shot over on the dorito side and I see Oliver Lang and Tyler Harmon attacking up the center. Ryan Greenspan flashed in front of me into the snake, and the Infamous players in the center picked up on this. So with my gun being useless I ran into the open, drawing guns and moving behind bunkers. Tyler made an amazing, diving move through the middle, with Oliver and Ryan sweeping up the rest of the players.
At this point I'm in the snake Aztec bunker with about 7 seconds on the clock, everyone was screaming and going crazy. I knew there was only one chance, so I made a run for the flag and grabbed it with about 5 seconds left, sprinting faster than I ever have in my life. I brushed shoulders with Oliver who was making an attempt to go back for the flag.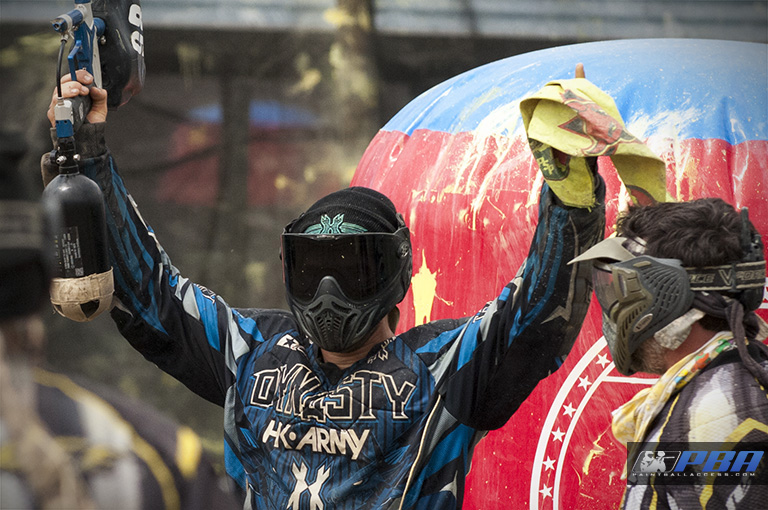 It's hard to even explain, but everything else on the field blurred out and all I could see was the flag station and with my mask about to fly off the top of my head, I slid in through the station and out the back as the horn goes. Goosebumps flew up my whole body—they are actually flying up my body right now while I'm typing this, remembering the moment. The referees had a meeting to see if there was enough time, which built the suspense even more. Then I saw a thumbs up, the signal for a clean hang, and the feeling was truly indescribable. I knew inside at that exact moment we would win this tournament
We went on to play Tampa Bay Damage for the win; this would be my first pro final. Another intense match transpires, not quite as nuts as the last but definitely a fight. I remember Rusty pulling me aside and saying, "This is no different than any other match you've played this tournament, go out there and do your thing!" I settled my nerves and concentrated on what I came here to do.
The beginning was back and forth, but we started to take the momentum and wore time off the clock. There was a certain moment after Yosh won that 2-1 where I realized we already sealed the deal, we won. I remember looking at Alex Fraige and Tyler Harmon and all I could say was, "We did it, we won!" I've never felt this feeling; it was deeply refreshing. I'd just won my first pro tournament by overcoming my past, focusing on fixing my deficiencies, and fighting with every last ounce of energy I could summon to help Dynasty get back to the top of the hill. I now know what it takes to win; it takes Grit.
Our motto this year, as Ryan Greenspan said in his last blog, is "GRIT" and I would like to leave you on this because I feel the understanding of this concept really drove my performance in Dallas.
Grit–firmness of mind or spirit: unyielding courage in the face of hardship or danger.
Remember this definition when you next take the field.
Can Kyle Spicka and Dynasty step up again at the next event? Mark your calendars for the second event of the 2013 PSP season brought to you live from OXCC Paintball Park May 3rd – 5th. The new Champions and Challenger format makes its debut at the Mid Atlantic Open, don't miss it!
Make sure to like Paintball Access on Facebook, and follow us on Instagram and Twitter. Let all your friends and compatriots know about what we're doing to further the sport
You Might Also Like: