It can't be overstated how hard is it to win in the PSP pro division. There are many different divisions in the PSP, for all levels of skill, but the men who are competing at the highest level are participating in a strenuous and difficult, and often times humbling, quest to see how far they can take their paintball dream.
There are 20 pro teams now in the PSP, competing in 2 different divisions: the top ten teams comprise the Champions Division and the next ten teams make up the Challengers Division. The bottom two champions team will drop down, and the top two Challenger teams will bump up every event from her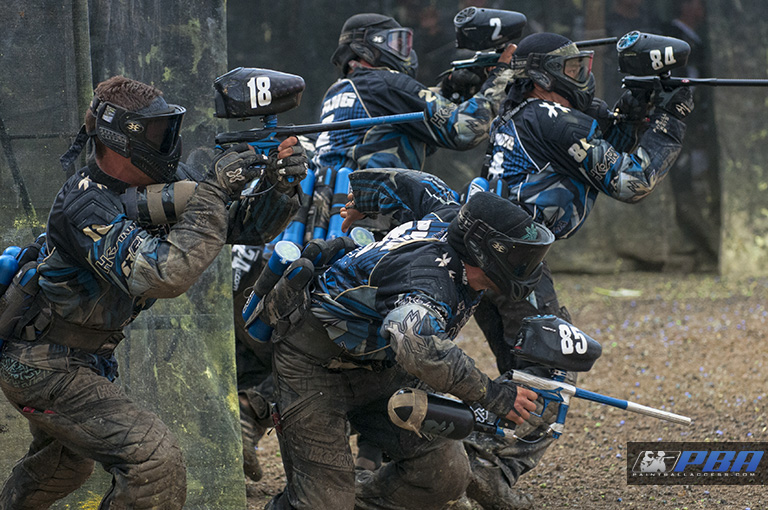 The top five players who top the charts in the Win Rating statistic all deserve praise, but two of these players deserve to be highlighted because of the amount of points they played and how many of those points they won, but we'll get to that in a second.
The Win Rating statistic is simple: it's a percentage of how many points you won from how many you played, and in this stat San Diego Dynasty is, by far, the highest ranked team.
Dynasty only lost one game at the PSP Dallas Open, and it was against the defending world Champs, Houston Heat. They lost this game by one point, in the prelims.
The leader of in this statistic was San Antonio X-Factor's Todd Morrow, with a ridiculously high 81.82% Win Rating. But he only played 11 points, winning 9 of them.
Chad Bouchez, ranked 2nd, came off the bench for Houston Heat and helped them win 5 of the 6 points he played, for an 80% Win Rating.
The legendary Dave Bains, who's helped every single team he's played for in the past ten years win events, was ranked 3rd, coming in with a 78.95%, winning 15 of the 19 points he played for his new team Edmonton Impact.
This is where it gets interesting; the next two players, ranked 4th and 5th respectively, are San Diego Dynasty's Kyle Spicka and Ryan Greenspan. They both played most of their points on the snake side, which is the more difficult side of the field to play. Their production in Dallas was amazing. Spicka played 33 points, winning 24 of them, for a 72.73% win percentage. Greenspan had a slightly lower 71.43% win percentage, but he played 49 points, winning 35 of them. And there was no question Spicka and Greenspan helped their team win the event. It's looking like Greenspan will run away with People's Choice MVP award for the event and that's no surprise; his composure, aggression, and high paintball IQ were on full display in Dallas.
Actually, Dynasty had 8 of their players in the top 25 of the Win Rating leaderboard, against the best the world had to offer, and they couldn't look better heading into the next event May 3rd-5th for the PSP Mid-Atlantic Open.

Mark your calendars for the second event of the 2013 PSP season brought to you live from OXCC Paintball Park May 3rd – 5th. The new Champions and Challenger format makes its debut at the Mid Atlantic Open, don't miss it!
Make sure to like Paintball Access on Facebook, and follow us on Instagram and Twitter. Let all your friends and compatriots know about what we're doing to further the sport!
You Might Also Like: