With just a few weeks to go before the start of the next PSP event, which runs May 3rd -5th, Paintball's #1 player after the first PSP event, LA Infamous' Bobby Aviles, talks to PBA about his Top Gun performance, his history in the game, and how he feels Infamous is going to do at the PSP Mid-Atlantic Open.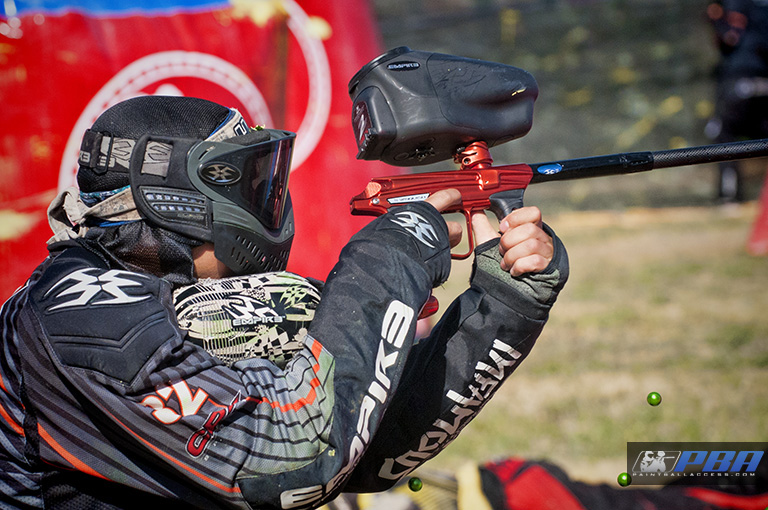 Congrats on earning the Top Gun title for Dallas. You're getting off to a great start. How did you feel about your performance at the first PSP event?
To be honest I felt it was a mediocre performance. I played fewer points than most of the starters on the team since I left early. This being said, the points are very clear and I remember the event very well. My playing could have been a bit more solid, as I have memories of being eliminated early in a few points and not being able to contribute.
I had some points against the 187 Crew and Ton Tons in which my contributions helped us come back in body-deficit situations and ultimately win the matches. I want to keep being able to contribute throughout the year and eliminate or at least minimize the mistakes. Having the supporting cast on Infamous always helps my game because of the confidence and production our players bring to the table.

How would you describe your game? What do you feel you excel at?
I would describe my game as versatile. I feel confident anywhere on the field, which is a product of playing different rolls on different teams throughout my years in the game. Whether it's shooting people off the break or playing lead down a snake side, it's all the same to me. I feel many times my talents shine in pressure situations. Whether it's a scenario in which we need to score points quick, hold players from attacking or winning 1 on 1's in order to win a match. Anything with added pressure excels my game.
Yeah definitely, you're known as a very versatile player, and a guy who can fight back when the team is down bodies. What do you attribute these skills too? How did you work on that?
I would attribute this to experience. I have played on great teams and bad teams. Both will eventually bring you into a situation where you're playing at a deficit. Being in these situations more and more helps sharpens a player's ability to prevail when the situation arises in an event. For this reason, I feel playing both high and low-body scenarios are beneficial in practice. The best way to practice this is by simulating the low body scenario you would encounter in a game.
Infamous played well and made it all the way to the Semi-Finals before you lost to Dynasty, who won the event, but your team took some hits right before the event, you had a bit of a skeleton crew out there, tell us what you and the team were thinking heading into the event.
As a team, we felt that we had the best group at the event with a chance to win another pro PSP event. Losing one of our so-called "core players" to another team was upsetting, but not a concern, before our 3 day practice with Tampa Bay Damage. Before the team headed to Florida we recruited AJ Trillet to take over the position of " attacker" we had lost. But after the first weekend practicing with AJ I felt he should have been there all along.
The bigger issue was losing Zack Patient due to injury during our practice with Damage, this put us another "attacker" down. The concern wasn't so much having our personnel able to play their positions well, but we were worried about our guys being able to run the amount of points they were going to play and still be at their highest level. During the event this proved to not be an issue, as our players didn't seem to be gassed throughout the event.
The veterans really stepped up– you, Nicky Cuba, couple of the other guys, did you guys talk to each other directly about the challenge you were about to face, or was it just standard procedure?
Everyone on our team contributed. I feel everyone is capable of putting the team on their backs or else they wouldn't be a member of Infamous. As far as us discussing anything in particular or out of the norm, it didn't happen. We went about this event just as we would any other, but we just fell a bit short at the end. Nicky played amazing, as he so often does, but along with him we had other players play huge. I feel that Kevin "Kali" Rudolph, Drew Templeton, and Damien Ryan had great events as well. I can't wait for everyone to be firing on all cylinders again at the same time. It gets ugly for the opposition when that happens.

You been doing this for a long time now, for those who don't know your history, give us a brief run down of your paintball history.
I've been playing tournament paintball since 2001. I had started with a local team of friends playing kids/rookie event on a team called Dead-On. We'd done very well in our first year, always meeting another southern California team called Hostile Kids, trading wins and losses throughout the year we became familiar with each other and eventually friends. Both squads were 5-player teams and we saw the opportunity to join so we created a ten-man team under the name Hostile Kids. I played the next few years with the team and had some great times.
In 2004 I was approached by the NXL team LA Ironmen to compete with good friends and ex-teammates, Scott Kemp, Paul Katic, and Brandon Short. This was the beginning of my pro career and it was also short lived. As the season came to an end most of the Ironmen players decided to play for a new NXL franchise called San Diego Legacy, which was mostly built from HK players and some other SoCal talent, but we did not live up to our expectations and I eventually left the team to play for San Francisco Avalanche.
This was another short-lived experience as the team dismantled in 2006. I then went on to play with a bunch of different teams such as XSV, LTZ, Arsenal and Infamous, eventually settling down with San Diego Aftermath, owned by good friend Mike Hinman. I live in Southern California, and Aftermath was a local team for me, so it felt right. I enjoyed much success on Aftermath winning a world-title in Division 1 and winning my first Pro event among other accomplishments.
Aftermath was dismantled briefly at the end of 2009 and I made the jump over to Infamous. Since joining the team we have enjoyed great success in both formats. I am very happy to be where I am with the team and can't wait to see what the years hold in store for us. INFAMOUS!!!!!!
How are things with Infamous heading into the next event? What and who are we going to see out there come May 3rd -5th?
Expect to see a very hungry and determined Infamous team. We have been a top contending team consistently for some time now and we expect nothing less than a championship.
Do you have any advice for players who want to get where you are one day?
I would recommend playing as much as possible and always remember to enjoy the game, as it should be the main reason to play.

Mark your calendars for the second event of the 2013 PSP season brought to you live from OXCC Paintball Park May 3rd – 5th. The new Champions and Challenger format makes its debut at the Mid Atlantic Open, don't miss it!
Make sure to like Paintball Access on Facebook, and follow us on Instagram and Twitter. Let all your friends and compatriots know about what we're doing to further the sport.
You Might Also Like: