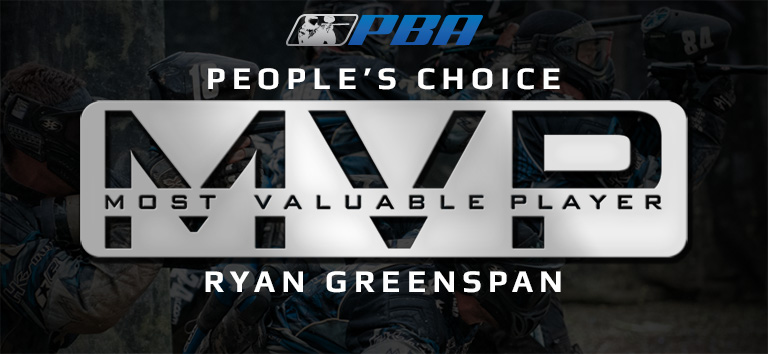 San Diego Dynasty's Ryan Greenspan had a tournament in Dallas, helping his team take their first PSP victory in two years. He was all over the field, helping plug holes in their line when they lost bodies, attacking when he needed to, winning gunfights, pulling off spectacular moves. He ran away with the People's Choice MVP Award. PBA touches bases with him to talk about his MVP Award and Dynasty's storybook win in Dallas.
This is Part 1 of his interview.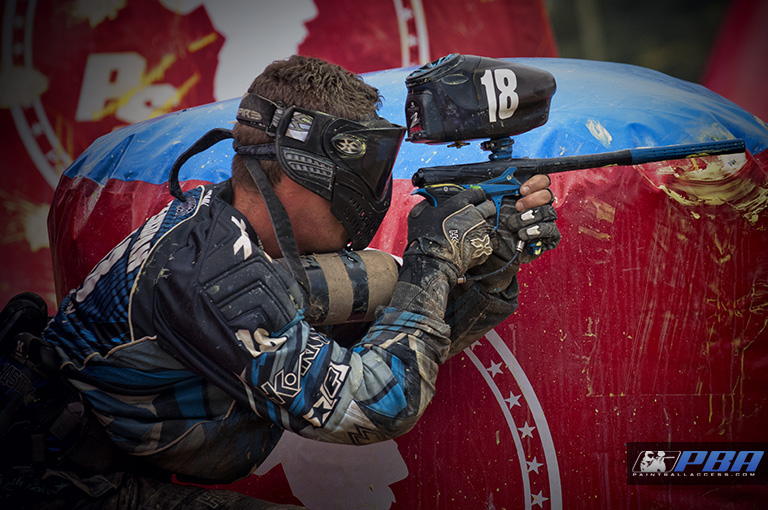 Congrats on winning the People's Choice MVP award for PSP Dallas, I know you felt cheated after taking second to Jason Edwards for the PC 2012 Overall MVP (laughs), how do feel about being chosen by the fans for this honor?
(Laughs) thanks! Well, It is always a great honor to be recognized by the fans out there that I did a good job. The fans are really what push this sport and I think that you guys at Paintball Access are the ones who also deserve a thank you. If it weren't for you, the fans wouldn't have access to what we really do and how we really compete.
Straight up, you played your ass off at the first event, what mind set did you bring into the tournament?
I like to think that I have the same mindset going into every tournament. I just want to do what I can to help the team win. If that means diving into the snake here and there, I will be more than happy to do it. The way I see it is that my position on the field as a "utility" or "mid" player is that I have to know the roles of all the players out there and I have to be able to fill in and play all the positions. So, if we are struggling a tiny bit somewhere I will do my best to help out in that area.
What sort of physical preparation are you doing to keep you skills at the highest level possible? Because you're 30 now, have been doing this for a long time and have fought through injuries before. But you look like you haven't lost a step, like your still 21.
haha thank you, I would love to say that I have a laundry list of workouts and routines that I do to stay in shape, but the truth is I don't. I suppose I eat well, I don't hork down soda and fast food, so I think that helps. But what everyone doesn't notice is that underneath my jersey and pants is a hodgepodge of mutilated joints, bones and ligaments that are loosely held together with old withering skin!

What is the hardest part about keeping your game at the highest level? You're widely considered one of the top 3 players in the world, and you been playing well even when other guys on the team aren't.
Honestly I think I have a huge amount that I need to improve on and I am not even close to as good as I can be. The biggest motivation I think I have is just the team I play on. I have played with this team, and only this team, for my entire professional career, with the small exception of guesting on other teams in Europe and whatnot. Not only do I want to win, but further, I want my teammates to share that feeling, so that is a part of my motivation. I hate letting people down.
How do you stay so consistent?
I think the best way to stay consistent is to have a clear mind and stay relaxed. I try not to let a lot get in my way and I like to stay as positive as possible. It is hard to say, because I also think that I don't really do much when I am on the field. I guess as a pointer to give is; if you are consistently alive, just make sure that after the team shoots everyone, you grab and hang the flag. I have found that if you are the flag hanger, everyone has to look at you and the commentators and cameras are forced to focus on you for at least a little bit. If you manage to stay alive and let the team do all the work for you, as long as you get the flag hang a lot, people will know who you are! I am certain I lead the team in flag hangs.
(laughs) That's a good one!

Part 2 of Ryan Greenspan's interview will be out tomorrow!
Mark your calendars for the second event of the 2013 PSP season brought to you live from OXCC Paintball Park May 3rd – 5th. The new Champions and Challenger format makes its debut at the Mid Atlantic Open, don't miss it!
Make sure to like Paintball Access on Facebook, and follow us on Instagram and Twitter. Let all your friends and compatriots know about what we're doing to further the sport!
You Might Also Like: