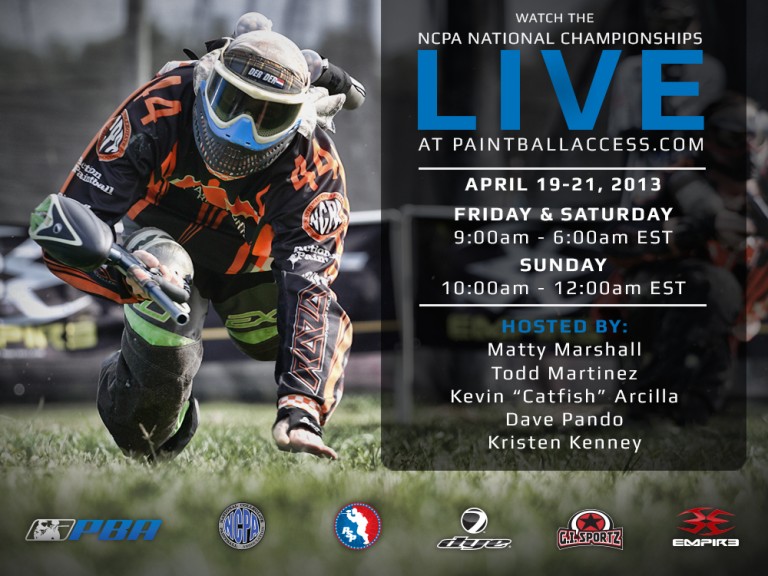 The National College Paintball Championship is about to go down this weekend at Central Florida Paintball. Paintball Access will be broadcasting their webcast, hosted by Matty Marshall, Todd Martinez, and Kevin "Catfish" Arcilla.
Last year we saw an awesome battle between University of Nebraska at Omaha and Cal State Long Beach in the finals. Nebraska came in heavily favored, because the majority of the team also plays in the PSP Professional Division for team Omaha Vicious.
Enter Chris Tregarthen of Cal State, who dominated on the snake side, en route to the teams first NCPA Championship. Tregarthen broke his hand badly during the prelims, but he played the rest of the event with the injury. It was nothing short of a heroic performance. Cal State's Corey Bornstein tore down the D-side as well, and Omaha didn't have an answer to their aggressive push.
The University of Omaha won't be there this year, but Cal State enters the event heavily favored, with both Bornstein and Tregarthen returning this year. Other past powerhouse teams will be at the event as well, including the University of Connecticut, Florida Atlantic University, Liberty University, and Ohio State.
Tell your friends about the show and watch the action on Paintball Access!
Also, mark your calendars for the second event of the 2013 PSP season brought to you live from OXCC Paintball Park May 3rd – 5th. The new Champions and Challenger format makes its debut at the Mid Atlantic Open, don't miss it!
Make sure to like Paintball Access on Facebook, and follow us on Instagram and Twitter. Let all your friends and compatriots know about what we're doing to further the sport.

You Might Also Like: