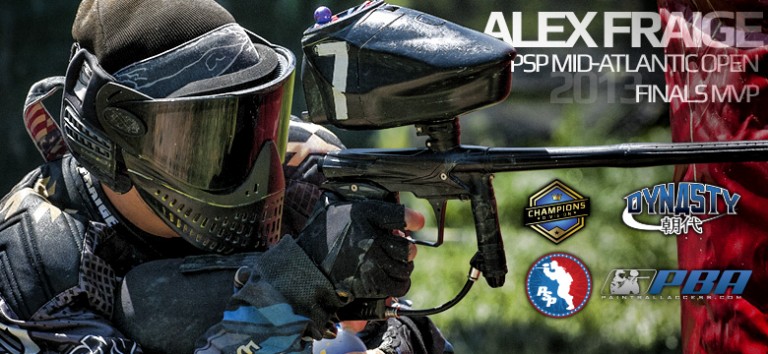 The second stop on the 2013 PSP tour ended with the same result as the first one, with Dynasty defeating Tampa in the finals to take back-to-back wins. Dynasty was undefeated throughout the event, and their rebooted line up showed its versatility, by playing an extremely tactical match, keeping Tampa from getting back into the game after putting the first 3 points on the board.
Tampa played a controlled style of paintball to get into the finals, but when they were forced to push into Dynasty, they showed how well they play when they turn on the gas.
But it wasn't enough. Though Damage's skill at putting coordinated attacks together was on full display: Bryan Smith was getting into the Snake 50, Edwards would push into the center, and then Chad Busiere would come down the D-side, they still couldn't put 3 points on the board.
Though Yosh Rau was playing masterful in the Mid Atlantic Open during the prelims and semis, using his unparalleled gunfighting ability to control Dynasty's opponents on their run into the finals, Tampa Bay Damage neutralized him, shooting him off the break, and keeping him out of the game.

Dynasty's Alex Fraige made the difference in the first half of the game on the snake side; his solid, smart aggression made the difference early, cementing in momentum and earning the Finals MVP Award.
The PSP Chicago Open already on everyone's minds. Who will step up to contend with Dynasty? Can Moscow Red Legion fight out of the Challengers division after underperforming this past weekend? How will Vicious fare in the Champions Division with their new coach Todd Martinez?
Late June always means a tough event, and some exciting paintball. PBA will be bringing all the stories as we move toward June 20th -23rd. Get your team into the fight, sign up for the event at pspevents.com.

Make sure to like Paintball Access on Facebook, and follow us on Instagram and Twitter. Let all your friends and compatriots know about what we're doing to further the sport.

You Might Also Like: