PBA will be releasing the stats for the PSP Mid Atlantic Open one category per day. First up, the Kill Count, aka G-Rating. The number you see in the G Rating is a measure of how many opponents these players are shooting out, on average, per point.
Here are the top killers in the league, through two events: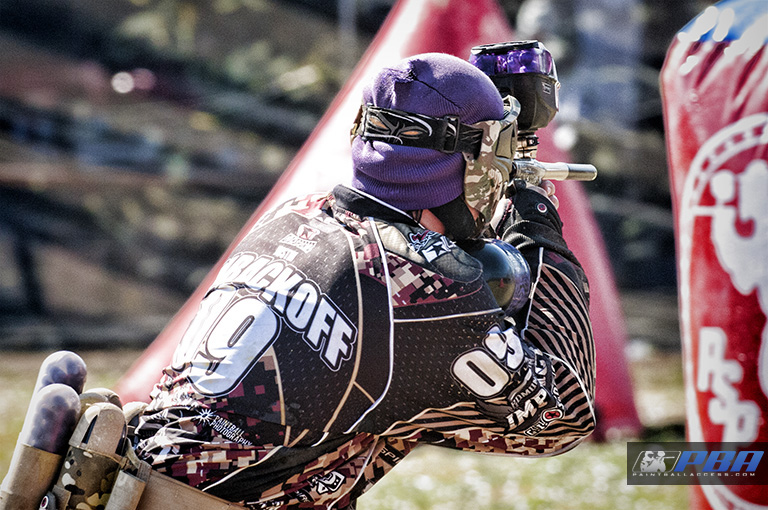 Ranked #1 — Justin Rabackoff — Edmonton Impact – G Rating: 1.06
Jrab came into 2013 a man on fire, plagued by doubts both internal and external about his performance last season. Though he was a stat leader last year in this category too, he didn't live up to his high standard of play when he took the field for Tampa Bay Damage. But he's looked like a man possessed in the first two events, pushing forward and always looking for a lane to attack though, and generally being a problem for every team Impact faces. This is the Jrab we all came to know and love. He's played 77 points so far this season and has 82 eliminations, for a G-rating of 1.06. That's just ridiculous, considering most of the top players in the league are around .84. It's looking like 2013 is going to be another great year for one of the best players in the game.
Ranked #2 — Corey Bornstein — Los Angeles Ironmen – G Rating: 1.05
Corey Bornstein has only played 19 points this season so far, but in those 19 points he has shot 20 players, good for a 1.05 G-Rating. Even with this type of production, it's going to be tough for Bornstein to work his way into the starting line up on the Ironmen, because of the depth the team has in his position on the D-side of the field, but he's going to be a huge asset to the team if he continues to shoot this many people coming off the bench. Bornstein has a great attitude, and is still very young. He is also appearing in the NCPA Championship this weekend on CBS Sports Network as one of the stars from Cal State Long Beach. Bornstein has a great future ahead of him in the league as long as he keeps this up.
Ranked #3 — Kyle Spicka — San Diego Dynasty – G Rating: 0.96
Talk about success stories… Kyle Spicka is living proof that you can live your dream, with some perseverance and hard work. Now, he IS very talented at the game, but talent alone did not get Spicka on Dynasty, and talent did not help him conquer his inner self-confidence demons. For the past couple of seasons Spicka was an underperforming member of the Los Angeles Ironmen, showing signs of awesomeness but always hitting a brick wall right before getting to the highest level. He didn't have the same event at MAO that he had in Dallas, but he was still a productive attacker. Spicka is looking like the star he worked hard to become.
Mark your calendars for the third event of the 2013 PSP season brought to you live from the legendary CPX Paintball Park, June 21st – 23rd, by Paintball Access. Can Moscow Red Legion and CEP fight out of the Challengers Division? Will Dynasty win three events in row? Find out as the best paintball players in the world fight it out at the PSP Chicago Open!
Make sure to like Paintball Access on Facebook, and follow us on Instagram and Twitter. Let all your friends and compatriots know about what we're doing to further the sport!
You Might Also Like: