DC Devastation played arguably the most exciting game on Sunday to win the Division 2 finals at the PSP Mid Atlantic Open. It came down to One-On-One Shootouts after they played to a tie in overtime against Hustle. The first man out of the pits to fight it out in the one-on–one battle for Devastation was 20 year-old Brandon Rabackoff, son of paintball legend Steve Rabackoff, and brother of current Impact star Justin Rabackoff. Brandon won his fight, swinging the momentum and confidence Devastation's way. Here are his thoughts on growing up paintball royalty, and his performance at MAO.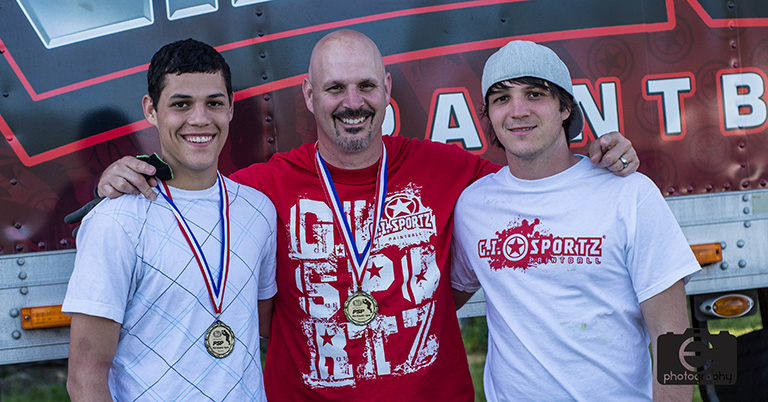 Congrats on the win. You played a big part in your teams success. How long have you guys been working toward this win? Give us a little info on the team.
Thanks! The win here at MAO came with weeks of practice with the team some of us would be drilling during the week at skyline whenever we had the chance. We won the same event last year but in Division 3. We have been working hard even through the off-season for a win this year. We did not come out as great as we wanted in Dallas we got a lot of penalties which killed us. This event before we worked on a rotation between the players to make sure everyone had a fair opportunity to play in the event.
Your brother has chosen the pro paintball route, what do you do for a living?
Currently I am going to school at Old Dominion University in Norfolk, VA this summer I will be interning at Lockheed Martin along with my weekends in the US Naval reserves.

What was it like having Steve Rabackoff as a father and Justin as an older brother?
It was always awesome to come to tournaments growing up and hearing stories about how great my dad was at paintball and how he was a legend in this game. Having him as my father was the best thing that ever happened to me. He made paintball so cool since I was young with all the traveling and teaching me how to play as I grew up with Justin. I remember once my brother became a professional I would go to tournaments and people would always ask, "Oh are you Jrab's brother?" At first it was a bit annoying but I got over it because it was cool to have another family member labeled as such a good player in the paintball world.
Heading into the One-on-One shootout, your team sent you out first, what was going through your mind at that exact moment? It's an honor to have your team select you first for any one-on-one situation when the tournament is on the line.
At first I was nervous to be the first one out but I realized that we, as a team, practice these one on ones so much that I am used to being out there like that. Having the team choose me as the first one to go out was cool because they knew if I could get us the lead we would take it from there. We have a solid group of guys on the team with excellent gun skills who I had full faith in to take their match ups down after I did.
Other than stepping up in the One-on-Ones, what was your team's key to victory, who was playing well at the MAO, and what was working for you guys?
Overall, our key to victory was just to play the game we know and be aggressive; let the teams adjust to us. We had our plays that we ran and usually we would out play the other teams in any situation. When we were down on points we would send out the five best players at the time. Throughout the whole tournament everyone was playing at the top of their game. We didn't have anyone where we were like, "Oh he's playing bad we should sit him."
How do you guys look for the PSP Chicago Open? It will be here before we know it, are you guys making any changes to the roster, anything you want to switch up?
Coming up to Chicago were just going to practice every weekend work on touching up some minor mistakes and hopefully reduce the amount of penalties we received at MAO. I don't think we're going to have any roster changes, most likely we will run with the same guys and hopefully come out on top again. We may switch up who we practice before the events, perhaps try to practice against a higher divisional team to make us play to a harder level that what we are used to.
Do you want to play in the professional division in the future? Or is that something you're leaving to Jrab? Is this just something you do for fun, or are you trying to make a serous run at the pro ranks one day?
One day I would love to be in the professional division. Every tournament I go out there and watch pro games and help my brother or any other pros I know by coaching on the sidelines if they need it. Being able to play in the pros would be an amazing experience because I could get the chance to play against the people that I watched playing as I grew up in this sport.
I always thought since the original DC Devastation when my brother was on the team in 2004 and I got to play with them for a few tournaments that it would be awesome to play on a professional team alongside my brother or maybe even against him. If time allows between school and work, I would love to play in the pro division someday.
You Might Also Like: