Though some teams, like Impact, played the field layout at the Mid-Atlantic Open more aggressive than others, both Dynasty and Damage, displayed mostly a defensive strategy. He weighs in on the tactical match up we watched this weekend in the finals, comparing SD Dynasty to another sports star who dominates his competition, Floyd Mayweather Jr.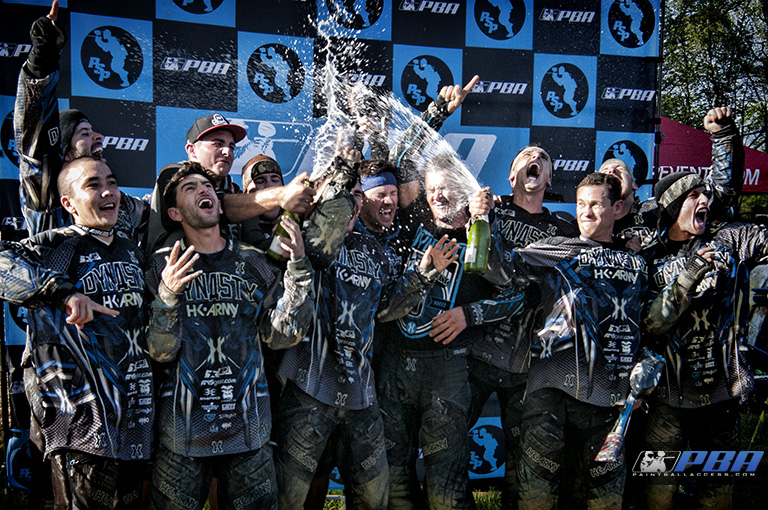 Over the weekend two of the most dominate forces in paintball and boxing, Dynasty and Floyd Mayweather Jr, reasserted their respective dominance. Dynasty with its 54th overall and 2nd straight PSP win, left no doubt that they have regained their form as the greatest team in the world. Mayweather, in his first fight since being imprisoned for six months last year, dominated Robert Guerrero in a twelve round fight in which Mayweather, now 44-0, never gave the 60,000 in attendance and millions more watching a reason to question his abilities.
Perhaps the greatest criticism of Mayweather as a fighter is that he simply is not exciting. A deft defender and counterpuncher, Mayweather never gets caught overextending himself, or swinging wildly. These are the mistakes that lead to knockdowns and knockouts and, because of his patience and refusal to let his emotions take over, Mayweather has never found himself with his back on the mat. It isn't always fun to watch—in fact it can be quite boring—but its genius cannot be denied.
In the same way that Mayweather's fights can be slow, defensive grinds, Dynasty's final two matches at MAO were characterized by disciplined, zoned-up paintball. They got kills off the break, got a lead, and then they locked up the field. Without the five-majors-in-one-point chaos in the semifinals, Dynasty's wins against the Ironmen and Damage would only be distinguishable by the colors of their opponents' jerseys. They didn't make unnecessary moves. They didn't become overzealous in gunfights. They didn't throw curveball breakouts. They played methodical, defensive, counterpunch paintball. They played paintball like Mayweather fights.
After the 8th round of his fight, Mayweather told his father and trainer that he hurt his right hand; his straight right found Guerrero's face, seemingly, every time he threw it. He coasted through the last four rounds, worked his left jab, evaded Guerrero, and padded his lead on the scorecard. A knockout would not be necessary. Ironically and coincidentally, two of Dynasty's most aggressive players, Tyler Harmon and Brandon Short, battled though recovering hand injuries at MAO. So they didn't swing a broken hand, they didn't try to make unnecessary moves. They relied on their airtight defense, got a lead, and road it to a victory.
The innumerable doubters of Mayweather and Dynasty were silenced once more this past weekend. Neither fight was particularly fun or exhilarating to watch; like a Dostoyevsky novel, they could be protracted, you would find yourself checking your watch, both captivated and not, until, in the end, you felt enriched and enamored by the experience of watching a master at work. Hand injuries, six-months in jail or a disappointing season aside, know that when you are watching Dynasty or Mayweather, you are watching Di Vinci's "Last Supper" composed before your eyes. The individual brush strokes, the tedium of the process can be tiresome, but the final product is nothing short of a masterpiece.

Make sure to like Paintball Access on Facebook, and follow us on Instagram and Twitter. Let all your friends and compatriots know about what we're doing to further the sport.

You Might Also Like: