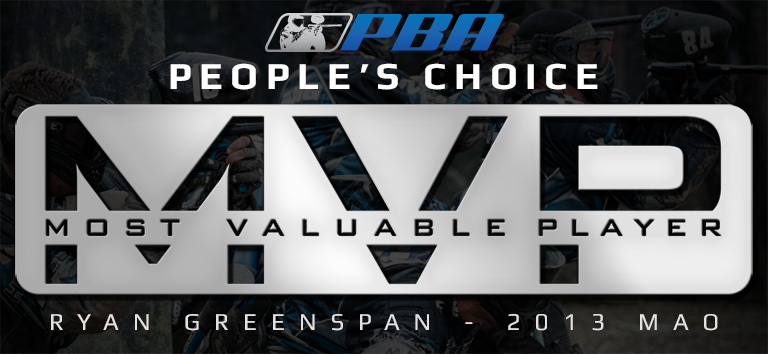 Congrats on winning the MVP People's choice, your second in a row. How do you personally feel you're playing this year?
Thank you! I am very grateful to not only have been nominated, but to have won twice now. I feel like I have played well, but the team is playing so well right now that I can just ride on the backs of the team to victory. I can remember several times, looking in front of me watching Alex play or across the field looking at Dalton and Yosh just dominating. That makes everything I do a lot easier. Our front guys are the unsung heroes in this story. I just have to stay alive long enough for Alex to bunker a couple of guys so I can grab the flag. Then you guys in the booth are forced to talk about me while the refs check me over.
What's on your mind right before the horn sounds and the game starts?
I really try to stay calm and breath. One important thing about focusing is to try to pick up on signals from the other team and from our sidelines because there are so many last second changes that need to be made from my position just before the horn blows. Our sideline coaching from Andy and the HK guys has been unmatched this season, so they are getting massive assists off the break.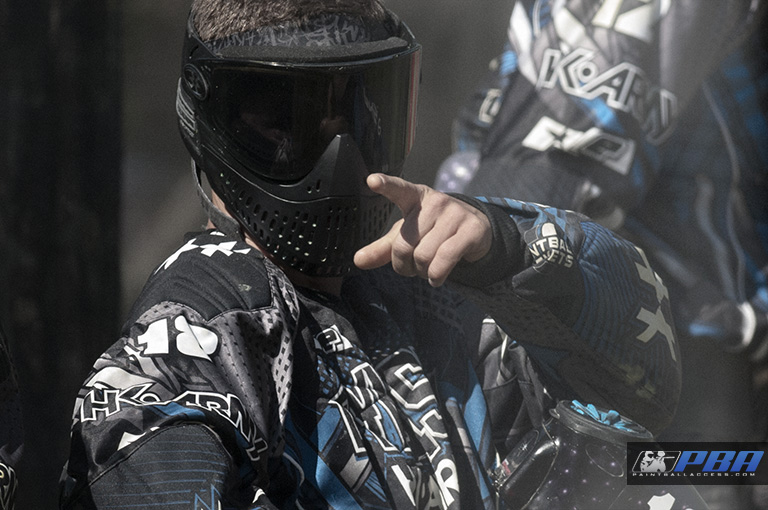 The team is looking really good, do you think you guys can win three events in a row?
Of course that is a possibility! I try not to focus on predicting the outcome of the event before we have played a game. I really want to make it three in a row, but this event is going to be the toughest thus far. There is always a lot of pressure put on the top team, and if you think two events in a row is tough, it gets exponentially more difficult to make it a three-peat. I know that the morale of the team is higher than ever and we have been training extremely hard this whole year! I have a very optimistic outlook, but I never like to jinx myself or the team by guaranteeing anything!
You've played Damage in the finals twice, are they your main rival right now? Who do you see as Dynasty's main competition this event?
It's without a doubt they are our rivals in terms of competing against each other in the finals, but I think our main competition has to be the Ironmen. We also hold a small grudge still against X-Factor for beating us at world cup last season and ultimately knocking us out of the event. But seeing as we have played the Ironmen twice now in the quarter finals and they are from the same area as us, I would say they are our biggest rivalry.
Who else, in your opinion, is playing really well this season?
On our team, Dalton Yosh and Alex are huge standouts to me at this point. However, everyone on our squad is obviously pulling equal weight. Other than that, JRab, Archie, Jason Edwards, Chad Busiere, Ryan Smith, Federov, Bobby… the list can go on really. The players have stepped up so hard this season that makes it really difficult to really point out one star player amongst the best players in the world. This league has really defined a lot of players and pushed them to play harder and even more so, play smarter.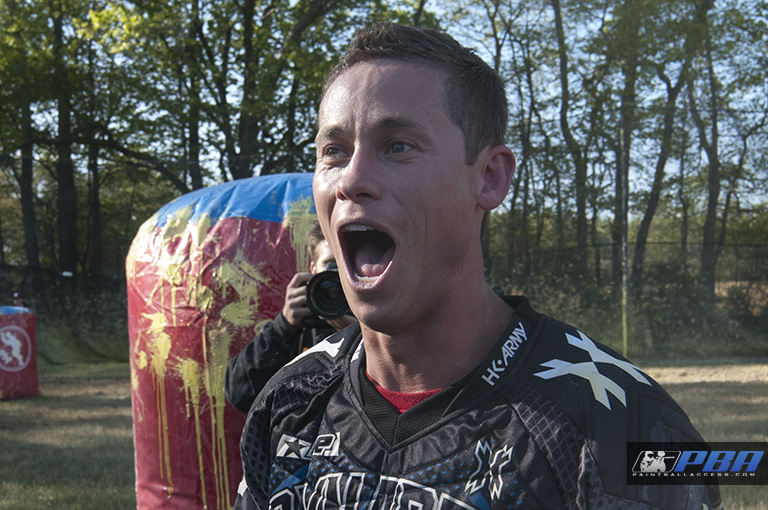 Your team has really been putting the hours in at practice, how important is proper preparation to success?
Preparation is everything to success. Our practices have gone to the next level, thanks to Rusty. Our code system has been so revamped that its like learning a whole new language. It gets more in depth after each practice. We have been trying really hard every weekend to show the world that we are not only the team to beat this year, but a team that has a lot more gas left in the tank. I'm extremely proud to be on such an amazing team with the best group of players, staff and fans.
I want to thank all of my sponsors; HK ARMY, Planet Eclipse, Guerilla Air, Paintball Tickets, CP Paintball Park, ANSgear.com. I especially want to send out a thank you to all of our fans around the world, you guys are awesome! thank you for watching the webcast and supporting us! And most of all, I want to thank my team for being really really good and really fun to play with!
Click here to follow me on FaceBook for up to date event info and promotions.
Click here to follow me on twitter for whatever twitter does.
Click here to follow me on Instagram for event and travel photos!
Finally, click here and subscribe to my YouTube channel for tips and tricks from some of the best in the world!!!
Thanks Matty!
You Might Also Like: