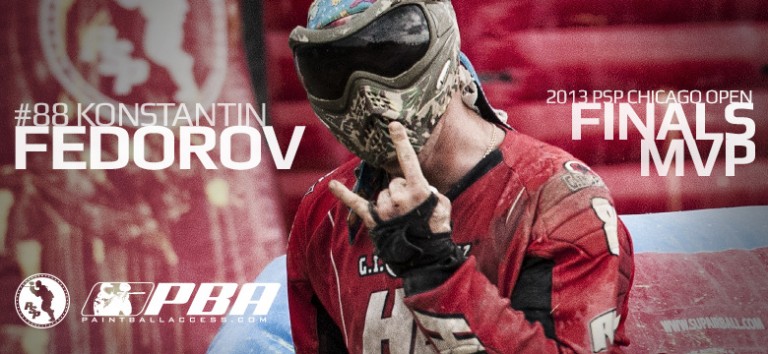 There is no real way to pick who is going to win the Professional division at a PSP tournament; all the top teams are in the hunt. There are at least 8 teams who have a very good chance to win at any given event, and a few more who have the roster to make a winning run too, which is why the success of San Diego Dynasty, Houston Heat, and Tampa Bay Damage the past three seasons is quite remarkable.
The question heading into the PSP Chicago Open was, who would play the snake for Houston Heat with injuries to both Chad George and Sam Monville? The answer, in retrospect, couldn't be more obvious.
During the mid 2000's there was a kid coming out of Russia who became paintball famous for his athletic ability to play the snake. His name was Konstantin Fedorov, and he went on to become one of the most successful and well-known players in the world, emerging as far more than just a player who was good at being the first to attack on the snake side.
Throughout the PSP Chicago Open, Heat was putting in a full team effort: they were shooting lots of players of the break, and many players on the roster were putting in solid performances, but what truly made them unbeatable was the amazing play of Fedorov on the snake side. It was a bloodbath over there, a back and forth battle of aggression and countermoves, but Fedorov was still putting double digit kill counts up most games.
In the finals against San Diego Dynasty, it was no different, Fedorov had 12 kills, leading both teams in this statistic. Heat went up three points early in the game, as the sky darkened Dynasty threatened a few points to make it interesting, eventually letting the Dynasty boys pull within 2 with 1:21 seconds left, but Heat never really let them into the match.
After winning the first two events of the year, Dynasty loses to Houston Heat, and paintball now has a great 2013 rivalry heading into the 4th event Aug, 16th.
PBA will be breaking down the results of the Chicago Open and the stories behind them in the coming weeks.
Congratulations to Fedorov and all of the Heat players for finally defeating Dynasty and winning one of the hardest PSP events. When Fedorov was informed about his Finals MVP honor he said, "Without my boys, I'm not an MVP".
Considering how well the whole team played, well said Fedorov, well said.
You Might Also Like: