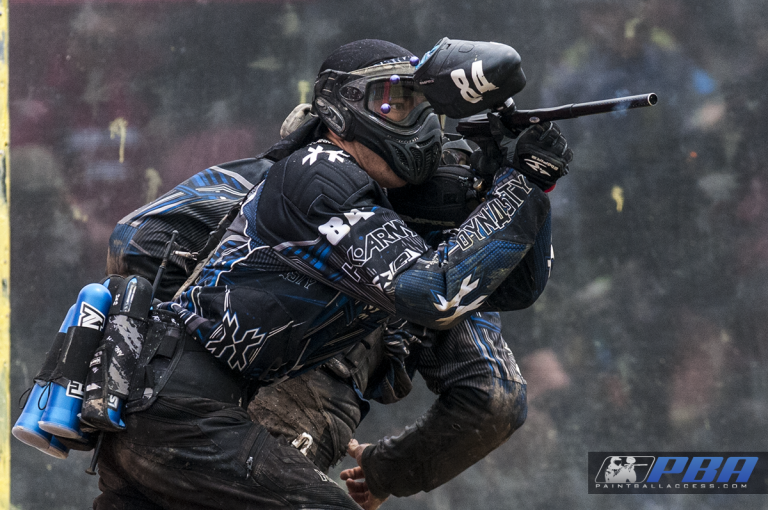 "Stay alive!" is one of the most often heard mid-game phrases in paintball. If you're getting shot out without shooting anyone, you're obviously not helping your team win. In fact, most teams struggle, not because they lack talent, but because they're getting shot out of their bunkers too early. It all comes down to Survivability and gunfight logic, which are traits and skills you can learn.
The Survivability Rating was created to reward the players who are staying alive as much as possible.
Here are the top 5 players in this category for the Chicago Open:

1. Glenn Takemoto – San Diego Dynasty – Survival%: 92.72%
We all know Takemoto is good at staying alive, but 92.72 percent? Wow, no wonder he has a reputation as a man who is hard to kill. Glenn got his start on Avalanche ten years ago, before heading over to play for XSV, and then finding his way to Dynasty, where he's been a big contributor for years. When Dynasty is down bodies, that's when Glenn Takemoto is at his best.

2. Sam Monville – Houston Heat – Survival%: 86.23%
Heat won the event, their first win since taking the World Cup last October. Monville was a huge help last season, but struggled early this season. That was not the case in Chicago, where Monville really helped Konstantin Fedorov and Sergei Solnyshkov do work on the snake side of the field. Heat is getting production out of all their players again, which should make them one of the big favorites for the West Coast Open in August. Of all the players in the Top 5, Monville played the most amount of time—almost 50 full minutes throughout the event.
3. Scott Kemp – San Antonio X-Factor – Survival%: 84.46%
Landing with X-Factor after years with the Los Angeles Ironmen (and brief stint with Infamous for the 2012 World Cup), Scott Kemp has evolved this season into a roll player who gets his reps mostly on the D-side. Though he only played about 19 minutes for X-Factor, the least amount of anyone in the Top 5 in this stat, he stayed alive for 16:18. And seeing as how penalties were a giant problem for X-Factor it's good he was staying alive; they needed all the bodies on the field they could get.

4. Zach Yachimec – Edmonton Impact – Survival%: 83.21%
One of the founding members of Impact, Zach Yachimec has done an amazing job of playing hard, but staying alive in 2013. When your front players are pushing hard, like the first attackers on Impact do, guys like Ryan Moorhead and Justin Rabackoff, then you are forced to engage aggressively as well, because you have to follow them up the field. Impact is playing aggressive, which makes Yachimec's survival percentage that much more impressive.
5. Jason Edwards – Tampa Bay Damage – Survival%: 82.78 %
Jason Edwards is one of the best back players of this, or any, era because he is very versatile. Damage gets knocked around a bit for playing "defensive", but if you watch Edwards gunfight, he isn't scared to engage with people when the time is right. And that is a very important distinction and why Damage is always a hard game for teams, because without a significant amount of pressure being exerted, your opponents can make easy moves. You don't get to make easy moves against the gun of Jason Edwards, or pretty much anybody on Damage, which is why they are always one of the favorites at any event they enter.
Here are the Top 5 Survivors for the 2013 season, through the first 3 events:
1. Zach Yachimec – Edmonton Impact – Survival%: 86.46%
2. Josh Ouimet – Edmonton Impact – Survival%: 85.50%
3. Brian Jenkel – Upton 187 Crew – survival %: 84.85%
4. Glenn Takemoto – San Diego Dynasty – Survival%: 83.95%
5. Tim Montressor – Edmonton Impact – Survival%: 83.79%
Check out the rest of the Survivability stats here, and draw you own conclusions!
Mark your calendars for the third event of the 2013 PSP season brought to you live from the legendary CPX Paintball Park, June 21st – 23rd, by Paintball Access. Can Moscow Red Legion and CEP fight out of the Challengers Division? Will Dynasty win three events in row? Find out as the best paintball players in the world fight it out at the PSP Chicago Open!
Make sure to like Paintball Access on Facebook, and follow us on Instagram and Twitter. Let all your friends and compatriots know about what we're doing to further the sport!

You Might Also Like: