The Ironmen have a new snake-side killer on their squad this season. Danny Park spent the past 4 years in the school and work grind, barely picking up a paintball gun, but an offseason call changed his life. Park sits down with PBA's Matty Marshall to talk about his season, his mental preparation, and his spot on one of the most legendary teams ever to play the game.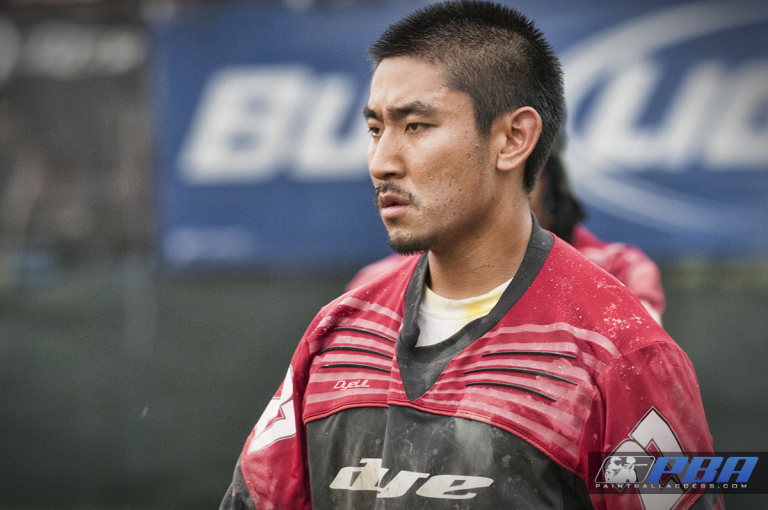 Danny, you were out of the game for a while, but it doesn't seem like you've lost a step in the way you've been playing this year. One of the reasons we wanted to touch base with you is it seems like you're just getting better as the season wear on. Having that consistent snake guy, who is willing to attack, willing to run into the breech over and over is huge asset to any pro team. So, why did you get back into paintball?
Thank you for your kind words, the reason I stepped away from paintball was because of school. I got into UC Irvine in 2009 and that also happened to be the first year I played pro with SD Aftermath. It was just unfortunate timing, having to choose between the two, and school came first. So, I went to school, graduated, worked a corporate job for a year, then got a call from the dad of one of my best friends, who's a partner at a law firm, he needed help in his accounting department, and he enables me to play paintball and get all the time off I want.
Man, that's perfect.
Yeah it worked out great.

So until this season, you haven't really played competitively since 2009?
Yeah, I've played around 4 tournaments in that time, I guested with RNT, but yeah, pretty much I didn't play paintball.

So the drive to play was just something inside you that never went away, never died?
Yeah, I've always loved to play paintball. When Marcello gave me a phone call late 2012, telling me he was planning on coming back to the Ironmen, and they were going to revamp the squad for the 2013 season, and he wanted me to join in on that, it was a true blessing and perfect timing.

A lot of times, the stars need to align in order for cool things to happen. Marcello had told me a story about you coming back where he had called you up to get you to come out to a practice, but you wanted to get a few reps in with a divisional team before you went out to a pro practice, but he convinced you to just come out and give it a shot.
(Laughs) Yeah, I remember that conversation. And like you said, I couldn't even remember the last time I even touched a paintball gun. I definitely wanted to go out and get some reps in before scrimmaging with the Ironmen. But it worked out; I actually had a good practice.
Considering how well you're playing now, and that you barely picked a gun up in four years, that's a great story. Just goes to show you once you've got it, it will be there if you want to come back. Or at least that's what I'd like to think. (laughs) You're a missile, but you're playing pretty smart when you get in your bunkers. You've been effective as the first attacker on the snake side. And that's what the team needs out of your position: a guy to play smart when he gets to his spot but be willing to attack, not be scared to run opponents down who are in front of you. What's your mental focus in the game right now?
Well, I think the number one thing for me is preparation. I've always been a confident player. I've always had a lot of confidence in myself but I think a lot of it comes from being prepared, knowing exactly what you want to do out there on that field. I have a game plan when I step on the field, there are certain things I want to accomplish, so I try to do whatever I can to accomplish that. I try to block out all the externalities, everything that doesn't have a role in what I need to do. I try to focus in on my job and what I need to do to effectively do that job.
Confidence is so important. The less experienced guys will put too much weight on their shoulders, you can tell when they die, their body language indicates anger, they'll want to throw their stuff, stomp the ground, yell. The front player is the hardest position to play as far a confidence is concerned, because a lot of times you get shot off the break, or someone runs you down, you may have done everything you possibly could have done during that specific point and still lose the point. But you have to go back into the pit, get suited up for the next point, and do it again. You almost have to have a certain amount of amnesia, kind of a selective amnesia. Even if there's was a mistake made, yeah, learn from that mistake but you can't let it affect your mindset.
Yeah man, that's pretty spot on. I like to also think you can't be results oriented, pretty much what you just said, You might have a point where you get a 2 or a 3 pack, kill a bunch of guys, but still lose that point. Or a point where you get shot off the break and your team wins the point, you can't base your mindset off results, you have to focus in on what you can do to play as good as possible from the start of the match to the end of the match. Mentally that is my approach.

What do you think it's going to take to get the Ironmen over the hump right now, you're making Sundays, you're making the semi finals, but you keep losing to Dynasty. They've beat you guys three times this year. The team has the tools you need to win tournaments, is it a case of putting too much pressure on yourselves to start the year off?
Perhaps. Honestly, I think it just comes down to execution. Guys just need to execute and do their jobs. It seems like we're never… rarely do we have a point where all five guys do their jobs. I think in due time we'll be ok; we have really good players on this team, some of the best players in the world.
Which is why people expect big things out of you guys. So what is the mentality going into the West Coast Open August 16-18?
Well, we're going to practice as hard as we can, as usual, and hopefully we can get the pieces to work together and actually win a tournament.
Have you won a pro event before?
No (laughs) best I've done is 4th. This last event was my 5th pro event ever.

So you're going into just your 6th pro event ever?
Yeah.

Wow, the future is bright for you. You're turning heads with your play, just keep getting in there and doing what you do, I think you can really be an asset to the team moving forward, which is most important thing, because you are a weapon over there. And as you get more and more confident, as your skill sets develop, dude, if this is only your 5th pro event ever, you're on the right trajectory. Last question: What is it like sharing time with Alex "Mouse" Goldman. Mouse is one of those guys, who most coaches and players would pick for their teams. But because you've been so effective at getting into you spot, sometimes Mouse is playing behind you. How do you feel about being a tag team on the snake side with Mouse?
It's definitely a humbling experience being able to play with one of the best snake players this game has ever seen. I'm still taking it all in; I learn a lot from Mouse. He's a good friend and a good teammate.

Best of luck in the future, I'm looking forward to watching you and the team.
Thanks Matty.
Mark your calendars for the 4th event of the 2013 PSP season, the PSP West Coast Open, brought to you live from the AB Brown Sports Complex in Riverside, CA, August 16th – 18th, by Paintball Access.
Can Upton 187 Crew and the Ton Tons fight out of the Challengers Division? Will Houston Heat win their second tournament of the year? Can Dynasty make it to the finals 4 events in row? Find out the answers as the best paintball players in the world fight it out at the PSP West Coast Open!
You Might Also Like: